Step Right Up
Musicians earn chops at Finnegan's Wake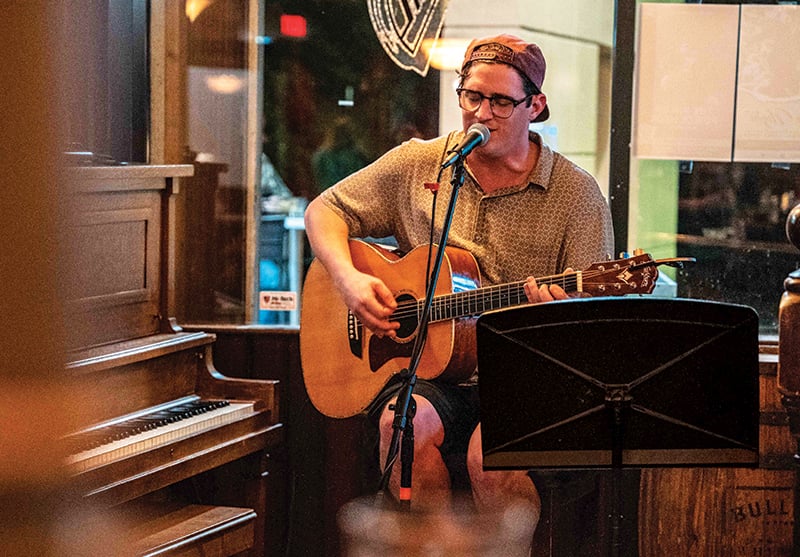 Finnegan's Wake is small enough that you might mistake the open mic night stage for a hostess stand cordoned off in the corner of the warmly lighted Irish pub. A crowd of 15 or so regulars ranging from their mid-20s to their early 60s, all within earshot, shared jokes with the bartender and vented about work or final exams.
I'd opted for the bar stool nearest to the stage, perfectly situated to take in the performances to come. Two stools away, a girl of about my age raised an eyebrow at my notebook, said hello and introduced me to others nearby. Minutes later, I was one of the gang. There are no strangers at Finnegan's, I learned, and no one escapes the place without throwing back at least one of Hunter the bartender's raspberry lemon drop shots.
"Y'all still do open mic night Thursdays, right? 8:30?" I asked Hunter.
"Yeah, but we don't start until after 9," he replied while pouring a round. "Honestly, it doesn't really pick up until after 10."
During my last trip to Finnegan's open mic night, I had been treated to acoustic country anthems and karaoke enthusiasts, as expected, but there were also spindly hipster bands playing alternative rock and a group of FSU math students, known as Wendy and the Chicken Tenders, who featured a tuba player and performed a full set of Taylor Swift's biggest hits. The crowd ate up the Tenders.
"Sometimes an old Irish guy comes in with bagpipes, but usually it's more of an acoustic thing," Hunter said. "We open it up to whoever. The public is pretty talented."
I had kilts and big brass instruments on my mind when a young man approached the stage, adjusted his sound equipment and tuned his guitar. My new friends gestured to the dark-haired, plaid-clad player. Someone said he has a voice like country singer Morgan Wallen. His name was George Maddox, insurance wholesaler by day, musician after sundown and, for the last year, emcee for Finnegan's open mic night.
Maddox propositioned the crowd: Perform a song, get a free drink.
Maddox, himself, has taken stages from Greenville, South Carolina, to Apalachicola. No matter the venue, he said, something almost always goes wrong in a live performance. You forget the words, strings break, sound equipment fails, people don't listen. It's all about rolling with the punches.
"Finn's is a lot different than most places," Maddox told me. "A lot of open mics seem to be like listening rooms. Everyone is supposed to be quiet, but that's not how it actually is in a bar when you play your own gig. People are there to drink. If you're good enough to grab their attention, that's awesome."
As a bar singer, Maddox told himself that if he could get people listening and tipping, he could play live and make money doing it.
Maddox kicked off the night with a set of alternative country anthems from the likes of Zach Bryan, Jason Isbell and Tyler Childers. His voice contained a gritty soulfulness, and he kept time by drumming on his acoustic Taylor guitar, his eyes closed. When he wrapped up his set, Maddox passed his guitar to the next performer in line and melted into a seat with a beer in his hand and his back to the bar. We listened together for the rest of the night, chatting about Finnegan's and the challenges of breaking into the music industry today.
For aspiring, unpolished musicians, Finnegan's nurturing, no-pressure environment is a place to gain confidence, learn and have fun.
Maddox is their mentor. He knows how it feels when things go wrong. At a performance on St. George Island with his band, the Apalachicola Sound, Maddox had to restring his guitar out on a dock and lost a peg to the water below. He found a stick, whittled it into shape and got through the set.
The show must go on.
---
Finnegan's Wake
Finnegan's open mic night is held every Thursday. George Maddox kicks things off around 9 p.m. and keeps the party rocking until after midnight. Other weekly events include bingo, trivia and Sunday brunch.
---