Statewide Campaign Asks Tallahassee to Step Up for Children
Watchdogs For Kids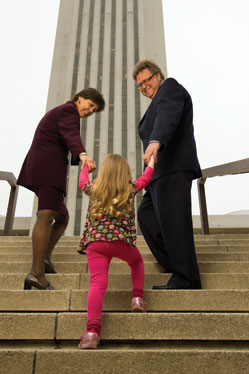 Florida has one of the lowest high school graduation rates in the country. The state is last in what it pays for children's health care — with as many as 800,000 children going without health insurance. Infant mortality rates in some counties are as high as a Third World country. A national study has shown the Sunshine State's prekindergarten program to be one of the nation's worst in terms of quality.
And Florida ranks third in the number of child deaths linked to abuse and neglect.
The Children's Campaign, focused on bringing children's issues to the forefront, is working to turn those numbers around. But with Florida legislators ready once again to slash state spending because of declining tax collections, children's advocates are worried that they are fighting a losing battle. The state needs $2.7 billion it doesn't have just to keep government operating at its already scaled-down level. The public school budget alone could face a $1 billion deficit.
"The broad consensus is that people care about kids, but that falls apart when it's time to pay for it," says Roy Miller, longtime president of the Children's Campaign.
This is where you, the residents of Tallahassee, come in.
Miller's challenge is simple: Are you ready to step up for children?
Miller wants to "get beyond the existing choir" and be able to call on local residents to speak out on behalf of children when the Florida Legislature convenes in March and begins its budget work in earnest. The idea is that state lawmakers might pay more attention to children's programs — and be less likely to cut funding — if members of the public come to personally testify in support of them.
While others in the state may be willing to help, it takes time and money to travel to Tallahassee — and sometimes legislative committee meetings are scheduled on short notice. That's where Tallahasseeans can help fill the gap, Miller said, adding that testifying before a legislative committee isn't as tough as it sounds.
"People get scared off because they think they don't know enough about the issues," Miller says. "But all they have to do is rely on their personal experiences, to do a little reality therapy with these legislators.
"I'm not optimistic about the upcoming session … that's why we want people in the community to watch," he says. "This is a special opportunity that Tallahassee has. My challenge is, are you ready to step up for children?"
You can find out more about the Children's Campaign at iamforkids.org or by calling (850) 425-2600.
---
Wrap It Up
Still stuffing your children's lunch items into disposable plastic baggies? That's so 2009! Instead of consigning hundreds of Ziplocs to the landfill every year, why not teach the kids a valuable lesson about the environment while also making sure their lunches stay fresh and tasty?
Tallahassee's Magnolia School, long known for its commitment to the environment, is providing an easy (and inexpensive) way to go green. The school's PTO is selling WRAP-N-MAT wraps and snack pouches.
These environmentally friendly, reusable products hold sandwiches and snack foods while also serving as a placemat that provides a clean eating surface anywhere. What's more, WRAP-N-MAT products can be easily cleaned for repeated use.
The Magnolia School is the only local seller of these products, which range in price from $5.99 to $8.99. To purchase one, contact The Magnolia School at (850) 385-3834 or themagnoliaschool@comcast.net, or visit themagnoliaschool.net. — Jodi Wilkof and Barry Ray
Preparing for the Digital Future
The world is moving in the digital direction. In time, applications such as Photoshop and video editing will fall under the "must know" list. No matter where their interests might lie, for the younger crowd, technology is something that will be vital in their adult careers.
iExplore Online, an expansion of the University of West Florida's Explore Programs, is a great resource for children in grades 7 through 12 who want to master computer-oriented applications. Online registration is available now for e-courses. For more information, visit uwf.edu/explorecamps. — Aniko Gomory