State of Preparedness
In Florida, you hope for the best, but prepare for the worst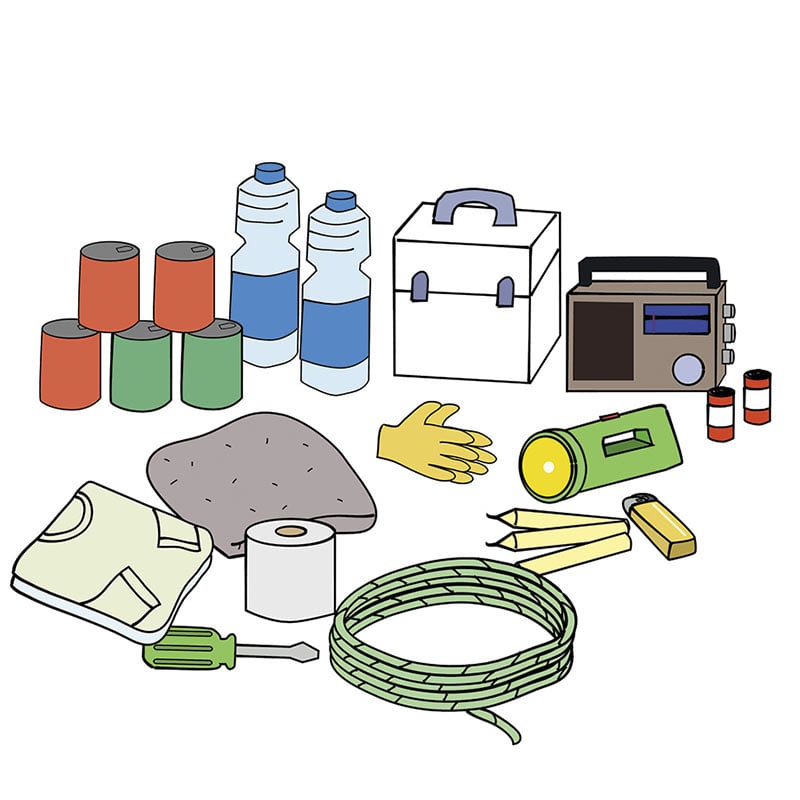 The big storm is on its way, but you're not worried. You've prepped for months just in case you are caught in the crosshairs, right? If not, here's what you should do to prepare for the next Hermine.
If you don't anticipate being under a mandatory evacuation order and can stay home, you can prep as many supplies as your pantry can handle. Let's start with the basic needs: food and water.
The general rule of thumb calls for, at minimum, a three-day supply of non-perishable food and one gallon of drinking water per person per day. (You'll need more for cooking and washing.) If you have pets, make sure to grab some extra food and water for them, too. It's also a good idea to store some ice, while you're at it. During an emergency, these items fly off the shelves rather quickly, so it's wise to purchase them in advance and to rotate them out as they near their expiration dates.
Your next move will be to refill medication, get some cash from the ATM (small bills) and inventory and restock your family's first aid kit. You may end up evacuating after all, so gas up the car and fill the spare fuel cans. If you have pets, put the pet carrier and leashes near the back door.
After that, prepare the stuff you'll need for when the power goes out. Gather your flashlights and lanterns and make sure you have spare batteries. If you plan on using a generator, make sure it has fuel and is set up safely and correctly. If you don't have a generator, be sure to cook whatever is in your fridge and freezer before it all goes bad — or at least plop it in the cooler where it can help keep other perishable items cold. Frozen bottles of water can also be used as ice packs.
Turning now to communications, make sure to charge up your cell phones and your stand-alone cell phone chargers. Add your home insurance provider and utility provider to your speed dial. Keep a battery-powered weather radio handy.
Put these other items on your prep list, too: folding pocketknife or fixed-blade sheath knife, multi-tool, manual can opener, toilet paper, garbage bags, plastic tarps/sheeting, duct tape, household bleach (for sterilizing suspicious tap water), Bic lighter, and camp stove with ample propane. Make sure important documents are sealed away and safe.
Now, let's say you have to evacuate. Your family car or SUV can only carry so much, so you're going to have to prioritize. Food, water, can opener, pocketknife, important documents, cash and medicines, cell phones and chargers, flashlights/LED headlamps, spare batteries, blankets, first aid kits, fire starter, plastic bags and hygiene items should be at the top of the list. Have an actual map of your evacuation route, a roadside emergency kit and rain ponchos. If you have pets and small children, be sure to bring along their comfort items and something to keep them occupied. School-aged kids can carry their own survival "gear" in their school backpacks or in special backpacks that are just for emergencies. This gear can include water, snacks, a small flashlight, medicine, an individual first aid kit and any personal possession that could give them comfort and continuity in an uncomfortable situation.
Emergency PREP LIST:
Food
Water
Important documents
Cash and medicines
Cellphones and chargers
Flashlights/led headlamps
Spare batteries
Blankets
First aid kits
Fire starter
Plastic bags/garbage bags
Hygiene items
Folding pocketknife or fixed-blade sheath knife
Multi-tool
Manual can opener
Toilet paper
Plastic tarps/sheeting
Duct tape
Household bleach (for sterilizing suspicious tap water)
Bic lighter
Camp stove with ample propane
BOBs and GHBs
In the survivalist world, there are "Bug-Out Bags" (BOBs) and "Get Home Bags" (GHBs). They are not the same thing. A BOB is a full-sized backpack packed with anywhere from 60 to 100 pounds of survival gear that can keep you alive in the field for up to a week. A GHB is a smaller and lighter backpack that you keep in your car or truck that is always packed and ready with the bare-bones essentials, such as a canteen, MREs ("meals ready to eat") or energy snacks, first aid kit, small tactical flashlight, knife and shelter. As the name suggests, the GHB will get you home if disaster strikes while you're at work or out of town.