Star Wars: The Inner Seven-Year-Old Awakens
Local fans are eager to break out the popcorn and reconnect with their childhood icons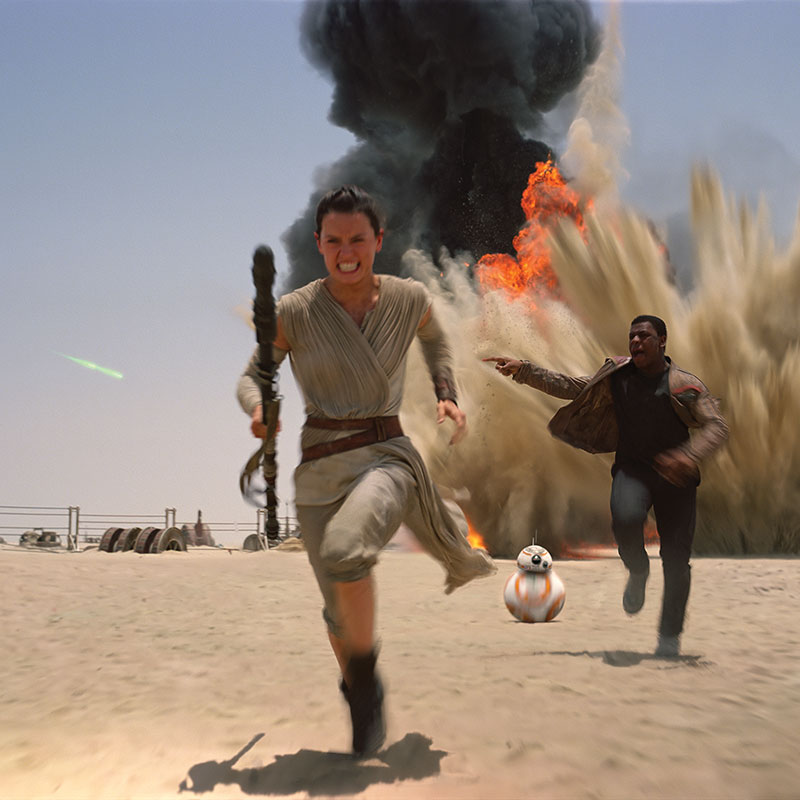 The lights go down in the theater and the show begins. There's the 20th Century Fox logo, the drum roll and trumpets, a quiet pause and a puzzling storybook intro: "A long time ago in a galaxy far, far away … ."
A moment of darkness, then it hits you. A gladiatorial musical exclamation punches you in the gut as the words "STAR WARS" blaze across the screen before receding into the starry distance as the opening crawl reels into view.
It's the summer of 1977, and life as you know it is about to change forever. From now on, you will never know a world without Luke Skywalker, Princess Leia, Han Solo, C-3PO, R2-D2 and Darth Vader.
Today, the characters and their story are immediately recognizable throughout the known universe. Creator George Lucas built a mega-empire based on this one film. It spawned two sequels, a really bad Christmas special, a prequel trilogy and countless cartoons, games, books and toys. It became the standard by which all future summer blockbusters were to be judged. And it rocked the universes of millions of people, particularly those moviegoers who were 7 or 8 years old at the time.
"It literally just blew me away," recalled Blake Kandzer, 45, an award-winning Tallahassee illustrator, artist and graphic designer who saw "Star Wars" in a Winter Haven theater when he was 7. "I will never forget it because we were late getting to the theater — I can see it in my mind — and there was a huge line. We rushed to the theater and we got there right as the words were going across and the big ship comes down."
Erika Peterman, 45, an editor for the Florida Medical Association and a comic book "cosplayer," was also 7 when she saw the movie at an old Valdosta theater. When she talks about it, the little girl in her still bubbles up with excitement.
"Gosh, what can I say? It really was the first movie that just blew my mind," she said. "I had never been immersed in a fictional world that way. That very first shot, the imperial ship going across the sky, I just thought, I had never seen anything like this before. It's amazing."
Local TV personality and man-about-town Greg Tish, 44, said he has no clear memories of seeing "Star Wars" in the theater, but he played the heck out of "The Story of Star Wars," an LP he got for Christmas; he memorized every line.
He remembers "The Empire Strikes Back," but cannot recall when he first saw "Star Wars."
"I saw 'Empire' at Capitol Cinemas, which is now closed, but my first memory of 'Star Wars' is the (action) figures and the album, 'The Story of Star Wars.'"
Tish still has the album, framed and on a wall.
"I can still hear them say, 'Clear Bay 327, we are opening the magnetic field,'" Tish said. "That is where side one ends and side two begins."
Even younger fans — too young to have witnessed history firsthand — revel in their memories of how they first experienced the "Star Wars" universe.
Marc Thomas, 39, senior designer for the Office of Creative Services at Florida State University and a comic book artist, was 10 years old when he had his first experience with the "Star Wars" franchise. He saw all three of the original trilogy movies as "one long continuous movie," and they made a huge impression on him.
"It was the most incredible thing I'd ever seen," Thomas said. "It was like these worlds were real, and I could one day go to them. I still want to visit that galaxy far, far away."
Dallas Fillmon, 28, a revenue specialist with the Florida Department of Revenue during the week and a "Star Wars" costumer with the 501st Legion on the weekends, said he "had to work hard to rediscover the original trilogy." He was 10 years old when the movies were re-released as special editions in 1997 but enjoys the memories he has of seeing "Return of the Jedi" on an old VHS tape.
"I didn't watch it on the big screen," Fillmon said. "I watched it in my buddy's basement, on some old VHS, which I'm sure the tracking was off, and I'm sure the picture wasn't the best, but that's where we saw Ewoks and Jabba and Rancors and Sarlaccs and all that stuff."
Nearly 40 years later, Disney owns the "Star Wars" franchise. Most of the cast of the original trilogy is reunited in "Star Wars Episode VII: The Force Awakens." Helmed by director J.J. Abrams, who previously rebooted the "Star Trek" franchise, "The Force Awakens" picks up 30 years after the events of "Episode VI: Return of the Jedi."
At the end of Episode VI, the Galactic Empire lay in ruins. The emperor and his henchman, Darth Vader, are dead. The second Death Star is destroyed. But in "The Force Awakens," it seems that a new menace, the "First Order," has risen from the ashes of the old empire to make life complicated for the former Rebel Alliance. Episode VII is the first in a new "Star Wars" movie trilogy.
"Disney and 'Star Wars' actually seems like a perfect fit," said Carlin Trammel, 38, the digital services manager at Rowland Publishing and the creator of "Nerd Lunch," a weekly podcast. "And J.J. Abrams as the director is a great idea since his 'Star Trek' movies are real 'Star Wars'-y anyway."
A teaser trailer was released late last year and yielded tantalizing plot clues. A slightly longer trailer was released in April and made fanboys and girls cry like babies when Han Solo appeared onscreen and uttered the immortal words, "Chewie, we're home." Fans are now thrilled at the promise of what's to come.
"I'm not going to lie to you, I got goosebumps with the reveal of Han and Chewie. That was amazing," Peterman said. "I felt that stirring of wonder again, and I think that's the part that gave me hope, like that 7-year-old is in there, somewhere, and she wants to love these movies again."
With Abrams at the helm, that might actually happen. Locals all seem to think he's the right man for the job.
"I love the feelings the trailer gave me: excitement, wonder, fun, nostalgia, all in under two minutes," Thomas said. "It's impossible for 'The Force Awakens' to go the path of ('The Phantom Menace') simply because J.J. is a far more competent filmmaker and writer than Lucas.
"That's not a dig at Lucas, that's just the truth. None of J.J.'s film are splashy without substance. All of his films have something that most of his peers' films do not: heart. He gets that. He is in the upper echelon of contemporary filmmakers like Spielberg and Peter Jackson who understand that your films can be huge, sprawling epics, with tons of CGI (computer-generated imagery) and bazillion-dollar budgets, but there has to be a beating heart at the center of your film or it's nothing. I think 'The Force Awakens' will be a huge success on every level."
Peterman said she liked Abrams' approach to the new "Star Trek" universe and hopes he will craft a movie that will rekindle her passion for "Star Wars."
"Previously, when I heard, oh, we're going to get all these new 'Star Wars' movies, I thought, 'I'm done, you know? I'm done with this, I don't care,'" Peterman said. "And then I saw the (Episode VII) trailer. I thought, 'I think I'm back in again.' I realize it's not ever going to be like it was when I was a child. I get that. I just want it to be a good movie, that's really all I ask of it. It doesn't have to be mind-blowing. I just want it to be good, and something I want to see more than once."
Kandzer said he wants a great movie, too — at least one that satisfies his childhood nostalgia.
"I will be the first one to tell you a movie sucks, but it's J.J. Abrams — and nothing he's done sucks," Kandzer said. "I own most of his movies, so I'm excited. I just want that warm-blanket kind of feeling again. I'm not expecting it to be awesome — although I think in my childhood heart it will be. I want to go in and just enjoy it. I don't think Hollywood can ever put the genie back in the bottle for what 'Star Wars' did because you have a six-second timespan these days to impress people."
Speaking of impressing people, Thomas said Abrams knows that revealing too much tends to spoil everything. Just enough has been put out there to whet the public's appetite for more.
"I agree with J.J.'s take that the less you know about a film before going in, the better, and with him handling the editing of every trailer for 'The Force Awakens,' I'm not too worried about the trailers spoiling anything for me," Thomas said. "And, yes, I will watch every one before seeing the film. It's J.J.'s 'Star Wars' — how can you not? But I won't be reading the novelization and listening to the soundtrack before. I don't want a new 'Star Wars' story that I know nothing about being spoiled for me before going in. I never saw the original films in the theater, and we all knew where the prequels were going to lead, but this is a new era, a new story, a new group of storytellers. I have no idea what I'm in store for, but I sure can't wait to find out."
What's Past is Prequel
Episodes I, II and III ("The Phantom Menace," "Attack of the Clones" and "Revenge of the Sith") are three reasons why many fans are longing for a better "Star Wars" experience. The quality of the "prequel trilogy" from the late 1990s and early 2000s has been a controversial topic for more than a decade.
"I felt like the originality, all of the things that made it special, weren't there, like the sense of fun," Peterman said. "The specialness of it for me wasn't there, and that's what I'm hopeful that the new film will bring back. I actually trust J.J. Abrams, I liked his take on 'Star Trek' quite a bit, so I am cautiously optimistic in a way I haven't been in a long time."
Kandzer has some choice words about the prequels.
"I can't stand the last three movies," he said. "I can handle 'The Phantom Menace,' but the last two were so bad. My daughter and I have this discussion. She's 14, and she gets mad at me because she's really worried the new movies aren't going to be good. I'm like, honey, Lucas isn't involved at all. That's the big plus. It can't be any worse than the prequels. And when Han says 'Chewie, we're home,' that was just awesome. So I told her you have memories of the old characters mixed with the new story, and a great director, so what more could you ask for? But she's one of those people who is worried because the last three were so bad."
Tish recalled being excited about seeing "The Phantom Menace," but he left the theater shaking his head.
"I wanted to like it so bad, but then Episode II was probably one of the worst movies I've ever seen. I just hated Episode II. The acting was horrible," he said. "At least they listened to the fans about Jar Jar Binks and reduced his role down to nothing in Episode III."
Reactions like that stand in stark contrast to the excitement fans felt before the movie actually premiered. In the months before "The Phantom Menace" came out, people paid full price to sit in a movie they didn't necessarily want to see just to see the trailer.
"The trailer was actually a really big deal," Thomas said. "I remember watching it online the moment it was made available but otherwise had to go see Brad Pitt's film, 'Meet Joe Black,' to see the trailer. "I remember the theater being packed for 'Meet Joe Black' and people cheering like crazy when the Lucas logo appeared. And after the trailer was over, more than half of the theater got up and left. People paid the full price of admission just to see one trailer and leave. If that isn't excitement, I don't know what is. I particularly loved 'The Phantom Menace' when I initially saw it. I actually paid to see it 16 times in the theater. Yeah, I got it pretty bad. I think the overall feelings of disappointment really came after seeing all three prequel films when it really sunk in what was promised and what was delivered. But I think that has more to do with the audience's expectations; it's not on the filmmakers."
So is this merely a case of jaded adults viewing the new movies through a 1977 prism? Possibly, but Fillmon said he just couldn't quite warm up to the prequels once he saw them as a whole. When "The Phantom Menace" came out in 1999, he was 12, which he said is the "perfect age" to see a Star Wars movie. At that age, he thought Darth Maul was awesome, the pod race was cool and that alien comic, Jar Jar Binks, was funny. His perspective changed as he got older and the other two movies were released.
"It wasn't this massively negative thing. That really didn't hit until I think 2002, when Episode II came out and that's when, you know, you're in 10th grade and you know everything. You see the horrible," Fillmon said. "Hayden Christensen maybe isn't the best actor in the world, and maybe him rolling around the fields of Naboo with Padme isn't exactly the most Darth Vader-y thing we want to see. We enjoyed the scene where he kills all the Tuskens but other than that, the movie doesn't offer a lot. Then I was a senior in high school when Episode III came out so, for me, those were my adolescence. That was my set of movies."
Thomas said that "The Phantom Menace" had the advantage of having sort of a "honeymoon" period with an audience hungry for a new "Star Wars" movie.
"Maybe there was some level of disappointment with 'The Phantom Menace,' but I don't remember much of it at the time of its initial release," he said. "I think people were just so happy to see Jedis on screen again. I do remember thinking that we didn't need to see Darth Maul ignite his double-bladed light saber in the trailer. That scene comes late in the film and would have been a great surprise but that was ruined in the trailer. We didn't need to see new light sabers to get excited about this film. It was 'Star Wars.' The masses would show up."
Thomas disagrees with some of the criticism directed at the prequels from adult fans of the franchise. Was Lucas a bad director? Not necessarily, he said. Again, it may have had much to do with viewer perceptions.
"I can't accept the idea that the same man that created this world to begin with and brought us all so much creativity and wonder could also possible ruin that same world 16 years later," he said. "So I reject this idea of bad directing. What I think the prequels suffered from the most was an aging audience. The same people that loved these films as kids were now adults. I think people just grew up and lost their sense of wonder. They lost their ability to get lost in a world of melodrama and Saturday morning serials. These films were made for kids, like the originals, not for cynical adults. We've laid claim to something that's not really ours. I, for one, really enjoy the prequels and specifically 'The Revenge of the Sith.' Anakin and Obi-Wan's final confrontation was a battle for the ages. And one I'd been wanting to see since I'd learned that Anakin had betrayed Obi-Wan."
Ultimately, legions of fans will be compelled to see the new offering.
"The fandom around 'Star Wars' is ridiculously faithful," Trammel said. "Despite a much-maligned prequel trilogy and numerous other perceived missteps, the fandom follows 'Star Wars' at levels comparable to religious fanaticism."
The Story Continues
Whether "The Force Awakens" turns out to be the one movie that returns balance to the franchise is something we will know soon enough, as it's slated for release on Dec. 18. One thing we do know is that Abrams is a known quantity and that he took an "old school" approach to making Episode VII. That is, he eschewed the heavy use of modern computer graphic imagery and animation of the prequels and went for more practical effects such as real sets, real environments and "real" aliens.
"I think in the last 20 years, movies have embraced CGI almost too much, and we especially saw that in 'Jurassic World,'" Fillmon said. "Me and my buddies watched the first one, 'Jurassic Park,' and then went and saw 'Jurassic World,' and we're like, the CGI hasn't gotten any better. But for Episode VII, they built the ships, they went (on location) in Dubai, they went to these places. BB-8, the new droid, is an actual thing that can move around, it's not a little CG thing, like a General Grievous or what they did with Yoda in Episode II and III. What we saw with Abrams' "Star Trek" reboot is they built the bridge, and the Enterprise looked like a big, functional ship in the same way the Millennium Falcon looked in the trailers. We see a couple of glimpses of hallways and of Han and Chewie, and it all looks like it's still there."
Thomas said he doesn't think there's any special pushback against CGI, and he says it's been used to tell some remarkable stories that couldn't have been told otherwise. The prequels, in particular, used top-notch computer animation and special effects, and these techniques have improved a great deal over time.
"It looked incredible and was far ahead of its time," Thomas said. "The best films of the last 20 years have been doing that and have been hugely successful. You look at films like 'The Lord of the Rings,' 'The Hobbit,' 'Pirates of the Caribbean,' 'Harry Potter,' and more recent films like 'Life of Pi,' 'Gravity' and 'Interstellar.' They all blur that line and make it nearly impossible to tell the difference. I think when special effects are done to perfection, you don't even notice them. Many stories would simply be impossible to tell without them."
So what does a new "Star Wars" trilogy mean for generations of fans old and new?
"More than anything, it means we'll never be able to see all of them," Trammel said. "Before the announcement about Episode VII, fans had been told twice there would be no more movies. From that standpoint, we thought we'd be able to die having seen them all. Now, it'll never end."