St. John's Episcopal Celebrates 190 Years of Faith
Our exploration of the city's historical churches starts here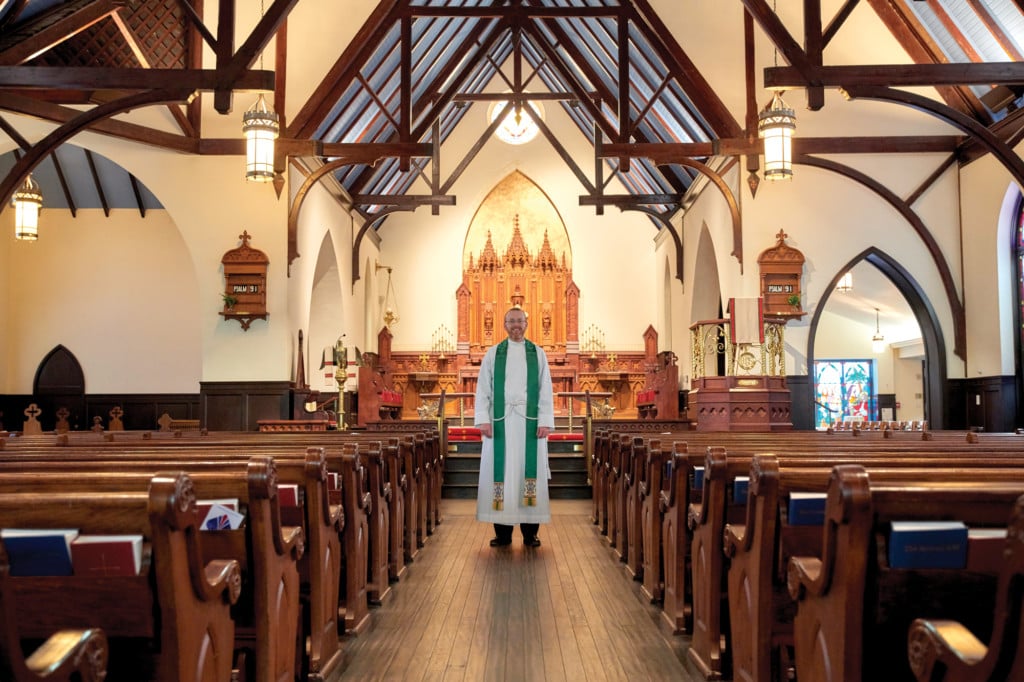 Long before it had its colleges and companies, Tallahassee had its churches.
Houses of worship here preceded the first capitol building — and among European settlers, perhaps even the first real commotion.
"It was wilderness," said the Rev. Dave Killeen, rector of St. John's Episcopal Church.
It was 1824.
On Sept. 26 of that year, five months after "the first wagonload of seven settlers arrived," 10 people met to organize Tallahassee's first Methodist society, according to the book Trinity United Methodist Church: Tallahassee's First Church, 1824-1999.
That was more than 20 years before Florida became a state.
Other churches soon followed. Before the Civil War began and the Seminole Wars ended, Tallahassee had four established churches.
The first congregations included slave owners. They also included slaves, who were forced to sit separately from whites.
Those churches have seen the Agricultural Revolution, the Industrial Revolution and now the Information Revolution.
They've endured two world wars, the Vietnam War, the Cold War and wars virtually ever since.
The churches also survived yellow fever, the Great Depression, various recessions and nearly 200 years of social and cultural change and upheaval.
Through all of this, they're still standing — and they say strongly.
Today we know them as Trinity United Methodist Church, First Presbyterian Church, St. John's Episcopal Church and First Baptist Church, which continue to thrive blocks from each other in downtown Tallahassee.
Though they're the oldest, they hardly stand alone as historical churches that have helped shape the Capital City.
Tallahassee's Bethel African Methodist Episcopal Church dates its birth to 1865, when it says 116 members walked out of Trinity United Methodist, which like others was segregated at the time but like others today trumpets its diversity and work for social causes.
Bethel Missionary Baptist Church, led since 1986 by Rev. Dr. R.B. Holmes Jr., points to completion of its first building in 1870. It traces its beginnings to the 1830s when enslaved blacks would, as it says, "worship without the convenience of a physical structure."
North of Tallahassee, the Pisgah United Methodist Church says its current building, on the National Register of Historic Places, dates to 1858.
Though they now inhabit a city and a country that their founders would hardly recognize, many of these historic churches say their missions remain the same: to share their faith and to serve their community.
Of course, dozens of other denominations, religions and traditions here do likewise.
The Islamic Center of Tallahassee, for example, says it's dedicated to worshipping and to "the education of the general public and the spiritual growth and enhancement of its community."
We embark on an exploration of the city's historic churches, one at a time.
In this series, both in print and online, we'll talk with a senior clergy member of at least one historical church about the church's history, congregation, challenges, changes, outreach and more.
We start with St. John's Episcopal, which this fall celebrates its 190th anniversary.
The founding of St. John's dates to Oct. 30, 1829, when Florida's Legislative Council passed an act to incorporate St. John's Parish, according to God Willing: A History of St. John's Episcopal Church.
The incorporators included men whose names mark our streets: Richard K. Call, David B. Macomb, John P. DuVal, Cary Bronough and Turbutt R. Betton, the book says. Four incorporators owned slaves.
St. John's today boasts about 1,500 members and continues to occupy a prominent place at the corner of Call Street and Monroe Street. It endures despite an 1879 fire that prompted the church to start from scratch and a 2005 breakaway that cut its congregation in about half.
The split, which sparked the creation of St. Peter's
Anglican Cathedral, happened shortly after Gene Robinson became the first gay bishop in the Episcopal Church.
"We've moved on by really looking forward in hope, in a spirit of reconciliation," said Killeen, who has been at St. John's for about nine years. "Really what I have focused on here is, "What is God calling us to do now?' "
Here are some highlights from our fall conversation with Rev. Killeen. We edited it for length and clarity.
On the church's history
"One of the interesting parts of the story is that
St. John's was one of the very few successful mission plants, so to speak, of the national Episcopal Church. At that time, what the church would do was pool resources nationally and say they were going to try to start these new congregations throughout the country. And at that time, Florida was still a territory. It was wilderness. If you want to see what it used to look like, First Presbyterian — that's what St. John's used to look like, before the fire. And in those days, people would literally purchase a pre-fabricated kit for your church, and they were solid. Good materials. But it was essentially a prefab. The community would assemble it. First Presbyterian is the last of those original historic structures, very kind of classical, Greek-looking, like a Greek temple. And the thing that we laugh about now, and I'm sure this was not funny when it happened, was when the church burned, it was Reconstruction, really difficult economic times in Tallahassee, and the church board — it's called a vestry — decided they could not renew the insurance policy. And (shortly afterward) the church burned down. So imagine that next meeting."
On the congregation
"What we've seen over the last 10 years or so is strong, steady growth each year in our membership. And it's all ages. It's literally folks from little children to seniors, folks in their 70s and 80s who are joining. We are so blessed to have lots of students here, and the students here are looking for their surrogate parents, grandparents, siblings. For many of our Florida State, TCC and A&M students, this is the place they can come to get out of being surrounded by everyone who's their age. This is their intergenerational place to connect, to really get to know people."
On the church's ideas, tenants and beliefs
"Our mission is to love and serve Christ and our neighbors in Tallahassee. Our core values, we start with worship. Christians, of course, understand the unity of God, our one God, to be expressed through Father, through God's son, Jesus, and through the power of the Holy Spirit. So the Trinity, the holy Trinity, you could say that even in God's own self there is community. And what you see is the fellowship and the love and the warmth of this community correlating with our most deeply held beliefs, with God as Father, Son and Holy Spirit. So worship is our key essential value. We are all about openness. We're clear about where we stand. Compassion is another one of the values that you'll see lived out in this space. Compassion means to suffer with. What we need to do is to truly walk alongside those who are hurting. Then stewardship. Stewardship, if I were to define it, is faith in action. It's how we live out our faith in this community and the world."
On the church having to adjust to changes in society
"What is going on in society? What are the potential challenges for a church like St. John's, a very traditional church, one that goes back 190 years? How is that a gift? How can that be a challenge for us? It won't surprise you to learn that the fastest-growing group in America right now are the 'nones.' No religious affiliation. That's the fastest-growing group. So what we're finding is that more and more adults who did not grow up not just in the Episcopal Church but any church are coming to us. I find that exciting, because it's an opportunity to share my faith, to share Jesus, with people who never really heard the gospel before."
On the top issues with which people are struggling
"I think right now, people are upset with the divisiveness in American culture. We're all feeling that way, aren't we? There's hatred. There is a lot of judgment and conflict and division in our country. Where can I find a place where I can find peace and where I can come together in unity around something? What I say is we find our unity in Jesus. The irony of our age is that it's harder to connect deeply with people, but church is a place where they can do that, so I would say that's another area where people are hungry right now. There's a lot of loneliness in our world and in the United States, and I think church is a place to get back in communication with community and where people can connect meaningfully."
On the church's work to make a difference in society
"A significant part of our annual budget is set aside to give away to those in need. But, also, the amount of volunteer hours that this parish puts into the local community is amazing, and it's a beautiful thing to see. There are multiple outreach opportunities that we as a parish have embraced together. You're looking at the Kearney Center, Habitat for Humanity, Big Bend Hospice, Grace Mission, which is a mile away and serves among the poorest in Tallahassee. These are folks who are in recovery or getting out of jail — the poorest of the poor. St. John's is not just active in writing checks but actually showing up and being present. And Cuba. I can't forget our international outreach. St. John's has had a 15-year relationship with a rural parish in Cuba that started, no joke, as a carport. It literally, like all great churches, started in someone's house, just like St. John's did, way back when. Now we're able to work with the parish to support them. Now they're able to purchase a stand-alone church in Cuba. It's beautiful."
On whether the church sees other churches as competition
"No. I think the issue that I would have with that description is that the church doesn't operate by the rules of the world in terms of a competitive zero-sum atmosphere. So, no, I don't look at other churches as competitors. I look at other churches or other faith communities as potential partners, and I could point to you several different places where St. John's has partnered with another faith community. We hope that St. John's will be welcoming and inclusive to all, but we also very aware that St. John's may not be the home for every single child of God. And if somebody needs to go elsewhere, we say, 'You go with our love.' "
On meeting with other churches and denominations in town to discuss the bigger picture
"There is a ministerial association that meets occasionally, and it's wonderful. Rabbi Jack (Romberg) from Temple Israel and Pastor Brant Copeland from First Presbyterian are the conveners. We meet occasionally for lunch to talk about common events or common issues. A great example: I spoke (in the fall) at the Temple Israel gathering, and that was powerful, powerful. There were probably 20 to 30 clergy up behind Rabbi Jack, and that's the fruit of those ongoing meetings. Where you have a crisis situation, the clergy gather."