Spring on Stage
From March through May, there's plenty to seeand do in Tallahassee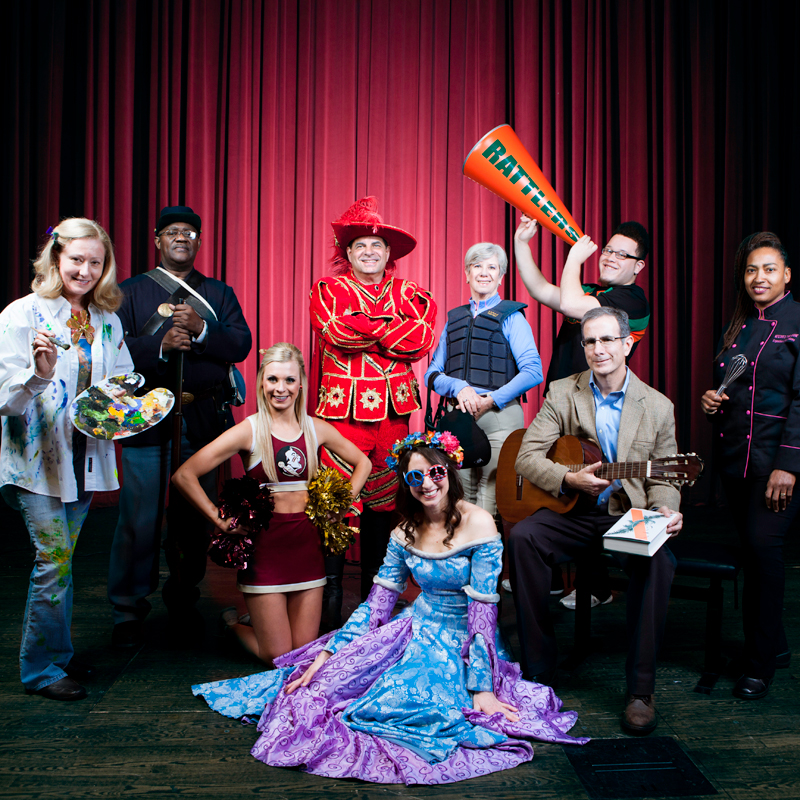 Check out a behind-the-scenes video of the photo shoot:
MARCH
Pink Floyd Experience – March 3, 2015
Capital City Amphitheater at Cascades Park
www.CapitalCityAmphitheater.com 
Red Hills International Horse Trials, March 5-8, 2015
Elinor Klapp-Phipps Park
(850) 580-4020, www.rhht.org
Top Olympic riders and horses from around the world compete in this three-day international equestrian competition.  Competitions include dressage, cross country and stadium jumping.  Last year the event unveiled a new 3,611 meter cross-country jump with 32 unique obstacles. The event is held at Elinor Klapp-Phipps Park.
Battle of Natural Bridge Reenactment, 150th Anniversary – March 7-8, 2015
Natural Bridge Battlefield Historic State Park
(850) 922-6007, www.floridastateparks.org/naturalbridge
Site of Florida's second largest Civil War battle, the Confederate army victory here preserved Tallahassee's status as the only Southern capital east of the Mississippi River not captured by Union forces. Every year a reenactment of the battle with infantry and artillery demonstrations are held at the park on the first weekend of March.
Jewish Food Festival – March 8, 2015
Temple Israel, 2215 Mahan Drive, (850) 877-3517
Enjoy an afternoon of authentic Jewish food, crafts and live entertainment.  The menu includes pastrami, corned beef, knishes, stuffed cabbage, matzo ball soup, kosher hot dogs, falafel plates, cheesecake, strudel, rugelach, noodle kugel.  And of course, bagels and cream cheese will be available for purchase as well.
17th Century Military Muster – March 14, 2015
Mission San Luis, 2100 W. Tennessee Street
(850) 245-6406, www.missionsanluis.org
Experience colorful pageantry and black powder musket and cannon fire at Mission San Luis' fort, Castillo de San Luis.  Learn about the life of Spanish soldiers and Apalachee warriors at Spanish Florida's western capital. The celebration also includes archery for all ages, military processions, crafts and demonstrations of blacksmithing, period cooking and primitive weapons.
Springtime Tallahassee Festival & Grand Parade, March 28, 2015
Downtown, (850) 224-5012, www.springtimetallahassee.com
One of the largest and most celebrated parades in the Southeast.  In addition to the Grand Parade, enjoy Jubilee in the Park, an art show which features hundreds of booths with handcrafted items, the Children's Park including the Gulf Specimen Marine Lab Touch Tank, entertainment and a 5k run. Grammy-nominated country group, The Eli Young Band, kicks off the festival weekend with performance at Kleman Plaza Friday, March 27.
Downtown Marketplace, March – November
Downtown, Ponce de Leon Park
(850) 224-3252, www.downtownmarket.com
Every Saturday from March through November, stroll through the downtown Chain of Parks for a nice selection of local produce, baked goods, eggs, fresh cut flowers and native plants for purchase.  Also enjoy live music, literary readings and fine arts and crafts.
APRIL
The Avett Brothers – April 10, 2015
Capital City Amphitheater at Cascades Park
www.CapitalCityAmphitheater.com
Sublime with Rome – April 11, 2015
Capital City Amphitheater at Cascades Park
www.CapitalCityAmphitheater.com 
Garnet & Gold Spring Game – April 11, 2015
FSU Doak Campbell Stadium
(850) 645-2527, www.seminoles.com
Get an early taste of the fall football season as Florida State University wraps up spring football practice with its traditional spring Garnet & Gold game. Weekend activities include a Friday night Block Party with food and live music in Kleman Plaza.
FAMU Spring Game – April 11, 2015
Bragg Memorial Stadium
Word of South Festival , April 11 – 12, 2015
Capital City Amphitheater at Cascades Park
Tallahassee's newest two-day festival celebrates literature and music at Cascades Park in downtown.  Activities include musical performances by internationally-known artists, literary discussions with renowned authors, poetry readings, interviews, discussions and signings.  Also enjoy regional cuisine.
Pridefest, April 11 – 18, 2015
Various locations/venues
(850) 222-8555, www.pridefest.familytreecenter.org
Annual celebration promoting peace and understanding among diverse cultures, races, creeds, genders and sexual identities.  This seven-day festival includes a Drag Pageant, faith-based services, cultural events and the premier event and grand finale, Pride in the Plaza.
Southern Shakespeare Festival,  April 17 – 19, 2015
Capital City Amphitheater at Cascades Park
This open-air festival and Renaissance fair is modeled after Joe Papp's New York Free-Shakespeare-in-the-Park Festival.  Held at Capital City Amphitheater in Cascades Park, the festival will open with an innovative production of 'A Midsummer Night's Dream'.
LeMoyne Chain of Parks Arts Festival – April 18-19, 2015
Downtown Chain of Parks
(850) 222-8800, www.lemoyne.org
Annual two-day juried art festival held beneath the moss-draped oak trees in the downtown Chain of Parks.  Browse exhibits of artwork for purchase from more than 150 artists from around the country.  Live music and food. FREE
Jazz & Blues Festival & Pioneer Breakfast,  April 25-26
Tallahassee Museum, 3945 Museum Drive
(850) 575-8684, www.tallahasseemuseum.org
Two-day jazz, swing and rhythm and blues festival with performances by a variety of favorite Big Bend artists and rising stars. In addition to music, enjoy a hearty, outdoor meal on the 1880s farmstead during the Pioneer Breakfast.  This down-home breakfast includes freshly grilled sausage, scrambled eggs, pancakes and Bradley's grits, held in the naturally beautiful setting of the Tallahassee Museum.  
Wilco – April 26, 2015
Capital City Amphitheater at Cascades Park
www.CapitalCityAmphitheater.com
MAY
Capital Cuisine Restaurant Week , May 14 – 26
Citywide, (850) 606-2305, www.VisitTallahassee.com
Celebrating the diverse selection of culinary delights available in Tallahassee, this event showcases the area's unique restaurants, farm-to-table fare, culinary creativity and live music. Participating restaurants offer specially selected, multi-course menus during the 13-day event.
The Beach Boys – May 15, 2015
Capital City Amphitheater at Cascades Park
www.CapitalCityAmphitheater.com
Emancipation Celebration – 150th Anniversary
Various Locations, May 9 & 20
Annual ten-day event commemorates Tallahassee's announcement of the Emancipation Proclamation in 1865.  Celebration includes a reenactment of the reading, prayer and music ceremonies and a free picnic lunch.  FREE
May 9:  A Walk Through Living History Parade & Festival in the Park
Speed Spencer Stephens Park, 1907 Saxon Street
Family friendly event featuring live music, horseback rides, Civil War era re-enactors, face-painting, clowns, food & merchandise vendors & performances by local talent.
May 20, 10:00 AM:  Old City Cemetery
100-198 West Park Avenue
A grave decorating commemorative ceremony honoring the contributions of local Civil War Soldiers
May 20, 11:00 AM:  Knott House Museum
301 E. Park Avenue, (850) 681-7881
Historical reenactment and reading of the Emancipation Proclamation
May 20, 1:00 – 5:00 PM:  John G. Riley Center/Museum
419 East Jefferson Street
Free tours of all participating museums
May 20, 7:00 PM: 5th annual Emancipation & Abolitionist Ball
Turnbull Conference Center, 555 West Pensacola Street
A memorable evening of food & entertainment.  Featuring performances from Leon Anderson Band & Ms. Avis Berry.
Tour of Gardens – May 16, 2015
Alfred B. Maclay Gardens and Various Locations
(850) 487-4556, www.floridastateparks.org/maclaygardens
Kicks off at Alfred B. Maclay Gardens with breakfast in the park and insights from regional and national master gardeners, a silent auction and plant sale followed by a self-guided tour of Tallahassee's finest public and private gardens.
Opening Nights Performing Arts
(850) 644-6500, www.sevendaysfestival.org
Presented annually by Florida State University, this event spans most of the year and features performances by world renowned  artists, musicians, comedians and authors at various venues around town.  Tickets must be purchased in advance.
March 2,

Danú

March 16, Miloš Karadaglic

March 19, Itzhak Perlman, Violin & Rohan De Silva, Piano

March 26,

Raisin' Cane: A Harlem Renaissance Odyssey Starrying Jasmine Guy & The Avery Sharpe Trio

April 6,

Steep Canyon Rangers and Della Mae

April 8,

Diana Krall: Wallflower World Tour