Spotlight: Alchemy
A Secret Spot for Cocktails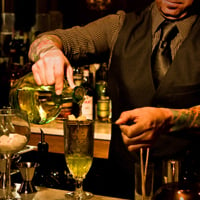 Photo by Scott Holstein
Alex Beltrami demonstrates the implements and techniques for serving the licorice-flavored spirit absinthe. If the Green Fairy is too bohemian for your taste, consider a Sazerac cocktail made with whiskey.
Alchemy's Golden Touch
The secretive, mysterious speakeasy, a bar whose time came (in the early '20s) and went (after Prohibition) has returned again, this time in Midtown as Alchemy Spirits & Concoctions.
When it opened in August, potential patrons were confounded by this new watering hole, located … well … somewhere and shrouded by an air of bygone days and exclusivity.
Its owners and operators — the same folks who brought Hotel Duval, Midtown Filling Station and The Front Porch to Tallahassee — were looking to catch a pair of big-city trends: the secret bar and handcrafted cocktails.
Alchemy is small — it seats only 55 people — and reservations, which can be made online up to 10 days in advance, are highly recommended. The proprietors tried to make the bar as "period" as possible, with not just a bar, finishes and fixtures from the Roaring '20s, but also bearded bartenders (call them "alchemists," please) and drinks that evoke the era.
There are no cocktail waitresses. Instead, a mixologist comes to your table to explain the menu of multi-ingredient drinks with names like the Ramos Gin Fizz or Corpse Reviver No.2. Order from the menu, or consult with your alchemist — they're all experts on cocktail lore, ingredients and construction — and have him or her create one to your liking.
What you won't find is a vodka cranberry (the U.S. wasn't making nice with Russia during the Prohibition era). A Godfather, made with bourbon, bitters and amaretto, might be suggested to a guy who's used to drinking Crown and Coke. "We like to get our patrons out of their wheelhouse," says Alex Beltrami, operating partner for Alchemy and the Midtown Filling Station. The goal, he says, is "sipping and socializing," with guests passing around their drinks so everyone can have a taste. There is a limited food menu, but cocktails are the stars of the show here.
Alchemy has been "wildly successful" since its opening says Marc Bauer, managing partner for Hunter & Harp Hospitality. "We're in a position where people are vying for reservations; they're trying to get in early. It's exactly the way we wanted to grow it — kind of virally."
The speakeasy is open Wednesday through Saturday starting at 5 p.m. For reservations, visit alchemymidtown.com.