SportsAbility Removes Barriers to Leading Active, Healthy Lives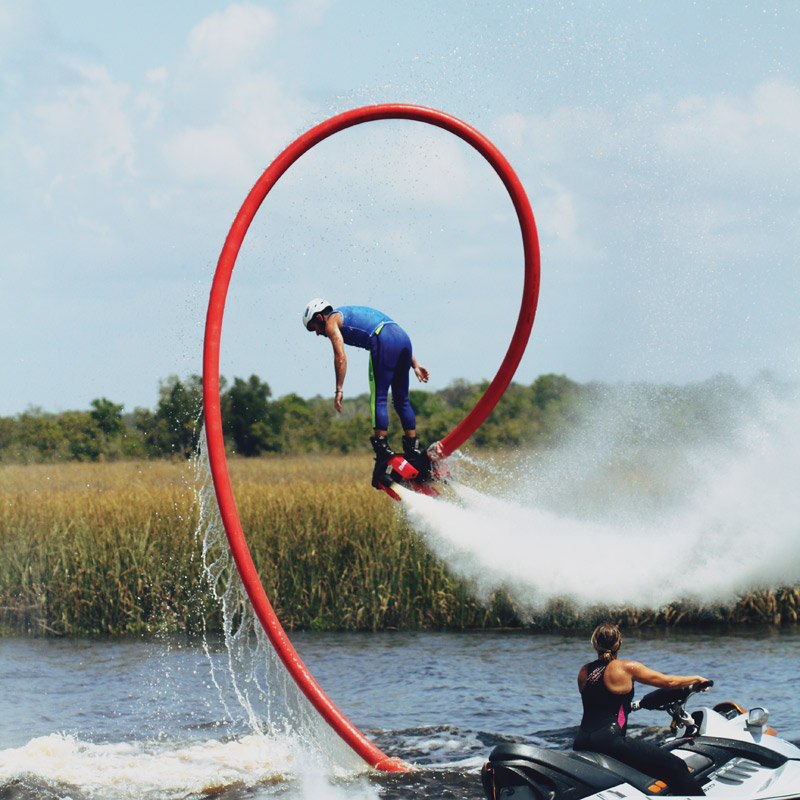 David Jones recovered from a near-fatal hunting accident because he found a way to engage in the outdoor recreation that he loved so much. He went on to establish the nonprofit Florida Disabled Outdoors Association because he knew firsthand it would help knock down the physical and mental barriers preventing disabled people from enjoying rich, full lives.
Florida Disabled Outdoors Association
An electric fishing reel that allowed him to fish despite his paralyzed hand helped David Jones (below) recover from a hunting accident — and led him to develop a nonprofit dedicated to encouraging disabled people to enjoy outdoor activities, including "flight" using water jet shoes (above) at this year's SportsAbility event.
In short, "having fun" is an essential ingredient to recovery and leading a normal life. The opportunity to play and have fun should be made available to all. That's the purpose of SportsAbility, a big, three-day sports-a-palooza event that began 24 years ago with the founding of the FDOA.
"SportsAbility is the premier event of the FDOA, and it's so valuable because it serves so many purposes," said Jones, who is now president and CEO of the organization. "It serves as a beginning for people of all abilities to get involved with active leisure who may not have had that chance or motivation."
SportsAbility is an annual springtime event usually reserved for three days in April. Participants of diverse abilities are given a wide range of activities to choose from, including adaptive golf, sailing, fishing, horseback riding, kayaking, disc golf, baseball and lawn games, pontoon boat rides and even scuba diving.
But it's not so much the three days of sport-related activities that are important, as it is the can-do message. The purpose is to enhance quality of life and wellness through active leisure.
"The important thing is the message we are delivering to a population that needs to know they can participate and can be included in a healthier, happier lifestyle using active leisure and recreation as a way to do so," Jones said. "Seeing the name, 'SportsAbility,' is motivational and inspiring to many people all year long because it delivers an important message that needs to be heard. Many have had the doors shut, but they keep trying. This program provides supportive opportunities for choice, and the word choice is real big in SportsAbility and life. We embrace diversity in abilities."
Today, the FDOA has six major programs, including children's youth sports, recreational opportunities for adults with disabilities and the big SportsAbility event. The FDOA's most recent accomplishment is Miracle Sports of Tallahassee, which provides access to athletics for people of all abilities. Most Miracle Sports games are held on Miracle Field at James Messer Sports Complex. Miracle Field was opened in 2008 through a collaborative effort of the FDOA, the City of Tallahassee, Leon County and the Kiwanis Club. The field is a rubberized surface that allows people of varying abilities access to sports with barriers or limitations.
"Most people forget the importance of play time. Everybody needs an opportunity to participate and enjoy a better life," Jones said.
Matt Burke
It's a personal quest for Jones, who speaks from experience. In 1988, he was shot in the head with a shotgun while hunting with a friend. The traumatic head injury left him with double vision, limited mobility and paralyzed his left arm. He spent a year in a wheelchair and through dogged, persistent therapy, managed to learn how to walk again.
"I was nine days in a coma and then about two weeks in intensive care," he said. "I really was not expected to survive nor exist in any state of desirability. The prognosis was grim. But I beat the odds. I didn't fold up or quit. I kept getting stronger and stronger."
Amazingly, he has recovered so much of what he lost that the only remaining sign of an injury is his paralyzed left hand.
"I didn't get complete recovery, but you know what I learned? You don't need two hands. You're just blessed with extra if you have two. If you got one hand, you can get out there and do it. And you know, many of my friends get out there and do it with no hands," he said. "So it doesn't matter what you have. You still have abilities and capabilities, and you utilize the tools you do have. And that's one of the lessons I've learned during this process of therapies."
One therapy particularly helpful to him while in the hospital was recreational therapy, utilizing games to motivate and encourage movement and exercise. Jones said he didn't realize they were playing games with a bigger purpose in mind.
"I thought I was just having fun, batting a balloon around, building a birdhouse, silly things I thought David Jones would never do. I was a hunter, fisherman, outdoor person, but at that point in my life those exercises were fun and gave me some socializing with my friends, patients in the hospital," he said. "That gave us focus and purpose."
As time passed and his recovery progressed, Jones wanted to somehow get back to experiencing the great outdoors. He bought an electric fishing reel, and his family took him fishing on Lake Talquin. He said he didn't catch a thing, but that wasn't the point.
"It's fishin'. It's being there, doing what you love doing. That piece of technology was my motivation, my inspiration," he said. "That led me to do all the other things I had to do. Get out of bed, tie my shoe, get in my wheelchair, learn how to transfer to a car, go on a road trip, get out of the car, get that wheelchair all the way down to a dock, get onto a pontoon boat with no ramps — we had to learn all these things. I was learning how to live because I had an electric fishing reel."
That same spirit — the enjoyment of life despite a perceived limitation — inspired him to go back to college and earn his marketing degree. While in school, he decided he would create a nonprofit organization to help people get back to living in the community. That dream was fulfilled in 1990 when he established the FDOA and SportsAbility. Coincidentally, the Americans with Disabilities Act came into existence at the same time. The ADA opened up an entire world of physical access for disabled people, and the FDOA promised to reduce, or eliminate, the mental barriers that prevented the disabled from reintegrating into society. The new law dovetailed nicely with Jones' mission — the removal of barriers.
"Motivation, or lack of, is one of the biggest barriers we continually struggle against," Jones said. "It's so hard to take that first step and have the ability to self-inspire. Motivation is a big part of what we do. We've learned through research that people with disabilities respond more positively to real events, real people doing real activities at a real place and time; meaning, doing things versus just telling people they should be active."