Spice Up Your Holiday Meal With Some New Cultural Traditions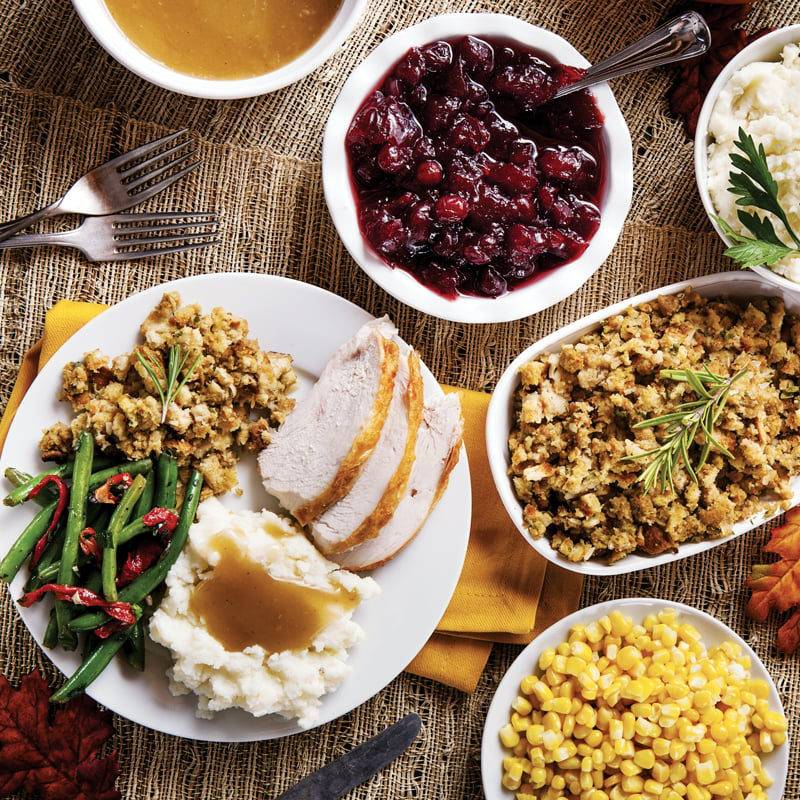 The culinary traditions of the holidays create unforgettable tastes and smells, the foundation of treasured memories. Certain dishes take on mandatory status, and without them the holiday just doesn't seem right. And while there are particular dishes that have become linked to the end-of-year holidays, different cultures add a unique spin to old standards and offer new tastes, as well.
Throughout the country, turkey at Thanksgiving is standard, even though historians say turkey wasn't served at the first Thanksgiving. Here in the South, where most anything that can be eaten can be improved by immersion in boiling oil, deep-fried turkey often takes its place alongside roasted bird. Ample leftovers provide the basis for sandwiches, and the carcasses create aromatic soup. In coastal states, oysters in various forms accompany the bird, including fried oysters and oyster dressing.
On Christmas Eve, oyster stew is a favorite supper; simple fare in advance of the huge meal to come the next day. The main event on the Christmas table is often turkey again, but serving ham or roast beef instead is gaining popularity.
Southern, with a Twist
Janie Nelson, a former editor and writer at the Tallahassee Democrat renowned for her cooking, enjoys the best of both for her end-of-the-year meals. Thanksgiving is celebrated with family and a traditional turkey dinner, but Christmas is spent with friends. She cooks beef tenderloin or a standing rib roast, with mashed potatoes, green beans tossed with butter and almonds, cranberry relish and corn salad.
For more than 40 years, she's been making white fruitcake from a recipe in "Joy of Cooking." She said she switched to using dried fruit last year, and this year used mainly fruits she and her husband, Ron, grew and dried themselves — figs, blueberries and pears, as well as store-bought dried apricots.
Mais en salade
(Serves six)
Ingredients
1/3 cup olive oil
6 scallions, minced
2 garlic cloves, minced
Juice of one lemon
1 tablespoon salt
2 bay leaves
1 teaspoon thyme
1 16-ounce can corn, drained (or use 4 fresh corn ears, cut off the cob)
1/2 cup dry white wine
Directions
Heat olive oil in heavy-bottomed pan and add the scallions, garlic pieces, lemon juice, peppercorns, salt, bay leaves and thyme. Cook over high heat for five minutes. Lower the heat and add corn and wine. Simmer uncovered for five more minutes. Chill for at least three hours.
---
Plains Cheese Ring
Ingredients
1 pound of sharp cheddar cheese, grated and softened
1 cup chopped pecans
1 cup mayonnaise
1 small onion, grated
Black pepper to taste
Dash of cayenne pepper
Directions
Combine all ingredients in food processor. Form into a ring and fill center with strawberry preserves. Serve with Ritz crackers.
Her cranberry relish recipe came from National Public Radio's Susan Stamberg, who got it from her mother-in-law years ago and shares it with listeners every year. It can be found online at npr.org. Nelson's corn salad recipe came from a French cookbook she found at a yard sale. "It can be made the day before, which is awfully handy," she said.
Holiday food traditions don't have to be limited to lavish meals. For the past 25 years, JoAnn Bixler and Anne Rowe have hosted a Ladies' Christmas Coffee in December. The two lifelong friends split the duties: Anne gets her home ready for the party, and JoAnn prepares all the food.
"We usually have 100 to 150 people," said JoAnn, director of rentals and special events at Goodwood Museum & Gardens. "You can hear us all the way up the block."
The date has always varied, depending on Anne's teaching schedule before her retirement from Florida State University and JoAnn's workload when she operated The Carriage Shop on Market Street. But the refreshments remain consistent year to year: toffee, sugar cookies and Plains Cheese Ring, former First Lady Rosalynn Carter's special recipe.
Upscale Soul Food
Genice Harris comes from a large family, and she married into a large family, so juggling family dinners at holiday time is a necessity. "We'll spend Thanksgiving with my family and Christmas with my husband's family one year, then switch holidays the next year," said Harris, a program assistant at the Leon County/UF IFAS Extension Service.
While poultry is usually the main event, the accompaniments are traditional African-American side dishes, including collards. Her sister Regina is responsible for the dressing, which is made from crumbled cornbread, celery, onion, bell pepper, lots of black pepper and enough chicken broth to make it soupy. It bakes into a moist, soft cake of deliciousness.
Whether she's with her siblings on Thanksgiving or Christmas, she's expected to bring two cakes, a Peanut Butter Cake she bakes using their late mother's recipe, and a Lemon Bundt Cake from a recipe a friend gave her. "I always have to bring both," she said. "They're a little greedy."
Hanukkah Treats
Marty and Marion Merzer moved to Tallahassee from South Florida several years ago to be closer to their only child, Allie Merzer Fleming, and her family. They found themselves organizing holiday dinners for their family and included Allie and husband John's friends, whether Jewish or not. To them, it was just part of family life, so they were taken aback a bit when they got an inquiry from one of last year's guests wanting to know the date of this year's Hanukkah party.
They turned to each other and said, "We're having a Hanukkah party?" That pretty much settled it. Marty, a retired Miami Herald reporter, and Marion, a retired university administrator, both enjoy the opportunity to share the holiday with friends who have become extended family, even though Hanukkah is not a major Jewish holiday.
G-Ma Merzer's Traditional Potato Latkes
Ingredients
2 potatoes
1 small onion
1 teaspoon salt
1 egg
pinch of pepper
1 tablespoon oil
2 tablespoons matzo meal
oil for frying
Directions
Using a food processor, grate one onion per two medium peeled potatoes. Mix in an egg, salt, pepper, and oil. Add matzo meal to thicken mixture. (Increase ingredients for a mixture made of more onions and potatoes.)
Heat oil in frying pan. Drop mixture by spoonfuls. Flatten slightly to cook thoroughly until brown and crispy.
Drain on paper towel.
Serve hot with applesauce and sour cream! L'chaim!
---
English Toffee

Ingredients
4 sticks butter
2 cups sugar
2 tablespoons water
12 Hershey bars
1 cup of chopped nuts
Directions
Boil butter, sugar and water, stirring constantly, until candy thermometer reads 300 degrees. Pour mixture onto cookie sheet with sides. Immediately place Hershey bars over hot mixture and spread smooth with a knife. Press nuts on top and let stand overnight, then crack into pieces.
Hanukkah commemorates the rededication of the Temple of Jerusalem after it was retaken from the Greek Syrians in the Maccabean revolt about 200 B.C. Although there was only enough uncontaminated oil to light the candelabra for one day, the light burned for eight days, the amount of time needed to prepare new oil under conditions of ritual purity. An eight-day festival celebrates the miracle.
Last year, Marion gathered her collection of menorahs on the kitchen island, and she and Allie led the prayers as members of each family present gathered together to light one of the menorahs. "It was a nice moment," Marion said.
Latkes, or fried potato pancakes, topped with applesauce or sour cream are usually served at Hanukkah gatherings. Some families serve a beef brisket or fancy filled latkes, but Marion likes to keep things simple. "I make latkes from a recipe handed down from my grandmother," she said. "She was a magnificent cook and taught me how to make chicken soup, matzo balls … traditional food. We do a simple meal before (the celebration), a dairy spread, tuna, deviled eggs."
One thing has changed over the years, though. "I started out with a manual grater, trying to keep the knuckles out of the way," she said. "Now, I use a food processor."
A Latin-Flavored Christmas
José de Jesús Fernandez, a native of the Dominican Republic who grew up in New York and Massachusetts, said Dominicans eat plenty of rice all year long, accompanied most of the time by red beans and thin steaks. But on Christmas Eve, he said, most people from the Dominican Republic, as well as natives of Cuba and Puerto Rico, "will have a pork dinner with all manner of trimmings and sides, such as rice, yucca, salads, breads and desserts, along with an abundance of drinks such as wines and beers."
"We don't have a Thanksgiving holiday in the Dominican Republic, but as we migrated to the United States, we have adopted the Thanksgiving Day tradition,' he said, "including the use of a turkey, but in many households, the turkey is not the only offering as pork is also on the menu."
This practice of retaining the traditional foods while adding new flavors extends to side dishes, he said. Latinos will keep the mashed potatoes but also serve white rice. Pumpkin pie is on the menu as well as flan, a steamed custard with a caramel sauce.
There is one traditional American side dish that hasn't really appealed to Latin palates, Jose said, and that's cranberry sauce.