Spanx Creator Sara Blakely Makes the World a Better Place, One Butt at a Time
Behind the Seams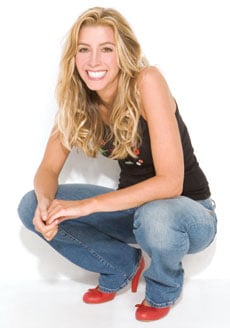 Henry Ford invented the automobile. Thomas Edison invented the light bulb.
And Sara Blakely invented Spanx.
And for some women, they'd forego the cars and the lights and walk in the dark rather than give up their Spanx.
If, by now, you're asking what Spanx is, you must be either: 1) a man, or 2) living under a rock. Spanx is the brand name for a line of revolutionary women's undergarments that smooth and tighten, helping a woman look fabulous while wearing today's unforgiving close-to-the-body styles.
The 36-year-old Blakely is a Florida State University graduate and a Delta Delta Delta alumna who personally parlayed a bright idea into a multimillion-dollar company, television appearances and an eponymous foundation to help women throughout the world to find success.
There were 160 or so sisters when she was in the FSU chapter of the sorority in the early 1990s. But Blakely's friends recall she always stood out.
Shelley Green, a fellow sister, remembers when she first met Blakely in August 1992.
"I was going through recruitment at Florida State University, and she was the first Tri Delta that I had met," Green said. "Sara was assigned to rush me. From that very first moment of meeting her, she was so natural and easy to talk with. Her personality sparkled, she was beautiful, intelligent, and you could tell that she was tons of fun to be around. Always upbeat, involved in both campus and sorority activities, caring, kind, and super funny and animated – the type of person you would want as your friend."
After graduating from FSU, Blakely sold copiers and fax machines door to door and was more than once escorted out of office buildings for cold-calling. She also was a sales trainer and moonlighted as a stand-up comic.
Blakely recalled her "light bulb" moment when she came up with a product that would make her millions.
"In 1998, I was getting dressed for a party and couldn't find the right undergarment," she said. "So I cut the feet out of my pantyhose to wear with white pants and open-toed shoes. At that moment, I knew this was something women needed."
Blakely is proof positive that you can take a great idea and, with a tenacious spirit, a little bit of money and a whole lot of research, turn the American dream into a reality. Over seven years, the former salesgirl turned a $5,000 investment into more than $150 million in retail sales, 55 employees, four patents and Assets, a new brand of undergarments sold at Target.
From the original footless hose, the Spanx line has expanded to include more than 100 different items, including "power" panties, body shapers, camisoles, panty-top fishnet hose ("No more grid butt!," the Spanx Web site enthuses), bras and more.
Blakely said she never dreamed visible panty lines and uncomfortable thongs would inspire her to become an inventor. Like so many women, she said she bought clothes that looked amazing in a magazine or on the hanger, but in reality magnified every panty line and imperfection – clothes that languished in the "maybe one day I'll be flawless" section of her closet, where they remained unworn.
​Blakely credited FSU and Delta Delta Delta with preparing her for her future success.
"In the beginning, my friends and sorority sisters were crucial in helping me network, market and promote Spanx," she said. "I've never paid to advertise, so grass-roots marketing was vital to the success of Spanx. I was also very active on the FSU debate team, and I took a lot of public speaking courses. Both helped me with my speeches and TV appearances."
And that's a good thing, because Blakely has been making her rounds on the television talk show circuit. "Oprah," "Ellen" and "The View" all have invited her to appear on their shows. Oprah is a huge fan. On her show, Oprah Winfrey enthused: "I love Spanx. I love Spanx. I wear Spanx every single day. I've given up panties. I wear Spanx!"
The list of stars who endorse Blakely's products is long and includes Jessica Alba, Rachael Ray, Gwyneth Paltrow, Tyra Banks and Katie Couric. Many stars on the red carpet are known to be wearing Spanx under their designer-label gowns.
Blakely said she is well received by women of all ages and backgrounds.
"The products do what they say they do, they're comfortable, and they give women a little extra boost of confidence," she said. "I am constantly getting flashed by women wearing Spanx! Women stop me all of the time at the grocery store and the airport to thank me for creating Spanx. Teenage girls tell me they wore Spanx under their prom dress, and grandmothers tell me they wore them to their granddaughter's wedding. I love the fact that Spanx is loved by women across generations and that women love telling other women about Spanx."
Deborah Dugger, of The Carriage Shop in Tallahassee, said that Spanx just gets more and more popular.
"People love them in all the styles they come in," she said. "They're just so comfortable to wear, and they really do what they're advertised to do."
Another Tallahassee shop, Fancy Pants, offers rave reviews of Spanx. Sandra Jones of Fancy Pants declared them a huge hit.
"They are very sleek and comfortable," she said. "When a woman comes in who isn't familiar with them, we get her to try them on. She usually buys them right away. They're very popular."
Blakely's hands-on approach to inventing has turned her into a trusted mentor for others. She was asked by ABC to be a judge for the network's hit show "American Inventor," where she sat alongside George Foreman, selecting inventions they thought would be a success.
"I always encourage entrepreneurs starting out to not be afraid to fail," Blakely said. "I think fear prevents so many people from pursuing their ideas. When I was younger, at the dinner table my father would ask my brother and me what we failed at, and if we didn't have a story of something that we failed at that day, he would be disappointed. It was this great reverse psychology, because we'd get excited to have a story. I'm so thankful for that, because now as an adult, I'm not afraid to fail. To me, failure is not trying, rather than not succeeding."
And now, Blakely is turning her attention to giving back by helping women globally with education and entrepreneurial support. She has donated 100 percent of the money she made from "American Inventor" to The Sara Blakely Foundation. (She got $750,000 in seed money for the foundation from entrepreneur Richard Branson after taking second place in the 2005 Fox reality show "The Rebel Billionaire.")
"I'm on a mission to make the world a better place one butt at a time, and now I'm on a mission to make the world a better place one woman at a time!" Blakely said. "Thanks to the success of Spanx and Assets, I was able to launch The Sara Blakely Foundation in October of 2006, dedicated to giving women around the world the leg up they need to realize their full potential. It's been a dream of mine since I was a little girl, and now it's coming true. I feel so lucky to be a woman in America and to have had the opportunity to succeed the way that I have. I just want to give other young women that same opportunity."
As for Blakely's plans for Spanx, she always tells her team, "I hope to make the question 'Does my butt look big in this?' obsolete, invent a comfortable stiletto and then I can retire!"
Triston Sanders was a member of Delta Delta Delta sorority at the same time as Sara Blakely. She recalls the pre-Spanx days when her sorority sisters would cut the legs off panty hose and just wear the control top.
Photo courtesy Spanx
On the Web:
spanx.com
thesarablakelyfoundation.com