SouthWood May Be Developed But It Surely Isn't Dull
A planned community that some residents never want to leave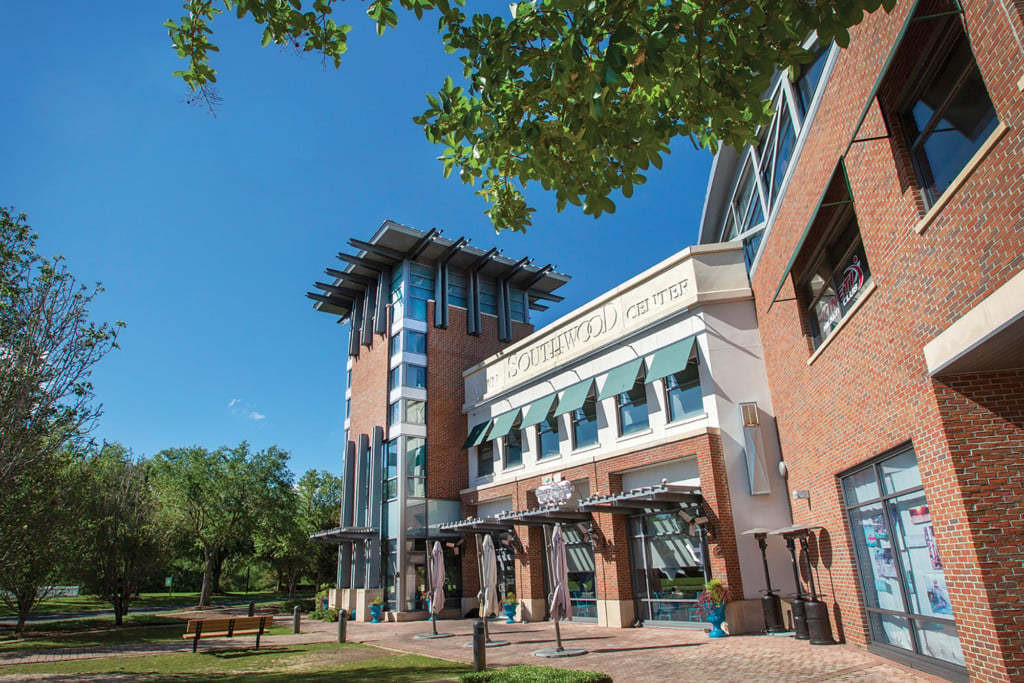 On Tallahassee's southeast side, so far out of town that pilots use a red-roofed house as a marker for where to turn to the airport, you'll find the master-planned community of SouthWood.
Occupying miles of former pineland and pastureland, the neighborhood offers over 1,000 acres of interconnected green space and the spirit of community that its founders envisioned.
Upon entering SouthWood on Merchants Row Boulevard, you encounter a line of quaint houses that hint at a community that bonds.
The neighborhood trumpets relationships and connectivity and even has an Art of Living director.
Keep driving and arrive at the town center, which includes a health club, a church, an upscale nail salon and eateries.
SouthWood also features an 18-hole golf course, tennis courts, parks, lakes, nature trails, a tot lot, a community center, quick access to a Publix and Starbucks and multiple green spaces, including parks and lakes.
Schools and office complexes line its perimeter.
That gives many residents all they need. One resident jokes that it's a bad week when he has to leave the neighborhood.
"Where else could I go where I can live in a great community, have access to all the events and I get to take my son to school on a golf cart in the morning?" said resident Kerry Drew, referring to the elementary school at Florida State University Schools.
Drew said he has lived in SouthWood for about seven years with his wife, Wendy, and their son, William. One of his first big purchases: the golf cart that he says also takes him to the town center for a Mexican meal or for a workout at the gym.
"My wife and I like to get to know people, to socialize, so this was the best place in the world for us to move," Drew said.
"We met everybody that we know here. What's unique about SouthWood is that it doesn't matter if you're my son's age or in retirement. There's something for everybody."
The St. Joe Company acquired the land and envisioned it as a master-planned community that news organizations began to write about as early as the late 1980s.
Mike Kerrigan, corporate director of marketing for the St. Joe Company, said the company "aimed to build a community of diverse residential and commercial offerings that would appeal to a wide variety of people in Tallahassee while maintaining a focus on nature and outdoor activities."
Construction began in the fall of 2000, after delays in which the St. Joe Company worked out details with city and county regulators about what the community would entail.
The first residents moved into their homes in 2002, but the St. Joe Company points out that its work remains far from done.
"As SouthWood continues to develop and evolve, we will respond to market demand while maintaining the lifestyle that the residents of SouthWood have come to enjoy," Kerrigan wrote in an email to Tallahassee Magazine.
"We are currently working with multiple homebuilders as demand for new homes in SouthWood remains high."
Cultural resources remain. Among them are Apalachee Indian and Mission Period artifacts, the SouthWood House and the Connie Copeland African-American Cemetery.
The community prioritizes conservation and keeps its parks and trails preserved, maintained and accessible. Native trees and greenery provide settings for biking, bird watching and more.
"I can bike from my house to the Wakulla River and never have to ride on the road," said resident Mark Zeigler, a professor at Florida State University.
Funding from the Capital Region Community Development District helps maintain four habitat reserves scattered throughout SouthWood's 3,300 acres.
In addition to the habitat preserves, SouthWood manages two mitigation areas — Shepherd's Branch and Oak Ridge — with the goal of maintaining native plant and animal species and reducing the risk of wildfires.
The neighborhood touts its livability. Laura Kalinoski, its Art of Living director, says she emphasizes strong relationships, connections with nature and participation in activities.
She says some people move to SouthWood for the activities alone.
"My favorite thing about an event is when two people talk and they realize they live two doors down from each other," Kalinoski said.
"They just become great friends, and that's my entire goal."
The community offers yoga and art classes and larger social events such as Halloween Fright Night and Winter Fest.
Its Fourth of July celebration includes a parade, live band and fireworks, and it sparks crowds of 6,000 to 8,000 people from all over Tallahassee.
Programs include "SouthWood Gives Back," in which residents seek ways to unify and to help each other.
Emergency efforts include work with FEMA and the City of Tallahassee on storm preparations.
Participants aim to immediately get on the roads and help neighbors in need.
"When something happens, we all band together," said Drew, the resident with the golf cart.
At the end of each day, SouthWood buzzes with people walking their dogs, running on the trails or taking their kids to the park.
Residents say they think their community is for anyone.
"There's just more of a progressive feel there than other places I've lived," said Zeigler, the FSU professor. He says it's inclusive while "retaining the old Southern charm."