Songs from Further Down the Trail
Hot Tamale may be Tallahassee's most familiar and well-liked musical duo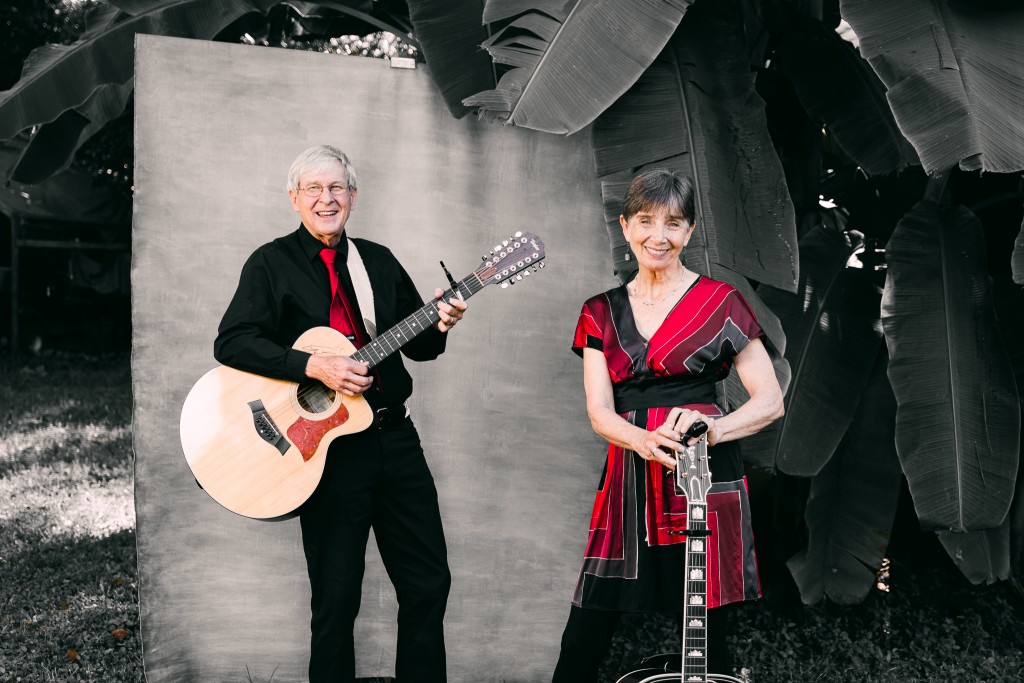 In popular musical tastes, there have always been wide swaths, varying demographics and migrating audiences that shift from decade to decade. From the melodically earnest songs of the '30s, the slightly sappy tunes of the '40s and '50s, the rock that spun out of the '60s and the poignant ballads of Bob Dylan, much has followed — disco, funk, metal, techno, hip hop, rap and the "singer/songwriter" personal confessions of people filled with angst.
But occasionally, one comes across a unique hybrid, a blend of sounds that though its roots may be steeped in the elixir of nostalgia, is filled with enough joy, enough melody, enough of a heel-pumping beat, that children, their parents and those who were once flower children can all gather together and delight in harmonies that no matter their ages, touch them.
Hot Tamale is such a hybrid. The duo is ubiquitous in the capital city and environs — at art show openings, the Downtown Market Place, Railroad Square on First Fridays and fundraisers for everything from breast cancer to environmental causes. Everywhere they go, Adrian Fogelin and Craig Reeder's harmonies joyfully bind people together with their head-bobbing rhythms.
Together for the last 13 years, in conversation as in music, the pair seems to be operating from a "uni-mind." In their early 70s and happily married to other people, Fogelin and Reeder, nevertheless finish each other's sentences, brag on each other's multiple talents, laugh at each other, interrupt each other and admire each other endlessly. And, they say, it is their love of the music and the "ham" in each of them that has only strengthened the longevity and creativity that powers Hot Tamale.
Fogelin, youthful looking in a sundress and cropped hair, is as enthusiastic as a kindergarten teacher. Laughter marks her conversation as she hops from subject to subject.
Born in New York and raised in New Jersey, Fogelin started down a musical road with her father's guitar. By the time she finished high school, Fogelin had already been the leader of two bands. But there were other paths, too. The artistic muses seemed to like what they saw in the young woman and brought their friends.
Fogelin entered the Rhode Island School of Design as a sculptor. She would later become a top illustrator of animals at the Baltimore Zoo and go on to have her own gallery in Key West — this time as a fabric art creator. It was later that her facility for writing would burgeon into over 300 unique songs and work as an author of books. Fogelin has written nine middle-reader novels, one of which, prize-winning Crossing Jordan, has been made into a play, a short film and a musical. In her spare time, she runs a food bank and edits others' books.
Watching, Craig Reeder, smiles with pride at his partner.
"I think she's the best songwriter I've ever heard," he says. Reeder, soft grey hair leaving him looking slightly collegiate, spent much of his life working with numbers — he was an accountant. But he parlayed that into international travel, spending a total of nine years working in China and becoming fluent in the language. Later, he taught accounting at Florida A&M. And then, with retirement, he became a busker (probably something many people have wanted to do).
Fogelin and Reeder double over laughing at how they became a team.
"I was helping my friend sell pottery at the Downtown Marketplace one Saturday, and this guy was singing all alone at one end of the park. And I said to myself, 'He needs harmony!'" After several weekends, Fogelin had the nerve to join him, and their voices, their sensibilities and musical tastes immediately synced.
"Also, we're both vaudevillians at heart," says Reeder. "We love to joke on stage, ham it up, do our shtick." And make the most universally appealing music they can.
To hear them perform is to step back into a folk, sometimes country, at times early rock 'n' roll mode. Fogelin's voice is as sparkling as spring water, then as husky as Southern whiskey when she drops it. Reeder says she sounds like Judy Collins. Reeder often sings lead to Fogelin's instinctive harmonies, but his baritone is warm and friendly. And together they revel in telling the melodic song stories that Fogelin writes.
Often on the Roots Music Report's Top 50, with four major CDs to their credit and YouTube videos online, the pair's newest 12-song production is Veteran Hearts. Here are songs that tell us that love has nothing at all to do with age, which is just how Hot Tamale approaches their passion for music.
"We love it!" they say. In fact, they've recently taken up voice lessons. "We want to be doing this for a long time to come!"
LOVE & PAIN
Hot Tamale released a collection of original music, Veteran Hearts: Songs from Further Down the Road, in October 2021. About the album, they say, "The long thread of life winds through the songs: love, pain, joy, memory, the bitter and the sweet." Songs include Busker's Lament and Halfway to Texas.