Some of the Best Bird Watching Can Be Found in Our Backyard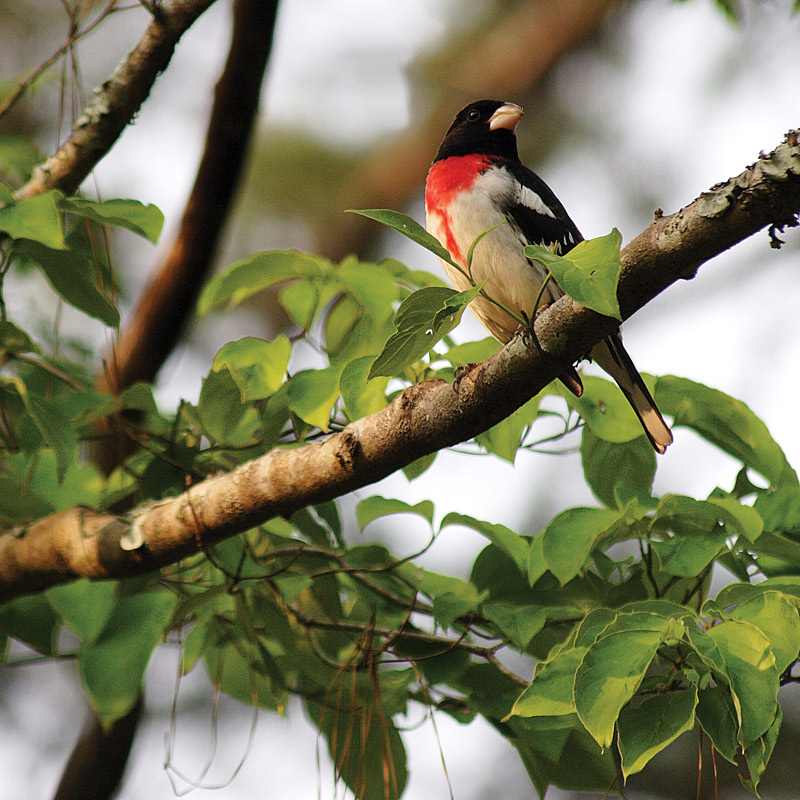 Driving down Panacea's remote Bottoms Road, the car stops in the middle of the winding road surrounded by salt marshes. Suddenly, five people jump out, binoculars in hand, begin to call out names — Whimbrel, Snowy Egret, Barn Swallow and Boat-tailed Grackle — and mark them off a list. 
"That's the thing about birders, they just stop wherever they want to," said Jim Cox, a scientist at Tall Timbers Research Station, who was able to identify 85 different bird species during the five-hour evening trip.
Whether you want to enjoy the beautiful array of colored feathers or explore life beyond the concrete jungle, birding offers a unique hobby, lifestyle and sport. Birding, or bird-watching, can be done by foot, boat or car.
For competitive sorts seeking excitement and adventure, The Big Year (celebrated in a 2011 movie of the same name) is a competition where birders strive to see as many different species as they can in 365 days.
Bird-watcher achievement certificates can be earned through the Florida Fish and Wildlife Conservation Commission's (FWC) "Wings Over Florida" program. Or, take a more relaxed approach and do some avian identification from the comfort and convenience of a favorite patio chair in the backyard.
While birding is a great excuse for travel, don't think you have to venture too far. Tallahassee offers some of the best birding in the world. After moving to Tallahassee 11 years ago from Liverpool, England, Andy Wraithmell, an information specialist at the FWC, still finds "twitches" in Florida. "We call them twitches because there was a birder in England that had a nervous energy when he saw a new bird," as if he were twitching with excitement when checking a previously unseen bird off his list, explained Wraithmell.
"Tallahassee is perfectly situated for anyone who enjoys watching birds, whether it's from a backyard feeder or at any of the many public lands like state parks and the St. Marks National Wildlife Refuge," said Adrienne Ruhl, vice president of the Apalachee Audubon Society. During migratory seasons, areas of the Big Bend will knock some "lifers" (another term for a new bird) off your list and surround you with hundreds of colorful species — "the type of event that hooks someone for life," said Cox.
After 25 years of birding, Cox's binoculars had seen better days. New binoculars weren't seen as a viable option due to their sentimental value, so he sent his to get repaired. "I want to be buried with those things," said Cox. Quality binoculars are key to bird watching. According to "Bird Watching Basics," written by Cox and distributed through the FWC, binoculars affect the quality of your birding adventures.
Know what birds will be found in our area and whether they are permanent Florida residents or migratory visitors. Here, migration seasons are in the spring (mid-March to mid-May) and fall (early August to December). "The fall migration period is longer, because they're not in much of a rush to leave Tallahassee and the weather," said Wraithmell. But some migratory birds have become permanent, such as the Canada Geese that enjoy Tallahassee so much they decided to grace us with their presence year-round.
A cool, fall morning when birds are singing as they search for their breakfast is the best time for a trip (avoid mid-afternoon when birds are less active). Birding in the evening offers great sunlight and settings for photography lovers. According to Wraithmell, the go-to place in the fall for Tallahassee is Elinor Klapp-Phipps Park to see the Cerulean and Canada warblers that attract visitors from all over the state. For hummingbird enthusiasts, eight species of hummingbirds come to Tallahassee in the winter, making it one of the best spots in the world. 
Surprisingly, bad weather can spark some of the best birding days when "fallouts" (the sudden appearance of large quantities of migratory birds) occur. These birds find refuge in Tallahassee after flying the equivalent of 20 marathons from parts of Central and South America. 
Just because you don't know the difference between a Rose-breasted Grosbeak and a Scarlet Tanager doesn't mean you can't learn. "Wherever you are, pay attention," said Katy NeSmith, zoologist at Florida Natural Areas Inventory. Whether it's on your morning walk or sitting in your backyard, the birds are everywhere. Start by browsing eBird.org or perusing a Florida bird field guide to get familiar with the birds around you. 
New birders commonly "want to attach a label right away, but watch the birds, then figure out the name," advised Wraithmell. Paying attention and taking detailed notes on the birds will help you to distinguish the bird and remember it in the future. According to Cox, there are five keys to identifying the bird — shape and size, plumage, behavior, habitat and voice. 
Tallahassee has several clubs, such as the Apalachee Audubon Society, offering regularly scheduled, organized trips. "Comede et bibe Dormite avibus," or "Eat, Sleep and Drink Birding," is the motto of the more casual Tallahassee Bird Club that holds café meetings and spontaneous birding trips twice a month. 
Don't be intimidated by club members' experiences. They welcome all ages and levels of birders. Wraithmell helped found the Tallahassee Bird Club on the premise that its camaraderie would welcome people of all demographics. Birding is often thought of as a hobby for older generations, but by incorporating technology and social media, the club is encouraging a more youthful crowd. 
Your lifetime of birding can begin with the purchase of binoculars and a field guide, around $150 and $20 respectively. Besides the fixed costs of the essentials, you may have to fork out some money to pay for gas and park fees, both minimal when carpooling with fellow birders. While inexpensive for participants, birding and other wildlife viewing offers great economic value to Florida. St. Marks Wildlife Refuge, for example, "attracts people from all over the world and is a year-round guarantee to see plenty of birds," said Helen King, field trip committee chair for the Apalachee Audubon Society.
Birding and other wildlife viewing trips are second only to beach activities as the most popular outdoor recreational activities in the state according to the U.S. Fish and Wildlife Service. Wildlife viewing provides Florida with nearly 45,000 full-time jobs and brings in more than $2.7 billion in total trip and equipment expenditures, twice what the Florida orange brings to the state, according to Florida's Department of Agriculture and Consumer Services. "People aren't going to come to Tallahassee for shopping, but they will come for the birds and wildlife," said Wraithmell.
Getting stuck in the capital's 5 p.m. traffic can make you feel as if you're trapped in a cage, but going to a local park or taking a day-trip to outlying protected wildlife areas can help to spread your wings. "Most birders do it because birds represent freedom and have no international boundaries," something that attracted Wraithmell and millions of others to the world of birding.
So go outside, close your eyes and feel the Florida sunshine away from the sounds of cars, loud music or construction, and enjoy the breeze … and the sound of nature's finest singers.