Some of Tallahassee's Best and Brightest Builders Show Off their Handiwork
Renovation Renaissance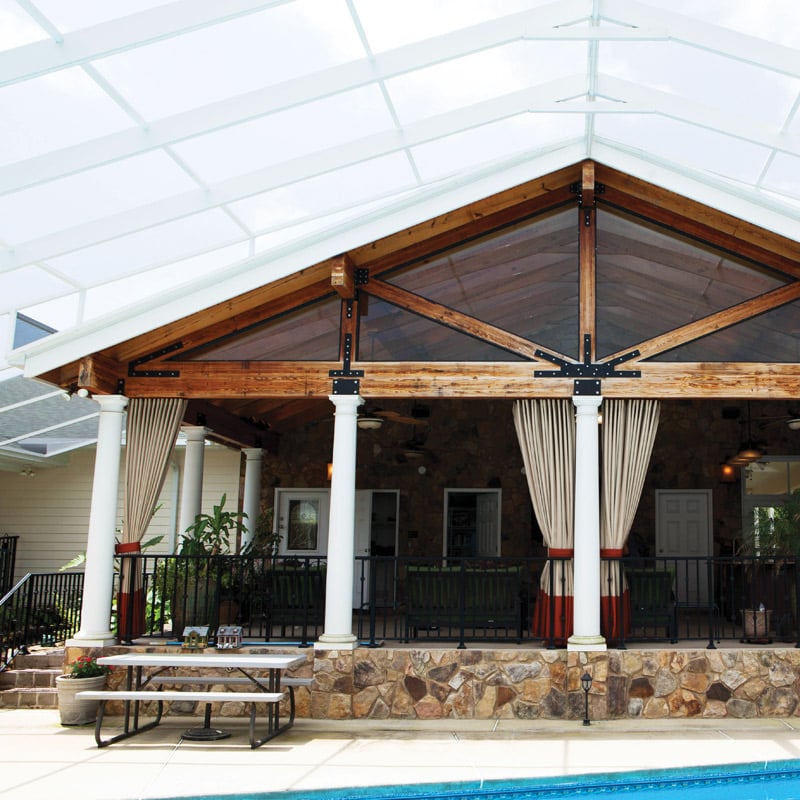 MatT Burke
Satisfied after Kip Carpenter built their original house, a local couple called on the contractor to make a major addition to the home, which included a large outdoor patio area suitable for large gatherings.
The paint's scuffed, the flooring's archaic and the gobs of "character" that seemed so charming at first are more of a safety hazard than a warm invitation to guests. The notion may be daunting, but you know what's on the horizon for your dated, albeit beloved, abode.
It's time for a renovation.
Once you've resigned yourself to the facts, know that the road ahead is sure to be a pricey one. But the glass is half-full. One good thing that came from the depths of our recent recession is a newfound enthusiasm for renovations and repurposing. To conform to the times, many esteemed and talented local builders have transformed their scope of service, dedicating a great deal of their resources to what has been christened as the "Renovation Renaissance."
According to Paul Thompson, executive officer at the Tallahassee Builders Association, the trick to a successful renovation hinges on hiring the right professional for the job. A little due diligence will ensure that he or she has the experience to address your wish list confidently and the creative foresight to comprehend your vision for the space.
"Hire a professional, I think is the first thing to do," advised Thompson. "Make sure they're properly licensed and insured. I usually tell people to ask for the last three jobs that they've done. It helps you get a little bit of an unbiased opinion of how that remodeler performed.
"I'm not saying there are not new people in the field who are good, but we have a lot of people with a wealth of experience. I think that's what people are looking for — someone with a strong track record."
Another bit of advice when selecting a contractor or remodeler — never go with a company that demands a large sum of money up front. Their haste could be an indication that they're always focused on the next big project and may leave your bathroom renovation behind for something that yields a larger cash flow.
"There's nothing wrong with a deposit," reminded Thompson, "but generally a remodeler is paid as the work is done. I think someone who comes in and wants to collect a lot of money up front would probably be a bit of a red flag."
After the selection process, staying true to the budget and away from overtly trendy designs (if you'll recall, the mushroom wallpaper of yesteryear was once a popular look) are the next biggest challenges. Home renovations are extremely personal, and an open dialogue between all parties is a crucial component of a happy completion. Renovations that boast longevity are often described as "clean," "functional" and "timeless." When discussing plans for a remodel, try to convey those characteristics. And, in case words fail, bring along a magazine clipping for a visual cue.
Remodels can be a tear-filled journey. For Tallahasseans, though, luck is on our side. The capital city is full of tried-and-true companies that know their stuff. Whatever the project, there's a guy or gal in town for the job.
Doubtful? Check out these pictures. They're worth a thousand words.
French Connection Bathroom Redesign
Company: Shane Y. Lambert Construction, Inc.
What makes it special: In this renovation, everything is high-end, from the marble floors to the luxurious clawfoot tub. Having lived in the home for more than 20 years, the lady of the house knew exactly what she wanted. When it was finally feasible to renovate, no expense was spared.
Matt Burke
If you had to label it, what style would you consider this design? "I would say it's a French classic look," shared business owner Shane Lambert. "She loves Paris, so we decorated with a lot of pictures of the Eiffel Tower. It's a clean look."
Top Tip: "Be realistic with your budget," he urged. "They need to understand how much they want to spend and the kind of products they want to put in to their bathroom. They need to understand those costs, because it's something that you just don't jump into and hope while you're doing it that you're going to have enough money. It takes time and research."
Kitchen Gets Handsome Facelift
Company: Dion Builders
What makes it special: Dated and frumpy, this kitchen was in desperate need of a contemporary makeover. With a creative touch and traditional tastes, Dion Builders transformed it into rich, functional space with extensive woodwork and handcrafted cabinetry.
Why was now the right time to renovate? "I enjoy cooking, but being in this kitchen was depressing," joked owner Ed Dion. The space is part of his office's headquarters and used as a model for potential customers. "We renovate kitchens for a living but found that people were uncomfortable entering someone else's home to view one we'd recently completed. We wanted a place where they could feel as comfortable as they would in their own home."
Top Tip: "There are so many choices available on a renovation such as this that the options can be overwhelming," warned Dion. "Even if you think you know exactly what you want, I recommend hiring a design professional who can confirm you've made the right choices. Most aren't bashful about pointing out a faux pas, and it's a lot cheaper than realizing the granite doesn't go with the cabinets as well as you thought it would once it's in place."
A Truly Suite Transformation
Company: New South Homes Inc.
What makes it special: The homeowners are active in their church and often have missionaries come to visit for extended stays. This space, which was once a media room, will give their guests comfort and privacy.
Mother-in-law Suite; Cost: $40,000
How could this renovation add value to the home down the road? "Any time you have space to give your mother-in-law or college-aged kids a little more privacy and autonomy in your home it adds value," explained company President Brian Will.
Top Tip: "Even if you need to pay a small fee for a feasibility study to have a professional remodeler come and take a look before you start the design process, you can avoid of a lot of problems," stated Will. "I've seen customers spend a lot of design money on their dream renovation, only to find out it costs twice what they thought. I think the feasibility study is a good use of money upfront. I believe someone needs to know if they're looking at a $20,000 or an $80,000 [job]."
Grand Estate Addition and Outdoor Living Oasis
Company: Carpenters Construction Co. Inc.
What makes it special? After finishing the main house in 2003, the homeowners regarded their relationship with their builder so much they invited him back in 2010 for a major round of updates. A new garage, bathroom, spacious dining room and extravagant outdoor area were added to make this home truly complete.
What inspired this renovation? "[The owners'] imagination and desire to have an area large enough when all the kids and grandkids came to visit, and yet one that they could entertain sizable groups," explained owner Kip Carpenter.
Top Tip: "Write it down," emphasized Carpenter. "Everything. This is usually a team effort with spouses. Both people need to write their list down and their priorities of what they want in the project and compare them. Sometimes you'll find that you've got to get together on it before you can bring a third party in. Know what you want."