Some Like It Hot
Sauce makers succeed by trial and error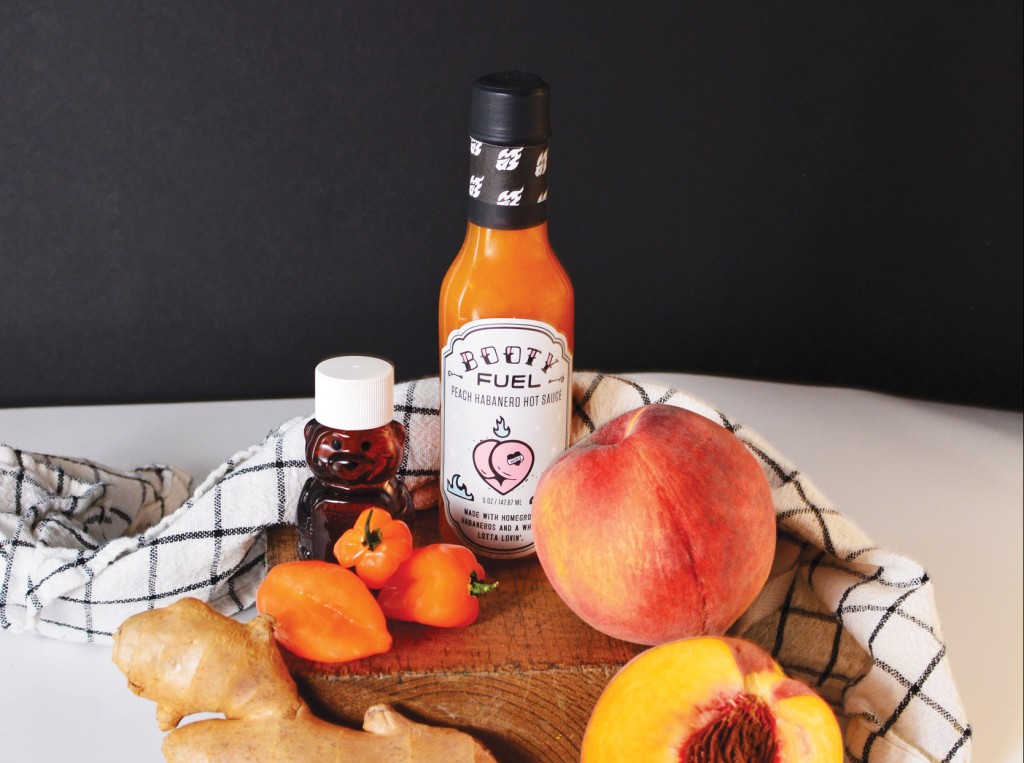 For a time, in the course of a southerly migration from the frozen tundra to North Florida, I paused in the bedroom community of Chillicothe, Illinois — where most members of the workforce commuted each day to jobs at Caterpillar Tractor Co. plants in and around Peoria — and served as the editor of the town's newspaper, the Bulletin.
The newspaper office was located next door to Bob's Meat Market, across Fourth Street (downtown's Main Drag) from the Ben Franklin store and not far from Andy's Barber Shop. Andy, a most congenial and generous sort, had emigrated from Mexico. At his shop, a curtain separated the cutting room from a waiting area with a fridge stocked with complimentary beers and a table strewn with what used to be called girlie magazines.
At the front of the store in a plate glass window, were carefully nurtured pepper plants, grown from seeds that had been developed by generations of his family through hybridization to become the hottest of the hot. After a few visits and given my standing as the editor in town, Andy offered to give me a few seeds, provided that I promised to make good use of them. I was flattered but declined.
I can hang with a little bit of jalapeno in my cornbread if I double down on my reflux medication, but I desire nothing more than that.
If Andy were around today, however, and made the same offer, I would accept the seeds and turn them over to Lindsey Masterson, Rowland Publishing's associate art director. Lindsey has taken to growing peppers and making hot sauces. About her tolerance for nuclear varieties, she says, "I like to sweat. I can't say that I have the highest tolerance, but I sure try." To that extent, she differs from RPI production director Daniel Vitter, another sauce maker, but one who would prefer not to feel the burn.
Masterson and Vitter joined Pepper Nation in similar fashion. Friends stoked their interest in it.
"Someone gifted me a habanero pepper at the start of COVID when I started dabbling in gardening," Masterson said. "Before I knew it, I had over a hundred peppers, and I was freezing them in vacuum-seal bags because I was overwhelmed."
At this point, Masterson has three pepper plants, including a jalapeno plant that is beginning to yield peppers, and she has given a couple of plants away, one to Vitter.
What to do with a gracious plenty of peppers? Masterson decided to begin making hot sauce.
She studied hot sauce recipes, focusing on those that included her favorite ingredients, and proceeded on the basis of trial and error. She purchased sample-sized hot sauce bottles and did taste tests with her brother-in-law, discovering what she did and didn't like.
She made a peach habanero, and the first time around, she OD'd on paprika and liquid smoke.
"Less is more. The last round I did was brighter and cleaner," Masterson said. In such a way, Booty Fuel Hot Sauce was born. For her bottles, she has designed a label that she fairly describes as cheeky.
At this writing, she is planning a plant-shopping trip to Just Fruits & Exotics in Crawfordville. She has been pleased to find that she has an affinity for gardening and is grateful for the gardening lessons she learned from her grandmother, Stella Masterson, who had an atrium greenhouse at her home.
A tip from Masterson: Reduce your hot sauce with vinegar by letting it simmer on the stove to prevent separation in the bottle.
Next up for her? "Maybe a pineapple jalapeno, but I'm still deciding."
Vitter, as it happens, lives next door to a "pepper freak."
"He gave me some peppers and a starter recipe," he said. "He told me how he makes hot sauces, and it sounded like something I could do."
The neighbor encouraged Vitter to experiment with different types of vinegar and vegetables, and he embarked on a "choose your own adventure" approach to sauce making. As he experimented, peaches replaced tomatoes, say, or champagne vinegar replaced apple cider vinegar.
Vitter, as is his nature, has been carefully documenting his successes. It would be like him to maintain a Pepper Production and Hot Sauce spreadsheet.
Vitter made a batch of sauce that included ghost peppers, scorpion peppers and reaper peppers, a concoction he named simply, GSR.
"This was in reference to gunshot residue or hot stuff," he explained. "But none of my spices have been very spicy, to be honest. I have scaled back the amount of pepper I add because I don't like super hot sauces. Any of these peppers eaten alone would take me out."
Vitter takes care to cook his sauces in the garage to prevent vapors from overtaking his house.
"One time, I cooked inside, and the vapors had us coughing from across the room," he said. (Masterson does her cooking in the kitchen, but uses a portable fan to direct vapors out a window.)
Vitter has successfully made enough hot sauce to enable him to join a neighborhood barter economy. Peppers are currency. One friend is a homebrewer and distiller.
"He is a great trading partner to have," Vitter said.
---
Hot Tips
Less is more
In any endeavor that tends toward extremes, it is easy to overdo things. Among ingredients used by sauce makers, a little goes a long way.
Let some air in there
Cook hot sauces indoors and you may find yourself getting vaporized. Take a portable heat source out to the garage or throw open the windows.
Some like it hotter
Some folks have an inherited tolerance for the hottest of hot sauces. Others know that when their nose starts to sweat, they have reached their limit.
Get it together
Lindsey Masterson suggests: Reduce your hot sauce with vinegar by letting it simmer on the stove to prevent separation in the bottle.
Pay it forward
Members of sauce-making communities share recipes, successes and peppers, themselves. Generosity breeds generosity. You may even barter for beer.