Some Like It Caliente!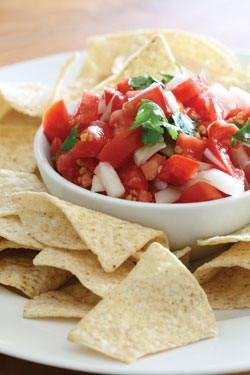 Salsa Florida will have your hips swaying as it brings Latin flair to our community
Some Like It Caliente!FSU Latin Ensemble Cooks Up Red Hot Salsa
By Lazaro Aleman
Photo by Scott Holstein

It's a Tuesday night, and Florida State University Assistant Professor Jose "Papo" Carrasco is rehearsing the Salsa Florida ensemble, a group of 18 or so student musicians, for an upcoming concert.
A tall, fit 40-something, Carrasco moves effortlessly and energetically about the room: listening, directing, correcting and encouraging. He calls for more heart from the singers, signals for a different beat accent on the conga drums, tells the horn section to pick up the tempo, and generally keeps the mood lively and upbeat. If his words fail to communicate his meaning, Carrasco picks up an instrument and demonstrates exactly what he wants. Frequently, he joins the group on piano, bongos, or the claves  – two short, wooden dowels that are struck together to lay down the basic beat.
"Sounds like you're holding back. Let it flow," he told the students at one point. "That's it; now you've got it," he encouraged them a little later, when they finally got it right.
"Remember, the name of the game is follow Papo."
Four nights later, at the Club Downunder on the FSU campus, the onstage performance of the now elegantly attired group is tight, professional and joyously infectious, as
evidenced by the throng of young people twirling, spinning, turning and dipping enthusiastically on the crowded dance floor to the sounds of salsa music.
Granted, Tallahassee is no hotbed of Latin music or musicians. But thanks to Salsa Florida, and the musical directorship of Carrasco specifically, the Capital City not infrequently gets treated to some of the best of salsa music – and performed live at that.
Salsa, literally meaning "sauce" in Spanish (if with a suggestion of the "hotness and spiciness" of Caribbean cuisine), is a percussion-driven, rhythmically unique and irresistibly danceable Latin sound that embodies elements of African and Spanish music. Particularly popular in Cuba and Puerto Rico, where its roots are traced, salsa was largely reinvented and reinvigorated by Hispanic musicians such as Willie Colon, Ruben Blades, Celia Cruz, Hector Lavoe and other Fania Records artists in New York during its heyday in the 1960s and '70s.
Salsa since has been reinterpreted by new generations of musicians; infused with elements of rap, reggae and other musical influences; and embraced throughout the Latin world and as far away as Japan. But it remains essentially a Caribbean music, composed of a songlike section, followed by a montage of call-and-response vocals, instrumental breaks, jazzy solos and sometimes-improvised lyrics and refrains. The typical salsa orchestra, of which Salsa Florida is a perfect example, features saxophones, trumpets, trombones, piano, bass, conga drums, timbales, bongos, cowbell, claves, a singer or singers, and a chorus.
Robert L. Smith, a professor emeritus of music at FSU and former director of the College of Music's Center for Music of the Americas program, is the acknowledged father of Salsa Florida, which traces its origin to the mid-1980s. But it is Carrasco, with the exception of a few years in the '90s, who has largely been the group's driving force for nearly two decades.
"Carrasco was the clave, the key," Smith said recently. "He was the key ingredient to the success of the group. It was his input, his talent, and his depth of musical knowledge that made the group a success. He's a terrific director."
Carrasco likes to tell his students that he's the "real deal" when it comes to salsa music, having played with the likes of such Latin recording artists as Elias Lopes, Pete "El Conde" Rodriguez, Tony Croatto, Ismael Miranda and Hector Lavoe, among others. For the past 12 years or so, he has led Latin Attitude, a four-piece Latin jazz group that plays at such places as Waterworks and Chez Pierre in Tallahassee, as well as venues in Tampa, Orlando, Miami and even Las Vegas.
A Puerto Rican native who received his musical training at La Escuela Libre de Musica – one of the island's foremost music schools – Carrasco already was doing TV shows, recording and performing live by the time he was in his teens.
"I was also freelancing," he said. "As a freelancer, I was touring back and forth to Miami, New York, Hartford (Conn.) and Chicago. We used to come to Miami at least once every two months. I was touring back then with Ismael Miranda, one of the all-stars from Fania Records."
It was during a tour to Miami, in fact, that Carrasco took a quick trip up to Tallahassee to visit with his fiancée and now wife, Nora, then a student at FSU. The trip proved fateful, as Smith offered him the leadership of Salsa Florida, then a struggling salsa ensemble.
"That was in 1988," Carrasco said. "I went back to Puerto Rico after we finished the tour, got my paperwork together from the university where I earned my bachelor's, and the following semester I was here."
Carrasco brought and continues to bring performance savvy and real work-life experience to the program, teaching his students the inside tricks of the trade, as well as pushing them to excel. He wants them to be able to earn a living playing music one day, if that is their desire.
"Some of them want to go out and play professionally, and they're getting their training right here," Carrasco said. "I often get e-mails from former students who are now playing with bands in Miami or who are being called to play gigs."
As for the salsa music scene in Tallahassee, Carrasco sees it improving.
"It seems that for the last few years, there's been a rebirth of interest," he said. "I think the interest is as much now as it ever was, and maybe more. Because salsa now, and being Hispanic, is more accepted, thanks to celebrities like Ricky Martin, Jennifer Lopez and Marc Anthony."
Among the factors that he sees contributing to the salsa interest locally are the growing Hispanic university student population; the emergence of the Corazón (Heart) Dancers, a semiprofessional FSU dance troupe that regularly teaches and promotes salsa dancing around town; and the prevalence of salsa nights at Tallahassee clubs such as Atlantis, Baja's and others.
Indeed, talk to Nick Taylor, owner of Atlantis, which has been hosting Latin nights for a decade, and he will tell you that salsa definitely is catching on.
"On Saturday Latin nights especially, we get a lot of people," Taylor said. "It's one of the most popular nights. We get 18- to 80-year-olds and families with children. It's a 50-50 split audience. We get Latinos who come to enjoy their culture and their music, and we get lots of people raised here who are interested in learning the dance."
Back at the Club Downunder, meanwhile, Salsa Florida is on its second set and truly encendido, or "on fire," dishing out hot salsa number after hot salsa number.
"Azúcar!" (Sugar!), the late Cuban salsa queen Celia Cruz was fond of shouting at the height of her performances, when the music really started cooking. One is tempted to shout the trademark exhortation now, as Papo and the Salsa Florida ensemble get down to serious playing.
Who can sit still? It's time to grab a partner and salsa. Azúcar!
Take corazón, you too can move to the music
For novice dancers, the intricate moves of the FSU-based Corazón (Heart) Dancers can be a bit intimidating. These young people are good at what they do, and they like to show it, sometimes performing competitively at salsa congresses across the country. So it is understandable – and forgivable – that their almost choreographed movements can be a bit flashy and showy. This, after all, is poetry in motion – beautiful to watch – as the partners turn, spin, twirl and dip rhythmically and in step to the music and to each other. It must be impossible to learn such movements and synchronization, one thinks.
But take corazón, so to speak. Not only is salsa dancing fun and learnable, it is taught regularly by the Corazón Dancers and house instructors at Atlantis, a family-oriented, upscale restaurant located at 2717 Mahan Drive that has been sponsoring Latin nights for a decade. The classes are free for the restaurant's customers or come included in the $5 entry fee otherwise.
Thursday and Saturday nights are designated Latin nights, with Thursday nights for the more advanced dancers and Saturday nights oriented to beginners.
"A lot of people come for the classes," said Atlantis owner Nick Taylor. "We teach merengue, which is Dominican and very simple to learn, like slow dancing; salsa, which is more complicated, like the fox trot or cha cha cha; and bachata, which is country Latin music, very similar to the two-step or country cha cha cha. We start the music right after the classes.
You'll have beginners on the dance floor doing the basic steps and very advanced dancers who compete. It's a lot of fun. It's like going on a cruise ship without leaving town."
The Corazón Dancers also teach salsa dance on the FSU campus.
For more information, call Atlantis at (850) 224-9711 or the Corazón Dancers at (850) 212-1714.