Soleil 7's Salon Safety
Safety is the new luxury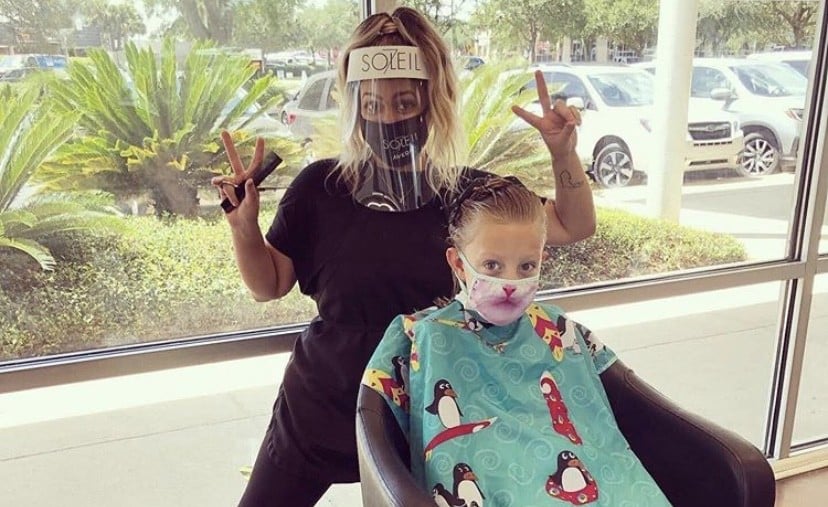 To many, a visit to the salon or spa provides a time of luxurious escape — a reprieve from the worries that await outside the salon's doors. There has not been an industry untouched by the impacts of COVID-19, and Soleil 7 wants each guest to feel safe and at ease when in the salon.
"Safety is the new luxury," said Stephanie Borras, Soleil 7's owner. "We want everyone to know that we are doing our part to make you feel safe, to allow you the space to relax and rejuvenate and give you great hair. We have used our downtime to educate, train and inspire."
During the time salons were closed, Stephanie and her husband Joe implemented proper protocols that they were ready to enact once salons reopened. The entire staff was educated on the importance of abiding by all salon, Leon County and CDC ordinances.
"The response from our guests has been amazing," said Borras. "Most have been so very thankful and impressed with all the dedication and care that we have given and notice our efforts. Others simply want COVID-19 to disappear, and they are not so happy with our efforts because it's a reminder of what is happening. We are a listening ear and are here to meet people where they are. We want to respond with care and love for all, and for that our guests appreciate and love us more."
Service providers arrive 30 minutes early each day for a COVID Clean inspection of the salon to ensure nothing is amiss before doors open. Upon arrival, each service provider's temperature is checked, and they are required to wear masks and shields during all services.
All guests are asked to wait outside until the station and tools have been disinfected. After services, one of the eight assistants, all of whom were hired during the COVID shutdown, will disinfect the area and tools used before the next guest arrives. This ensures there is no one waiting in the lobbies and allows for proper social distancing.
Upon entering, guests are asked to properly wear their masks for the duration of their visit. Each guest is then given a hand wash ritual that includes antibacterial soap, a hand scrub with stress fix salts and composition oil, and lastly hand sanitizer.
Soleil 7 is working at half capacity to ensure social distancing, as recommended by the global corporation of Aveda and the CDC's recommended safety measures.
"Health and safety is vital to Soleil 7 and all businesses," said Borras. "I can sleep at night knowing we did everything we possibly could do to keep everyone safe while keeping our service providers safe, their bills paid and our business open. We must all do our part to help small businesses open and to keep the economy going while achieving optimal health."
Soleil 7 continues to ask for community support, as salons need it now more than ever. The salon welcomes guests in for balayage, foiling, color melt, fashion color, hair cutting, massages, facials, waxing, VoMor hair extensions, wedding services and airbrush makeup services.
"We want you to feel good from the inside out," said Borras. "In a world of chaos and uncertainty, we can all find beauty if we are looking for it."
Soleil7
1410 – C6 Market St.  |  (850) 727-0482  |  1435 E. Lafayette St.  |  (850) 681-6681  |  Soleil7.com