Between The Lines
In slow-pitch softball, a high percentage of pitched balls are put into play.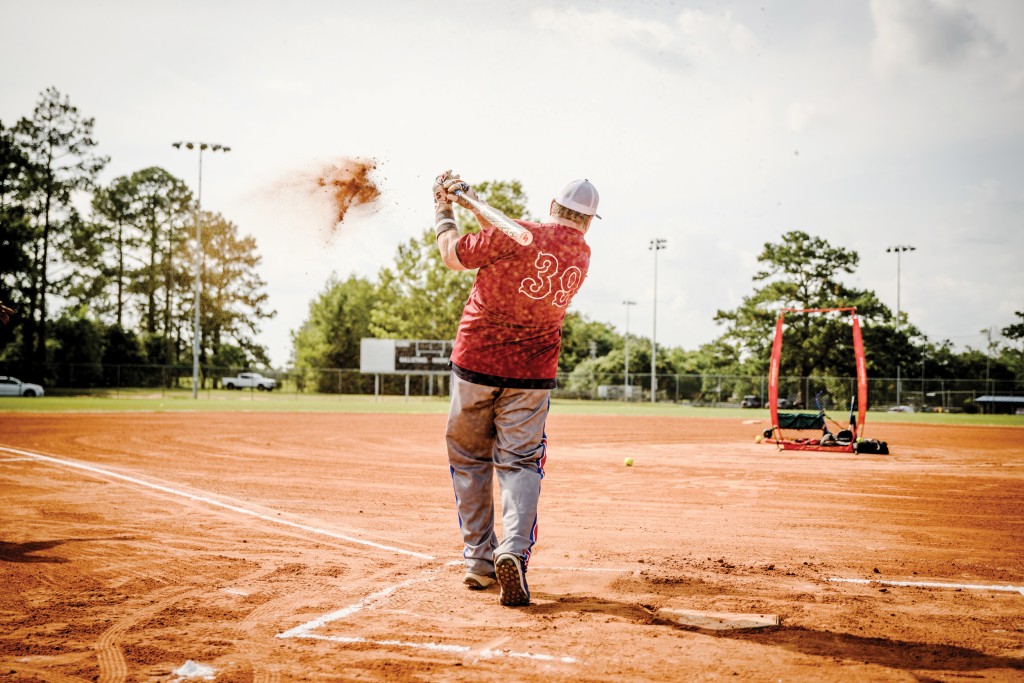 In slow-pitch softball, a high percentage of pitched balls are put into play. In that way, it departs from baseball and fast-pitch. That certainty is part of the game's appeal.
Unless playing right field against a lineup full of right-handed pull hitters, there is little opportunity to relax. Apprehension attaches itself to every pitch. And uncertainty. With the next swing of his bat, a hitter may drive in a run with an infield squibber or a rope that knocks the glove off the short fielder. Among players, there are various archetypes: the mauler, the base hitter, the man with a gun for an arm, the man who somehow digs out those wicked ground balls smashed toward third, the sponsor/coach without whom teams never would come together. And there are a few whose names loom especially large in a community's softball history. Here, we profile a few such prominent players. We devote a story, too, to fast-pitch softball, a game played by women and girls and dominated by pitchers whose violent, torqued-up pitching motion is frankly confounding. The average slow-pitch guy, attempting such a motion, might likely bowl the ball toward home plate or toss it straight up into the air. Among different strokes, there is this common denominator: Most everyone — men and women, boys and girls — who plays softball is fond of the camaraderie it generates. Camaraderie among good people, who prefer to find their good times between the lines.
High

Compression
Modern gear has intensified softball
Among golfers, there are some who are never content to play with anything other than the latest driver. It matters little that the big stick won't let them more reliably sink 12-foot putts.
That same fixation on the latest and greatest extends to softball players and their bats. Going, going, gone went the days of Louisville Sluggers made of hickory and ash. About the time that Frank Ashcroft established B&B Sporting Goods in Tallahassee in 1982, a revolutionary aluminum product called the Bombat arrived on the sporting goods scene.
Ashcroft was dubious. Would a weekend player accustomed to paying $15 for a wooden club pay $40 for a metal stick? His doubts soon dissipated.
"I sold those bats as fast as I could get them," he said.
Entrepreneur and inventor Ronald Foreman, who introduced the Bombat after his efforts to succeed with an aluminum tennis racket fizzled, would soon be joined by competitors. Louisville Slugger began manufacturing aluminum bats. Easton gobbled up market share.
Today, softballers can choose among aluminum bats, alloy bats and composite bats, which are made from a carbon fiber polymer. There are bats that are as good as they will ever be the day they are made, and there are bats that, like fielder's gloves, require some breaking in. Which perform best is a matter of considerable debate.
"Easton created the first alloy bats, and whenever they came out with a new model, I probably bought 30 of them," Ashcroft said. "I had them all sold before they arrived at the store. We would reorder and just try to keep up with the new bats. It's never stopped. Everybody is trying to come up with a bat better than the others, and I don't know how many manufacturers are out there producing bats."
Balls, too, have evolved, to the point where they have prompted rules changes.
"The first balls that we had all had cork centers," Ashcroft said. "After you hit them about 10 times, they were like a rolled-up pair of socks."
The advent of a poly core center was to balls as aluminum was to bats.
"Worth came out with a poly core in the early '80s, and they glued the leather on," Ashcroft explained. "They made balls in the late '80s that you could hit a country mile."
Some tournaments prohibited use of the highest compression balls, whereas at others, it was anything goes — and the balls went.
"People would show up with the Red Dot or the Hot Dot or something like that," Ashcroft said, adding that while rules may vary depending upon the class of play, limits on the number of home runs that may be hit in an inning or a game are now typical.
"My boys have played tournaments where if you hit the ball out of the park, you're literally out of the game," Ashcroft said. A coach who shows up with 10 or 11 players will be left with holes in his lineup if careless players hit dingers, and when those empty spots come around in the batting order, they are automatic outs.
"It's a little crazy, but it makes the guys hit the ball on the ground or turn it down," Ashcroft said.
Modern bats and high-test balls have resulted in protective nets that are placed on the pitcher's mound.
"I'll tell you that if I were pitching these days, I'd throw the ball and get right behind the net," Ashcroft said. "In senior league, that's mandatory. If you're batting and hit the net, it counts as a foul ball. If there are two strikes on you and you hit it, you're out."
The number of companies making fielder's gloves has grown, Ashcroft said — it's not just Wilson and Rawlings anymore — but gloves, themselves, have changed little. Large, 14-inch mitts have been around for a long as Ashcroft has been selling gear and "they're still made the same, still cut the same," he said. "The only thing that has gone on with them is the price has gone up. I have people come in all the time and ask me if I am still selling that A-2000 for $100. Sorry. Now, they're about $399."
Ashcroft, for obvious reason, misses the days when tournaments uniformly required that players dress in like hats, shirts, pants and socks. And he misses what he now regards as softball's heyday, the '80s and '90s.
"We had well over 500 softball teams in Tallahassee back then between the state league and other men's and women's and co-ed leagues," Ashcroft recalled. Amateur Softball Association rules prevailed. Everybody was in uniform.
"As the years progressed, other leagues came in — the Independent Softball Association and others — and they didn't have that requirement," Ashcroft said. "Just give 'em a T-shirt with a number on it, you know what I mean?"
During the heyday, teams had to survive area, regional and state tournaments to qualify for nationals.
"Now, it's not like that," Ashcroft said. "There are fewer teams and they have so many classifications and different leagues, all you gotta do is pay to play."
Quite apart from play at the state or national levels, Ashcroft recalls "little random tournaments" that were once as numerous as 5K races are today.
"Out at Hartsfield Farms, which is not in existence anymore, he had three fields out in the cow pasture," Ashcroft said. "People would go out on a Saturday and a Sunday and play tournaments there, and there were tournaments in Havana. There were tournaments pretty much every weekend, whatever class you wanted to play in."
That was then.
"People seem to have lost interest in softball over the years," Ashcroft regrets.
Maybe folks are more lethargic than they used to be. Maybe soccer is to blame.
"Soccer has taken a lot of kids out of softball and baseball," Ashcroft said. "Some parents believe that little Johnny is not gonna get hurt playing soccer. And, it's less of an individual sport than baseball or softball. If you're at home plate fixin' to hit the ball, you're the center of attention. Soccer, you just kick the ball around, it's a group effort. Well, it is what it is, and at least the kids are out there playing something."
For a long while, softball was Ashcroft's vocation, avocation and vacations.
"I don't know that me and my wife even took a vacation for 10 years," he said. "It was, 'OK we're going to Tampa' or, 'We're goin' to Panama City to play at Oakland Terrace Park.' It's still there, by the way. Hasn't changed a bit."
---
Rodney
Newman Sr.
As a pitcher, he learned batters' tendencies
Rodney Newman Sr. played baseball in high school, and post graduation, a typical track would have had him playing American Legion ball. Newman, however, found that he liked softball better. His father, Gene, had gotten into sponsoring and coaching softball, and Rodney started playing for Newman's Auto Air as a teen, back in the wood-bat era.
Newman's, as the team was known, was content to kick around at the city league level for a couple of years, but at some point, it was overtaken by competitive urges. Wooden bats gave way to aluminum bats, and Newman's became a well-known and highly regarded regional softball powerhouse.
"In the late '80s and '90s, we stepped up and started having our big softball teams," Newman said. "We were ranked pretty good on the national level. There was a fellow named Jerome Earnest over in Panama City. He worked for The News Herald newspaper and had a really good softball magazine that let you know how teams across the country did from week to week. We kept close track."
At the time, there was but a single national tournament without classifications. Newman's played in the open division, and there was no limit on the number of home runs a team could hit.
"Back then, your base hitters hit base hits, and your home-run hitters his home runs," Newman said. "But today, as you well know, they got balls that anyone can hit out of the park. They're pitching from behind screens and wearing chest protectors, and I just never would have wanted to play like that."
Newman started his softball career in left field, moved to the infield and then to the mound. As a pitcher, he would quickly backpedal after releasing the ball, effectively becoming a fifth infielder.
"If the batter hit me, he was gonna hit me around second base," Newman said.
"You've got to throw the right arc, and then you've got to learn your hitters," Newman said about keys to pitching success. "When you play on the bigger teams, you start playing some teams over and over, and you learn which batter is gonna probably swing at a bad first pitch and which batters will take a few. We would alternate pitchers every other batter when we played those big teams sometimes, just to give them something different to look at. If you got the wind right, you could try to curve the ball some. But sometimes, I don't care what you do; it's slow pitch softball, they're gonna hit you."
After losing the tip of his middle finger in an accident at work, Newman preferred to pitch wearing a Fastback glove manufactured by Rawlings. He poked the damaged finger out a hole in the back of the mitt, thus giving it an extra layer of protection.
In assembling its top tournament teams, Newman's would recruit players from Panama City and even Fort Walton Beach. Too, Coach Newman would look for former FSU football stars with an interest in joining his team. Fred "The Head" Miller and Phil Arnold were two who did.
"They weren't base hitters. They were big guys. They hit home runs," Newman said.
He recalls with fondness home run hitter Mike Cobb of Panama City who would fill a Newman's roster spot from time to time.
"At the Southeastern tournament, he knew how to hit on those Panama City fields," Newman said. "The wind would be hawking in about 20, 30 miles an hour. People would try to hit against it, and the ball would just get up there and hang, but Mike would hit it dead on down the line to left field and get it out of there."
Newman recalls a time when teams from Tallahassee, unable to keep pace with ringer-laden teams from out of town, never won the Tallahassee Open.
"But there was one year where we played Ray's Metal Works out of Gainesville," Newman said. "The year before, they were runners-up at nationals. We beat them, 51-50, in the Tallahassee Open championship game. There must have been 300 or 400 people around the fence watching that game."
In the course of that triumph, Newman came to the plate, desperate not to kill a rally. He hit the ball on the ground to the left side of the infield. The crowd winced as one, but the ball slipped between the Ray's third baseman and shortstop and bled into the outfield.
The crowd audibly exhaled.
---
A Student
of the Game
Reggie Brown totes a bat of renown
Reggie Brown was still muttering.
The night before, his team of seniors had lost in city league play to a church league team that Brown and company rightfully should have beaten.
"They were young kids, and I was pitching," Brown said. "We just didn't make the plays that we needed to make — fly balls, ground balls that should have been double plays. We had a ball hit to second base and instead of making the sure out, we tried to get the runner at the plate. We would have had two outs, and maybe we get out of the inning. Instead, the next three guys hit singles, and the fourth guy hit a grand slam."
Brown says all of this as if cardinal rules had been broken. At 58, he's not inclined to make or particularly forgive rookie mistakes anymore.
Brown has been around the game of softball since his days as a member of what might have been called the Chain Link Gang, shagging home run balls for teams that played in the Tallahassee Open and paid him $5 or $10 a game for his services.
Over time, Brown would take his place as one of the more formidable Open Division players that Tallahassee has produced. Like others who have played softball for decades, he followed a trajectory that led him from the outfield to less rigorous duty as a catcher or extra hitter (EH).
These days, he divides his time between the hybrid church/seniors league team in Tallahassee and road trips to serious 50 and 55 Major Plus tournaments. At this writing, he is packing his bat bag for a trip to Las Vegas.
So it is that Brown approaches games with two different mindsets and in two different gears.
"As far as league, I have had to tone down my competitiveness because I am playing with a bunch of older guys, and I don't want to run them out of the game," Brown said. "It's about having fun, not winning at all costs. I have batted against an 82-year-old pitcher, you know what I mean? But weekend tournaments, that's a different story."
Back in the day, Brown played with and against Brian Rowland when the future publisher was donning formal wear and driving limos for a living.
Rowland recalls with ease the night that Brown, playing a shallow left field, challenged him to hit the ball over his head. After making a couple of outs, Rowland succeeded that way and taunted Brown by shouting, "Torched," as he rounded first and the outfielder scampered to the fence.
"True story," Brown conceded. "He can put that one on me, that's alright. That's the kind of friendship we have. He failed to score, though, so we were good. He wasn't that fast."
Together, Rowland and Brown played on a team, Hair Works, that was sponsored by a salon.
"He was a good pitcher, he moved the ball around," Brown said. "He gave the hitter different looks and different movements. You'd think he was gonna float it in there, and he would do what we call four-seaming — it gets in there quicker than you think it's going to. He reminds me of what I do."
Brown, who has logged a lot of Open Division innings on the mound, said the best softball pitchers resemble Greg Maddux or Tom Glavine. He is a student of the game, and every game is one more lesson.
"I try to outthink the hitter," Brown said. "If you get a hit on this pitch, you're not going to see it again. I'm playing a chess game. We nibble, nibble, nibble, but never pitch the ball right over the plate."
When hitting, Brown said, anticipation is important.
"I pay attention to what the pitcher is throwing and what the umpire is calling, and then I make adjustments to where I stand in the batter's box," Brown said. "When you become a good hitter, the bat you have doesn't matter much. You just have to make adjustments. I don't look for excuses. I look for solutions. Give me a bat, whether it's heavy or light, I will make it work. I'll just place my hands in different positions to compensate."
But among bats, bigger isn't always badder.
"I used to swing the heaviest bat they had, 38 ounces, then I got smart and started swinging the lightest one," Brown said. "When I got my first Bombat (an early aluminum bat) from Walmart, I thought I was king of the world. The first glove I ever bought was a first baseman's mitt from Buddy's Sporting Goods before Frank Ashcroft bought the business. Steve Garvey model."
Brown regrets that Tallahassee is not the softball town it once was.
"The Tallahassee Open used to attract 32 of the best teams in the country," Brown recalled. "There were tournaments — 40, 50 teams — that used every field in town, and it could be that way again. Tallahassee has some of the finest softball complexes in the South."
For Brown, a return to softball's glory days is simply a matter of competitive field-rental pricing and a new commitment to what for him is the greatest of pastimes.
"It's sad to see our fields sitting vacant," he said.
---
400 Feet
or Through
the Hole
Jerry Reynolds hits the ball down and out
Three times, Jerry Reynolds backed away from tournament softball — when his children were small; when he paused for seven years to coach his son in travel baseball; and while recovering from hip-replacement surgery.
But still, at 58, he plays.
"The fire is still there," Reynolds said. "You still have to work at it, and you still have to get in your batting practice. You've got to stretch and get ready to play so you don't injure yourself."
But the sport is less taxing now.
"At tournaments, you play just a couple of games a day — before sundown," Reynolds explained. "We don't play at night because no one can see at night anymore. It's totally different now because you feel fortunate just to be able to go out and play softball."
As a result of that good feeling, everyone — including players on opposing teams — is friendly with one another.
"You still want to have a high average and hit balls out of the park, run the bases and make plays because you've been that competitive guy all of your life," Reynolds said. "But it's fun."
Reynolds, a three-sport athlete at North Florida Christian School and the son of the first football coach at Wakulla Senior High School in Crawfordville, started playing softball following his graduation from Liberty University in Lynchburg, Virginia. Before he even crossed the stage, Buck Faircloth called him and asked him to play for his Capital City Radiator team in Tallahassee.
Quickly, Reynolds took softball steps.
Rodney Newman Sr. tempted him away from Capital City Radiator. Reynolds was playing for the celebrated Newman's team when it merged with its rival, Meeks Electric. He went on to play for teams in Alabama sponsored by TPS, a bat maker, and by Woerner Turf before Suncoast Softball, a bat maker located in Bradenton, Florida, recruited him.
Today, Reynolds plays city league ball in Tallahassee and otherwise travels to tournaments with Suncoast's 55 Major Plus team. He is a member of Suncoast's pro staff and, in that capacity, tests bats in development and leads camps for men, age 50 and over, who are taking up softball in retirement, playing the game in some cases for the first time.
Senior leagues are hard to find in Florida outside of the large retirement community, The Villages, but 50-and-over, even 60-and-over, tournaments are numerous. Already this year, Suncoast has won an International Senior Softball Association championship and Senior Softball-USA's spring national tournament.
"Back in the day, I played short and third," Reynolds said. "Now, I play third and first, and sometimes I just hit. When I first started playing, the bats were heavier and they weren't as good. You had to work out and be strong to be able to swing them. Now, they are all composite bats, and they are crazy hot. We're older and slower, and the ball is coming at us harder than ever."
Among those hot bats is a Jerry Reynolds autograph model made by Suncoast, a bat that Reynolds no doubt tested on its way to market.
"At Suncoast, engineers show up with a bunch of bats uniformly painted black," Reynolds said. "They are numbered but otherwise unmarked."
Pro staff members hit with the bats and rank them in order of preference while Suncoast employees, using a device like a golf range finder, record distances. The pro staff guys provide feedback that could not be gained by using a machine to hit the balls.
"We can comment on how the handle flexes, for example," Reynolds said. "Some bats, you can feel the barrel lagging a little bit. With a stiff handle, the ball jumps off the bat right away.
"The bats engineered for our company are probably the best bats out there, in my opinion. But some people like Worth bats, and some people like Miken bats. It's all a matter of feel. They are all made out of the same materials, and they all perform pretty well."
Reynolds has adapted as the game has changed and he has aged. He has gotten used to two first bases and two home plates, accommodations made to prevent collisions between fielders and base runners.
In Major Plus games, teams are limited to nine home runs per game and seven runs per inning, except for the seventh inning when scoring is unlimited.
Reynolds explained that teams try to maximize their run production in innings one through six while saving some homers for the final frame. To do so, it's essential that hitters refrain from hitting balls out of the yard unless there are runners on base. As a general rule, teams try to get 20 runs out of their long balls.
"The bats are so good, everybody on the team can hit it out," Reynolds said. "I try to be that guy who can hit it down or hit it out when I need to."
As a test hitter for Suncoast, Reynolds, who weighs in at 250 pounds, has driven balls more than 400 feet, shots that would clear the fences in a typical adult softball field by 100-plus feet.
"But the high average, that's what got my name on that bat," Reynolds said.
---
Among Giants,
He Stood Tall
Earl Chambers commanded a measure of respect
When Earl Chambers moved to Tallahassee in 1973, he had some knowledge of the city's softball scene, having grown up in Dothan, Alabama. He approached Buddy Brandt of Buddy's Sporting Goods, whose team Chambers knew to be one of the most competitive in town.
Brandt didn't want Chambers. He dismissed him as too small, even as Chambers stood 6-foot-1 and weighed about a buck-ninety.
Undeterred, Chambers caught on with Hammons Equipment whose coach, business owner Doug Hammons, had assembled a roster half of whose members were FSU football players. Future All Americans and NFL pros Gary Huff and Barry Smith were among them.
"We had some big-time athletes, but they played city league with us," Chambers said. "We weren't a great team, but we knew how to play together. We had a lot of fun, a lot of chemistry."
Over the course of his career, Chambers would come increasingly to value camaraderie over championships. He played softball at the highest levels in premium tournaments along the way and earned the nickname Earl the Pearl given his silky smooth play at shortstop.
Chambers moved from Hammons to Buddy's, the team that had spurned him, and over a couple of years played with the kinds of studs who commanded national recognition. Chambers turned heads, too, and after playing a tournament in Jacksonville, he was approached by the sponsor of a team, Nelson's Paints, out of Oklahoma City. Incredulous at first, Chambers accepted an invitation to play in flyover country, where he would remain for four years.
"I had a blast," Chambers said. "We went all over the country. Jerome Ernest of Panama City traveled with us for a couple of years."
Ernest published a magazine that covered softball teams nationwide and, Chambers said, had helped Brandt assemble his best teams by putting him in touch with players across Northwest Florida.
"When I moved to Oklahoma, it actually made me a better player because the wind blows in Oklahoma — every day, 15 miles an hour," Chambers said. "And the parks were bigger, at least 300 feet or better. With that wind blowing up your nose, you couldn't just muscle the ball out of the park. You learned to hit singles and doubles."
Chambers returned to Florida to play for Jerry's Caterers out of Miami at a point where he was approaching competitive burnout and seeking an escape from unrealistic expectations.
"It got to be no fun for me," Chambers said. "I was playing for people who had never put a jock strap on. They really didn't understand. They thought you were supposed to make every play, never make an out."
Chambers retreated to Tallahassee and played for Newman's. He had known Rodney Newman Sr. and his father Gene since Rodney had been in high school.
"I started playing with them and started having fun again, and that was the best time I ever had playing softball," Chambers said.
Chambers once won a national Independent Softball Association championship at H.G. Harders Recreation Complex in Bay County with a team of players from Panama City and fellow Tallahassee resident Homer Newlin. David Beck assembled the team, which starred the Walsingham brothers.
Among players from throughout the region, pitcher Steve Jones of Panama City stood out for Chambers.
"I loved playing with him and against him," he said. "He was so passionate and made the most of his ability. He wasn't a great player, but he was a great player, if you know what I mean."
As if to illustrate his preference for humble and enthusiastic versus arrogant and unpleasant, Chambers told a story about Cincinnati Reds great Pete Rose.
Chambers traveled to a sporting goods trade show in Chicago with friends including Mike Cobb of Panama City, who had invented a swing trainer he called the Cobb Knocker. Rose was at the show signing autographs.
Cobb looks a lot like Rose — anyone would say so — but when Chambers pointed out the resemblance to the player known as Charlie Hustle, Rose showed his derriere, the Pearl said.
"I lost all respect for him right then," Chambers added.
Chambers worked for beer distributors for 35 years, finding that "when you are in that line of work, people assume that all you do is drink and have fun all the time.
"The fact is, I don't even like beer, can't stand it. If I ever needed an opinion about a beer, I had my wife sample it."
So it is that when Chambers gets together with old friends, he doesn't throw back a cold one, but he does enjoy the fraternity, now more than ever.
"You come by a different opinion about people once you're around them away from the field," Chambers said. "Maybe I used to think that Steve wasn't a very good third baseman. But now I know he's a really good guy."
---
Pounding
the Zone
Fast-pitch success requires controlled explosions
With a sensational 1.59 career earned run average as of May 1, Florida State University's Kathryn Sandercock has established herself as one of the most dominant pitchers in NCAA Division 1 softball.
As a kid, she was briefly barred from the mound for a propensity to pound batters rather than the strike zone, but now, with more than a decade of fast-pitch softball under her belt, Sandercock has mastered both technique and mindset.
"I throw my best when I'm reminding myself to relax," Sandercock said. "You want it to be fluid, not a herky-jerky motion."
Fluid, yes, and controlled. A successful windup requires coordinated, complex movement. Fastballs spring from the fingertips, while a successful change-up comes from the palm, FSU pitcher Mack Leonard explained. Moving from one pitch in a repertoire to another, a pitcher must take care not to let the batter detect what she is about to throw next.
Leonard threw her first pitch around the age of 8. Now, the Illinois native uses her skills as a veteran FSU performer and a mentor to up-and-coming talent. She describes her early training like learning the waltz. Separately, each step feels awkward and unnatural, but put the pieces together, and the dance is graceful.
"I would start out on my knee doing wrist flips at a quarter circle, half circle and a third," Leonard said. "Then I would do a whole one, just to make sure my arm was going up by my ear and not getting away from my body. When I stood up, I had to make sure my arm was moving through my hip. Once I had that down, I would put it in full motion, and from there it's all about timing with your step and your stride and making sure everything is in a sequence together."
There are six standard softball pitches, though few hurlers master them all. University of Florida pitcher and Jefferson County native Elizabeth Hightower said you don't need all six to succeed.
"If you try to learn all six pitches at once, you're probably going to end up really average at all six, but you only need a good three to win," Hightower said. "Focus on getting a good fastball and change-up and hit your spots. Then you can try a riser, a drop, a curve or a screw."
The fastball is hurdle No. 1 for beginners. Sandercock said a pitcher uses every available ounce of explosive energy driving the ball through the "power line" that runs from the center of the mound to the center of the plate. Most pitchers move to the change-up next, a slower pitch meant to throw off a batter's timing. Curveballs and screwballs dart toward or away from hitters. Drop pitches and rise balls live up to their names.
There is a debate among the coaches about how early to teach kids a rise ball due to the stress its motion puts on developing joints and muscles.
"My dad wouldn't even let me try a rise ball until I was 14 or 15," Sandercock said. "I am really grateful for that."
Sandercock is, by her own account, a drop ball pitcher, though she grew up calling them "splitters."
"When I coach or give pitching lessons and teach the drop ball, I emphasize putting pressure on the top of the ball and peeling it out and down, finishing with your fingertips pointing at your toes," Sandercock said.
From age 8 forward, Sandercock spent nearly every spare moment working on her craft, meeting with private pitching coaches, flying across the country for travel softball tournaments or working with her dad in the backyard. During the snowy months in her Virginia hometown, Sandercock frequently traveled two hours out of town to the nearest indoor practice facility.
Still, Sandercock stresses the importance of knowing your limits. Pitching practice, she said, is much more about quality than quantity.
"With hitting or fielding, you can go out and work at it for hours, but with pitching, if I throw for more than an hour in the bullpen, it's counterproductive and bad for my body," Sandercock said.
"Pitching is really 90% mental and 10% physical," Leonard added, departing from the famous Yogi Berra quote about baseball being 90% mental and the other half physical.
"You have to want to do it every day because it can feel like a job. You have to love it. You have to focus on the little things. You can't just go out and do a bunch of reps, you have to put intent behind it."