Snapshot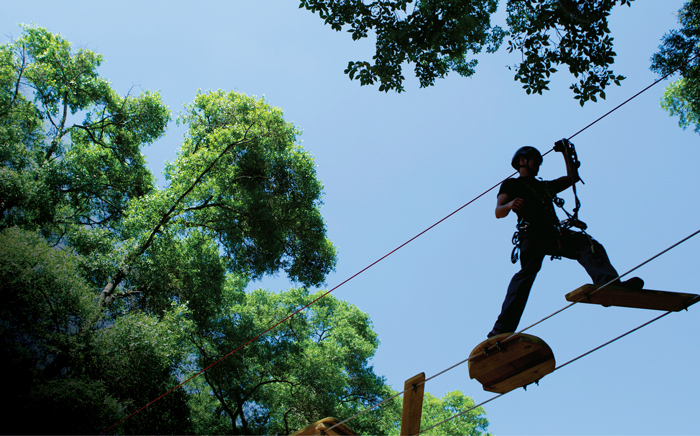 Tallahassee Museum's new perspective.Tallahassee Museum Reaches New HeightsBy Renee Jacques
Here's your chance to literally walk through the treetops and observe nature way down below. The Tallahassee Museum is adding a treetop zip line course as a new attraction. Construction should be completed in May, and visitors will get the chance to soar up to 50 feet in the air through the trees on the zip line. The attraction will feature other sky-high thrills, including tightropes, crab walks, jungle bridges and nets.
Treetop Adventure Concept, the company commissioned to design and build the course, has planned an attraction with more than 70 games and activities, with 10 zip lines, including two for adults and one for children.
Participants will be able to enjoy the natural surroundings of the outdoors of the museum while they engage in challenging physical activities such as moving from tree to tree across a wobbly bridge or flying from branch to branch on an exhilarating ride.
While the museum's animals and historical attractions have always been popular with families, adults and seniors, Russell Daws, the museum's executive director and CEO, says he's excited about the new attraction because he thinks it will draw a new audience — college students and young professionals.
He also hopes the zip line will help revitalize the Tallahassee Museum's declining youth attendance.
"Kids are aging out of museums at a younger age these days because of all the opportunities for them," said Daws. "I think this is an active way of learning [and] a great way to get kids outdoors."
According to Daws, it will be a great tool for companies or groups looking for successful teambuilding activities.
"We hope it gets more people outdoors to learn about the wonderful world of nature and to get them more active," said Daws.
Zip Line Costs
Canopy Crossing — $25
Adult Courses — $40
Children's Course — $15
The museum and zip line will have separate ticket prices, but the museum will offer combination ticket prices for those who want to enjoy both exhibits. Photo by Scott Holstein