Snail Mail in the Internet Age
The Post Isn't Just For Your Grandmother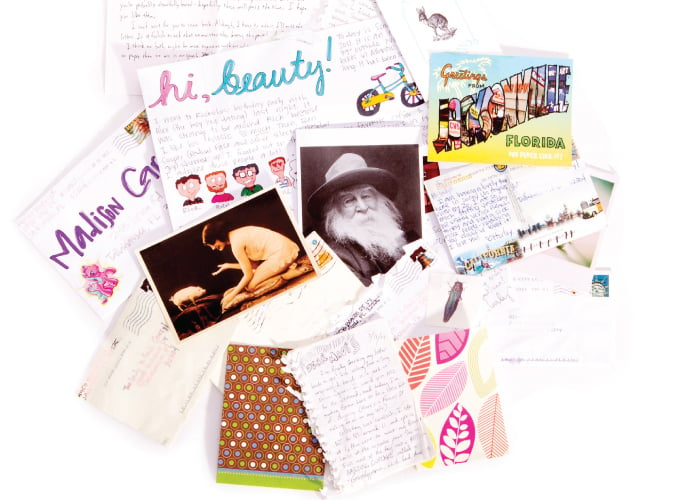 Since I can remember, childhood birthdays entailed a treat I rarely enjoyed any other time of year. Cards, packages and colored envelopes from distant grandparents, aunts and uncles would start slipping in. Mail showing up three days before my birthday was kept in Mom's kitchen drawer with a "Do not open until May 25" sticky note attached to inflame my impatience.
Now, at 22, I still get a little thrill as I walk to my mailbox in the afternoons. After about five years of making connections, I have a stable of correspondents in my address book. Some are as close as Tallahassee or Jacksonville, and others come from across the pond. Each pen pal I've made is a companion willing to share in this old-fashioned exchange.
Even before the age of insta-communication, "snail mail" pen pals were hard to come by. It's understandable; most of us would rather grab the phone. The time it takes to unearth a pen, buy stationary, find stamps and look up the address just doesn't seem logical when you're on a schedule. Then you have to choose a topic, fill the card with neat handwriting (without the luxury of backspaces), and, if you're left-handed like me, be careful not to smudge the fresh ink as you write. For me, there's the added challenge of finding a gift small enough to fit into an envelope, since I never send an empty letter. I've sent tea bags, flat pens, recipes, sticks of gum and candy, stickers, articles of interest, Polaroids I've received, stamps, comic strips (homemade or from the paper), incense, pressed flowers, magnets, bookmarks, mix CDs and even buttons and beads.
Then comes the waiting. I rarely tell anyone a letter is on its way. It seems unfair to ruin the surprise with anticipation. It's hard to tell how long your note will sit in queue before being received, but by this point, I can predict the post. A letter to Jacksonville takes two days, but I've had them delivered in one. Letters from Florida to London take about a week and a half, and closer to two weeks for Belgium. To Pittsburgh, New York City and Washington, D.C., it's a two-to three-day wait. California and Salt Lake City take three, sometimes four.
Friends ask how I find time to keep up such constant epistolary contact, and why I don't just use the Internet instead. Well, I do! The Internet is my source for pen pal connections, more often than not. I run a photoblog on the social networking site Tumblr, and often people start conversations with me through the messaging system. Sometimes it's simply a question of who the photographer is for a specific post, other times a compliment to my blog or a query about my listed interests. Somehow or another, these minimal conversations occasionally blossom into lovely pen pal-ships.
Andrea from Salt Lake City sends me letters full of philosophy, what life and sacrifice feel like to her, and questions about art and humanity (she's an art student at Hollins University in Virginia). Bradley from Tallahassee sends me articles on indie music or books on Hemingway, and talks about what makes something "literature" instead of simply a book. He's just opened a record store. Pinoo is my farthest connection. Her letters come all the way from Belgium, full of news on European pop culture and politics. Hurley is a real friend from Jacksonville and my most promptly replying pen pal. We share the latest news on our college adventures, boyfriends and our favorite musicians, Fleet Foxes.
Each person I "talk" to has different passions, unique interests and always something new to share. Our communications take time, and that makes each interaction something to look forward to. These friends I've made fascinate me; they constantly expand my own ways of thinking and open me to new interests.
Which is why I stick something in my mailbox a few times a week, to keep that childish excitement going all year round.