Smooth Sailing
Tips to Keep Your Next Cruise Ship Shape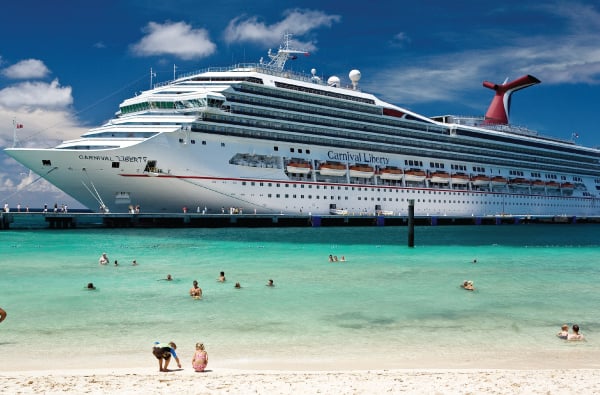 Looking for the ultimate escape far from daily doldrums and demands? It's time to run away to sea. According to the most recent Cruise Lines International Association (CLIA) Executive Summary, more than 50 million North Americans express a strong interest in cruising in the next three years. Keeping up with consumer demand between 2011 and 2015, 26 new vessels, ranging from oceangoing to riverboats, will join fleets sailing to more than 2,000 ports around the world.
Close to home, five Florida cruise ports and the Port of New Orleans offer destination diversity and value-added deals that are strong enticements to sail away.
Different destinations are appealing during different times of the year. The Carribbean, the most popular destination, is beautiful all year so there is no set time to plan this one. However, you can only cruise to Alaska from May to September, Bermuda from April to October, Europe from April to November and the Panama Canal from September to April.
Destinations with lots of competition usually deliver the best deals. For example, the Caribbean and Alaska are top-ranking cruise destinations and a wide variety of cruise lines offer highly competitive pricing. Book at least six months in advance for early-bird fares, the best cabin selection and travel arrangements. If the price drops prior to final payment, most cruise lines adjust the fare or provide onboard credits for the difference. It also pays to be flexible. Cruise fares vary significantly between high-season and off-peak times. Delaying sailing by a few weeks may mean savings such as two-for-one fares.
Surprising to many new cruisers, the least expensive cruise fare may actually cost more in the long run. In addition to airfare, onboard cruise costs add up fast. When comparing cruise costs, factor in the added value of all-inclusive amenities like free airfare, transfers, complimentary hotel nights, pre-paid gratuities, open bars and free shore excursions offered by upscale cruise lines.
If you are not cruising with an all-inclusive cruise line, plan ahead for these onboard a la carte charges not typically included in cruise fare, such as cocktails, wine, beer, soft drinks and items in cabin mini bars; luxury spa and salon services; and souvenir ship photographs and DVDs.
The size and location of your stateroom has a huge impact on your cruise cost, not to mention how much you will enjoy it. Inside cabins are the least expensive, but spending a little more for an ocean view or balcony cabin adds value to the overall cruise experience. Travel agents who do a lot of business with a cruise line often get preferential upgrades for their clients. Don't leave your cabin assignment to chance. Consult a deck plan online for exact stateroom locations and to request a specific room.
Cruising Myth BustersLynn Christen, cruising expert and author of "101 Cruise Tips," debunks a few common misconceptions about cruising:
Myth: Cruising is too expensive
Actually, cruising is one of the best vacation values. Many cruises are $100-$150 per person, per day for a cabin with a private balcony.
Myth: Cruises are for old people
According to the CLIA, the average cruise enthusiast is 49 years old. That said, the longer the cruise, the older the cruisers.
Myth: Cruises are too structured
On the contrary, today's cruises offer "free-style" everything allowing you entertainment options and activites.
Myth: You don't get to see enough on cruises
True, you can't see all of most destinations in a day. But, cruises are a wonderful way to sample destinations you might never see otherwise.
What's Your Cruise Personality? By Renee Jacques and Lynne R. Christen
There is no "one size fits all" when it comes to cruising. Cruising is all about choices. Ready to rock-around-the-clock or seeking serenity? Like to dress up or dress down? Tight travel budget or able to splurge? Choosing a destination, cruise line and cruise ship that matches personal style and budget is the first step to finding the best cruise.
Michelle Lovern, a local vacation specialist for CruiseOne in Tallahassee, offers suggestions for finding a cruise to fit your wish list:
Family-Oriented
If you are searching for a cruise line that is a good fit for families, Lovern suggests ships of the Contemporary, Carnival or Royal Caribbean lines.
"They're very family-oriented cruises, and they have great children's programs," says Lovern. "A lot of multi-generational families will do that type of cruise line." These lines travel all over the world, but Lovern says most families choose the shorter cruises that travel to places like the Caribbean and the Bahamas.
Lovebirds
If you and your special someone are looking for a relaxing and romantic getaway, Lovern advises looking into the Celebrity and Norwegian cruise lines. Norwegian Cruise Line is relaxed, yet offers great activities, while the Celebrity line is completely upscale and unique.
"Celebrity's a little more subdued and upscale," says Lovern. "It's kind of an elegant experience; their tagline is 'modern luxury.' They have Rosetta Stone classes on board and wellness classes." "It's more about enriching your life rather than partying and having fun or entertaining the children," says Lovern.
The World Traveler
For those who want to experience the excitement and variety of the many different places the world has to offer, Lovern suggests checking out premium cruise lines such as Princess and Holland America. These lines take passengers to unique places and offer many different types of excursion packages and tours. "They're usually smaller ships and they're very exclusive," says Lovern. "They're for the more seasoned traveler or someone who really travels at the 'Ritz Carlton level.'"
The Fun-Seeker
According to Lovern, there's nothing more fun for both adults and children than a Disney cruise. The staff on these cruises really amp up the service and, even if you decide to cruise without any tots, there are "adults only" sections scattered all over the ships. "My husband and I cruised on Disney three times in 18 months without children," says Lovern. So that just kind of tells you something."