Smile, you're on Live! In Tallahassee
Having fun is part of the job description at Live! In Tallahassee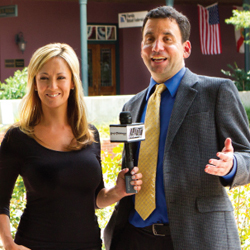 Scott Holstein
Hosts Ann Howard and Joel Silver.
"It's time for 'Live! In Tallahassee' — local events, local businesses, local groups, your friends and neighbors on TV!"
Sound familiar? You hear it every Thursday night at 10:30 p.m. on FOX 49 — when "Live! In Tallahassee" spends a half hour telling you about the good news happening around Florida's capital city.
A recent show heralding the grand opening of Backwoods Bistro began with the camera zooming in on a lively bar scene. Locals wave at the camera. One lifts up a beer and gives a nod. And then the lens catches many doing something they normally wouldn't do on a news show — they laugh.
When two familiar faces appear on camera, it signals that the party has started. Co-hosts Joel Silver and Ann Howard lean in, microphone at-the-ready, with all the charisma of seasoned news anchors, to capture the smiling face of a new local business owner.
"I've heard way too many times people say, 'Nothing happens in this city,' so it's my mission to go out each week and show our viewers what it is that is happening in Tallahassee that's fun and positive," Silver says.
For co-host and producer Ann Howard, who started working for the show three years ago after being an anchor at WCTV, there's nothing more rewarding than supporting a new business.
"My favorite shows are the ones that really help out local businesses," Howard says. "I always have a great time with it, I work with great people and it's just a great town to do this kind of show."
The upbeat 30-minute program is designed to capture the good news and fun events around town each week in four segments: the big story of the night, quick shots of other events around town, a feature story and a preview of future events.
Airing 50 out of 52 weeks in the year, "Live! In Tallahassee" has covered some of the town's most exciting happenings, including Tallahassee Museum's new zip lining adventure, the Red Hills Horse Trials, Miller's Ale House events and the Pints for Paws benefit to help the local animal shelter, to name just a few.
One of the main reasons producer and co-host Silver created the popular show nearly three years ago with his production company, Silver Productions, was to support local businesses by showcasing their talents.
"When you're trying to find new people in the community to join your group or attend your event, it's hard to do," Silver says. "You can stick flyers on phone poles and things like that, but there's no real way to get out and share with people what you're doing, so it's one of the big reasons I created the concept."
Jesse Rice, the owner and executive chef of Backwoods Bistro, was happy to get a boost from the show.
"What Live in Tallahassee is doing is absolutely fantastic," says Rice. "Promoting small business owners like myself helps jumpstart the economy. Joel and (Director) Nic (Christie) care about Tallahassee so much, and their work shows it."
Silver was also out to provide an alternative to the relentless recounting of crime stories on the evening news by showcasing the positive side of Tallahassee life.
"When you watch other news programs, the big story is the worst thing that happened that day," says Silver, who has worked for local TV stations. "But in our world, the top story is one of the most exciting events held by a group in town that did something good or achieved something or opened a new business."
As it turns out, people in Tallahassee like good news. The show quickly moved from its status as an on-demand-only program to FOX channel after a year. After its wild success, FOX moved the show's slot to Thursday, which — as television devotees should know — is the biggest night in the business.
When LIT first went on the air on Thursdays at 10:30 p.m., FOX aired two nationally syndicated programs — "Everybody Loves Raymond" and then "Two and a Half Men" — on the other weeknights. Viewership for "Live! In Tallahassee" consistently beat out both.
"For LIT to do better than a nationally syndicated program is a testament to how well the show is done," said Dan Mecca, general manager of FOX49-WTLH and Tallahassee's CW station. "Our goal, whenever we can, is to provide viewers the best available local sports and entertainment programming possible. When we first got into talks, there was never a hesitation. We all have prime time, we always have national sports, but the key is local."
The show's local coverage was something that made The Moon, a longtime Tallahassee night spot, take note. After hearing a buzz about the show around town for several months, Marketing Director John Summers decided it was a great program to support.
"The show is very well produced and Joel has covered many of our events at The Moon. It just seemed like a natural decision to make an investment in 'Live! in Tallahassee,'" Summers says.
The pull for Tallahasseans, Howard claims, is that locals love seeing familiar faces on the big screen.
"I think it's just really fun to see yourself on television," she says. "We have little business cards we hand out that say 'See yourself on Live! In Tallahassee' and folks love it. We get people at their best — it's always fun to see yourself laughing and smiling on television."
Yet the group is also smiling behind the scenes.
"We have a great team dynamic," Silver says. "Director Nic Christie is a genius with the camera, doing amazing recording and editing of stories that draws people in. He has a lot of fun recording visually; we have a lot of fun telling the stories."
Meanwhile, the LIT team is not just covering but also beginning to participate in public events, which includes partnering up with Miller's Ale House to provide entertainment for major sporting events (in the form of 8-foot projection screens for the biggest games of the year).
"Together we'll provide the big screens outside where people can have a good time," Silver says. "We're always looking for more events like that to do, and we're going to have a good old time out there."