Small Town, Big Cheese
Thomasville, Georgia, farming family take it cheesy, letting cows be cows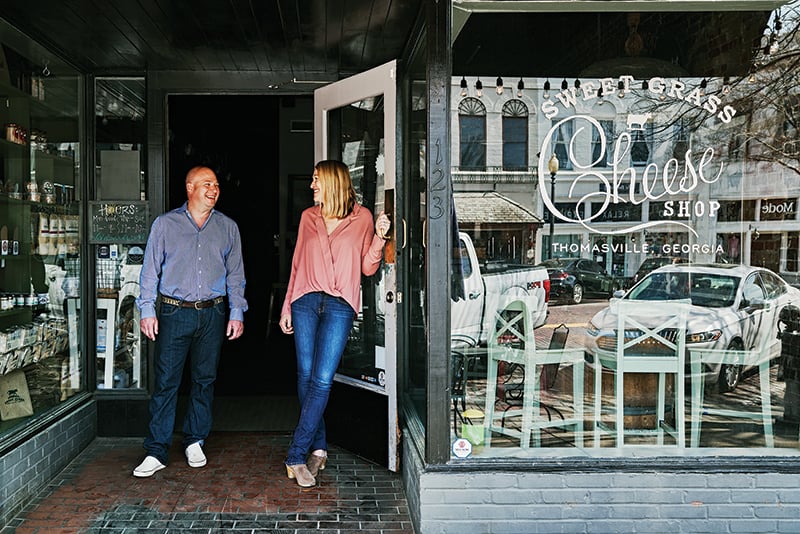 The story of Sweet Grass Dairy is rooted in generations of farmers, milk cows and green pastures. The cheese would come later.
Like her father, Jessica Little was raised on a farm. Her earnings from showing cows at South Georgia 4-H shows even helped her buy a car.
Then, in 1993, after years of typical dairy farm practices, her parents, Al and Desiree Wehner, decided to try something different, a system that would "let cows be cows."
They adopted a New Zealand-style rotational-grazing method that enables cows to move pastures every
12 hours, which allows the vegetation in the previously grazed pastures to regenerate. Cows also require less milking.
"It really allows cows to put carbon back in the soil to counteract the effect of climate change," said Little, who co-owns Sweet Grass Dairy and the Sweet Grass Cheese Shop in Thomasville, Georgia, with husband Jeremy. "It's better for waste management, water management and the land is healthier."
The cows are smaller than Holsteins to better handle the walking and heat — about 50% Jersey cow crossbred with breeds such as Friesian, Norwegian red, shorthorn, senepol and Limousin.
Finding success in the method, Little's mom decided to take the value of such high-quality milk a step further and make cheese. At the time, Little was attending college and dating the man she would marry.
"The farm-to-table movement was just starting," Little said. "Jeremy was working in a restaurant, and I would take samples of my mom's cheese to different chefs. Everyone was so excited."
In 2005, the couple bought her parent's creamery business, and they've been developing their cheese making ever since.
The Littles opened a new, nearly 15,000-square-foot creamery facility in 2021, three times as big as their former site. They opened the Sweet Grass Dairy Cheese Shop in downtown Thomasville where their grilled cheese sandwiches and cheese boards are beloved, along with their thoughtful wine list — Little is also a certified sommelier.
"Small and midsize manufacturing is the lifeblood of rural towns like Thomasville, Georgia," said Wendy W. White, industry beverage manager for food and beverage for the Georgia Manufacturing Extension Partnership at Georgia Tech.
"Jessica and Jeremy Little have become a pillar of the community by employing dozens of people in this small town, not only at the manufacturing facility but also at their local restaurant," White said. "This economic drive goes further, giving many local businesses a boost by featuring their products."
The Littles employ nearly 70 people and sell about 350,000 pounds of cheese a year.
They primarily make eight varieties of handcrafted cow's milk cheeses — Green Hill, Asher Blue, Thomasville Tomme, Lil' Moo Original, Pimento, Griffin, Lil' Moo Garlic and Chive and Georgia Gouda, plus seasonal choices. Sweet Grass gets its milk directly from the Wehners' grass-fed cows several times a week.
"The better the milk is, that's going to lead to more flavorful and better cheese," Little said.
"Out of all the dairy products, we fell in love with cheese," she added. "It takes four ingredients to make hundreds of different cheeses."
Those basic ingredients are milk, salt, starter culture (to start the fermentation process) and rennet (to help solids coagulate). The type of cheese can be impacted "by the shape of the molds, how you age it, how much salt you use and when you brine it," Little said.
The semisoft Thomasville Tomme is aged for 60 to 90 days, for instance, while the Griffin — with curds soaked in a half barrel of Terminus Porter from Gate City Brewing — has to be aged a minimum of 120 days.
One of their best sellers, Asher Blue, was named the 2023 Sofi Gold Product Award winner in the "cheese — cow milk" category. The award is considered a top honor in the $175 billion specialty food industry and is one among more than 40 international and national awards garnered by Sweet Grass.
The Littles "have a passion for providing consistently high-quality products and aren't afraid to try new ideas in the pursuit of excellence," White said.
Sweet Grass Dairy cheeses are now sold in all 50 states as well as a few Asian countries. In Tallahassee, you can find their cheeses in supermarkets, small food and wine shops and through the Red Hills Online Farmers Market.
Cheese making remains their passion, but as parents of four sons aged 13 to 20, there's greater reward in the Littles' Thomasville business.
"We get to raise our children here, in a small town," Little said. "It's a good life."
---
Sweet Grass Dairy Cheese Shop
123 S. Broad St., Thomasville, Georgia
(229) 228-6704 | SweetGrassDairy.com
---