Slim Chickens Opens First Tallahassee Location
Retired NFL player celebrated grand opening on Jan. 9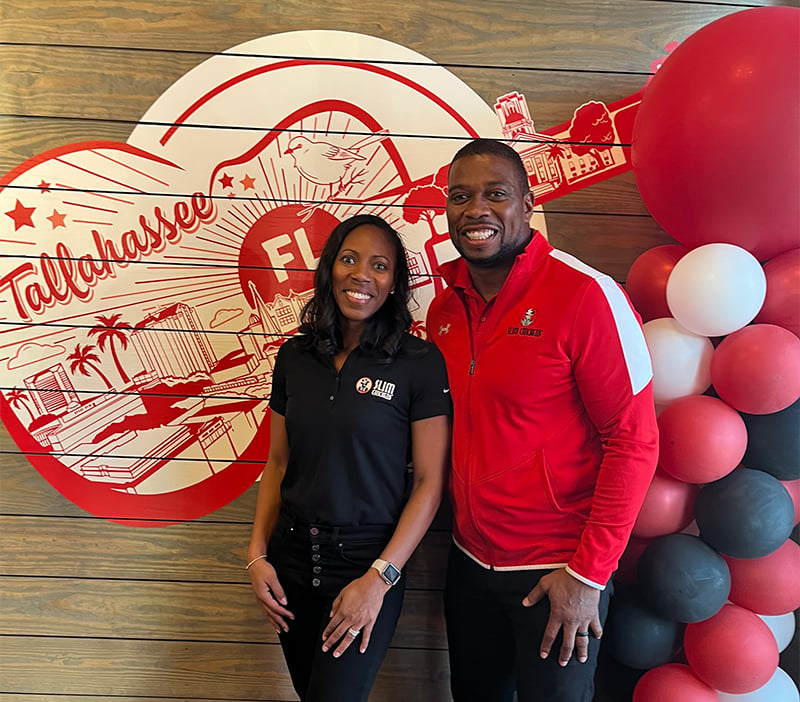 On Jan. 9, Slim Chickens, a leader in the "better chicken" segment of fast-casual restaurants, continued the expansion of its 100% all-natural, fresh chicken and unrivaled flavor in Florida, with its newest opening at 2441 N Monroe St in Tallahassee.
College sweethearts Angelo and Kim Crowell are embarking on a new adventure and opened up their very first Slim Chickens. Angelo and Kim met when they were both attending the University of Virginia. After college, Angelo went to play in the NFL with the Buffalo Bills and the Tampa Bay Buccaneers, while Kim practiced law, with a focus on corporate transactions and commercial real estate. In 2009, Angelo retired from the NFL and the couple combined their skills and started Kalo Companies, here in Tallahassee.
"We are from Tallahassee and are so excited to bring such a great brand to Tallahassee," said Kim during the grand opening on Monday. When asked what makes Slim Chickens chicken and the restaurant different from other chain chicken restaurants Kim replied, "It is buttermilk marinated and made fresh to order. The freshness of the ingredients and the southern hospitality. Also, our culture is all about people."
Together, they've grown from one Jersey Mike's restaurant on Tennessee Street to 46 in just a few short years. Kalo employs close to 500 people and operates restaurants throughout Florida, Georgia and Alabama. Kim and Angelo stand strong in the belief to give back to the community. Both are heavily involved in philanthropic and community development. The Slim Chickens brand and standards aligned with what the Kalo brand believes in, fresh food, friendly service and giving back.
Now, the two have opened their first Slim Chickens. The store's positive economic impact has already brought new construction and an updated look to the front space of the Center of Tallahassee and will employ around 100 local residents.
"Our ability to stay focused and connected to the values and vision of Slim Chickens is what sets us apart from others," said Kim. "We are excited to open Tallahassee's first Slim Chickens in my hometown, and have plans to expand more in the future."
The Tallahassee opening is one piece in Slim Chickens' larger growth story. Since its founding in 2003, the brand is now in 30 states with 190 U.S. and International openings and an overall goal of opening 600 restaurants by 2025. In Florida alone, the brand has already grown tremendously to over 4 locations.
"Our freshly made southern dishes and homemade recipes create loyal guests who feel good about the food they're eating and we're proud to be able to grow our loyal fan base into the Tallahassee market," said Slim Chickens chief operating officer Sam Rothschild.
By focusing on providing only 100% fresh, all-natural chicken tenders that are buttermilk-marinated, hand-breaded and always cooked fresh-to-order, the brand has committed to providing a "better chicken" experience that can't be found anywhere else. In addition, a choice of 17 house made sauces adds exceptional flavor and has earned admiration from both guests and critics alike. Slim Chickens also offers fresh sandwiches, salads, wraps and its signature chicken and waffles. To offset the savory side of the menu, rotating desserts served in Mason jars are also available.
ABOUT SLIM CHICKENS:
Slim Chickens opened in 2003 in Fayetteville, Arkansas, with a focus on fresh, delicious food with a southern flair in a fast-casual setting. Guests can always expect fresh chicken tenders and wings cooked to order and served with housemade dipping sauces. With more than 190 locations opened and a fanatical following in 30 U.S. states, as well as international locations in the United Kingdom, the eternally cool brand is an emerging national and international franchise leading the "better chicken" segment with a goal to grow over 600 restaurants over the next decade. Southern hospitality is not just for the South; everyone, everywhere can appreciate honest food to socialize with friends and neighbors. To learn more about the brand, visit slimchickens.com.
---
---