Skin Care for Guys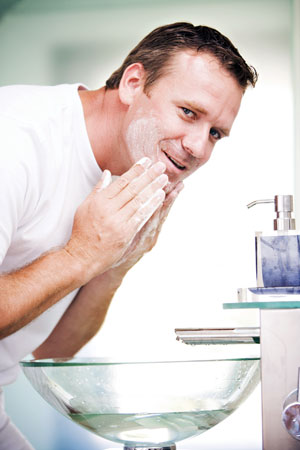 Women aren't the only ones with a skin care regimen anymore. At least they shouldn't be. Not only are cosmetic lines creating men-targeted products, but local day spas offer facials and treatments especially for men.
Shirin Rahimi, owner of Styles of Elegance Hair Salon, Day Spa & Skin Therapy says she has seen an increase in her male clientele. "A lot of men come in for acne treatment," she says. "Sometimes young professionals are so busy they don't have time to care for their skin."
Still, Rahimi notes at-home skin care is necessary. "All skin must be cleansed," she says. Men with facial hair have to make sure they get under the whiskers to the skin's surface.
The good news for men is that they have a head start on the cleansing process. Unless they work outdoors in extreme conditions like construction, guys' skin is pretty healthy since it's thicker, they don't wear make-up and do exfoliate regularly. "Men's skin exfoliates more than women's because they shave," Rahimi says.
The day spa owner recommends sun block use to prevent sun-induced skin problems like skin cancer.
"Even though they have thicker skin, they need to use sun block," says Julie Moss, licensed esthetician with Tallahassee's Plastic Surgery's skin care clinic. "Some clients deal with hyper pigmentation from the sun especially (in Florida). Mineral-based sun block actually blocks the sun."
She suggests men develop a cleanser, scrub and sun block regimen to maintain healthy skin.