Shrimp on the Barbie — And More!
Key West Margarita Grouper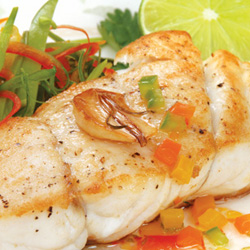 FreshFromFlorida.com
Key West Margarita Grouper
Mmmm, smell that? It's outdoor grilling season. Before you crack open the grill, keep in mind that it doesn't have to be all steaks and kebabs. Gas or charcoal grills can be a creative cook's best friend, generating everything from warm soups to savory shrimp or oysters — and even desserts.
What you make on a grill is only limited by your imagination. Grills have a way of coaxing new taste and textures from a dish that can't be found on traditional stovetops or ovens. Charcoal grills can especially add a nice smoky flavor to any dish.
Thanks to the exploding popularity of outdoor grilling, there are many websites and books developed for grill masters who want to refine their art.
One site, grillinggourmet.com, has tempting recipes, and they're not all meat and seafood. There are instructions on a corn and arugula salad or grilled pineapple with toasted coconut. One of the most surprising revelations was the ease with which grills can even create delicious desserts, such as a pound cake with espresso chocolate sauce.
Only minimal kitchen prep work is needed for most grill-friendly recipes. It doesn't matter whether you have charcoal or gas, or you spent $50 or $5,000 on your grill, elegant meals can be prepared with ease.
KEY WEST MARGARITA GROUPER
Makes 4 servings. 508 calories per serving (with salsa).
Place fillets in a shallow baking dish. In a bowl, stir together the tequila, orange liqueur, lime juice, 1 teaspoon salt, garlic and olive oil. Reserve 1/2 cup marinade and set aside. Pour remaining marinade over fillets; cover and refrigerate for 1/2 hour, turning the fillets once.
SALSA
Combine the tomatoes, onion, jalapeno, cilantro, and sugar in a medium bowl; season to taste with salt and set aside.
Preheat the grill on medium-high heat. Remove fillets from marinade, brush tops with oil and season with black pepper. Grill fillets for four to five minutes per side until center is opaque and meat flakes easily with a fork. Transfer fillets to serving plates. In a small saucepan, heat reserved marinade to a simmer; remove from heat and set aside. Drizzle warm marinade over the fillets and serve with salsa.
INGREDIENTS
4 six-ounce grouper fillets
1/3 cup tequila
1/3 cup orange liqueur
3/4 cup fresh lime juice
1 teaspoon salt
3 cloves garlic, peeled and chopped
4 tablespoons olive oil
3 medium tomatoes, diced
1 medium onion, chopped
1 small jalapeño, seeded and minced
4 tablespoons chopped fresh cilantro
1 pinch white sugar
salt to taste
1 tablespoon olive oil
ground black pepper to taste
GRILLING TIPS
Grilling seafood is always a great idea, says Justin Timineri, Florida's executive chef and culinary ambassador. Make sure your grill is properly prepared, he advises. It should be preheated and the grilling surface should be clean and free of any debris. A well-oiled grilling surface will ensure you don't end up leaving part of your meal behind.