Shower Yourself With A Bathroom Makeover
Whether it's a new mirror or a full overhaul, updating your bathroom is easier than it seems.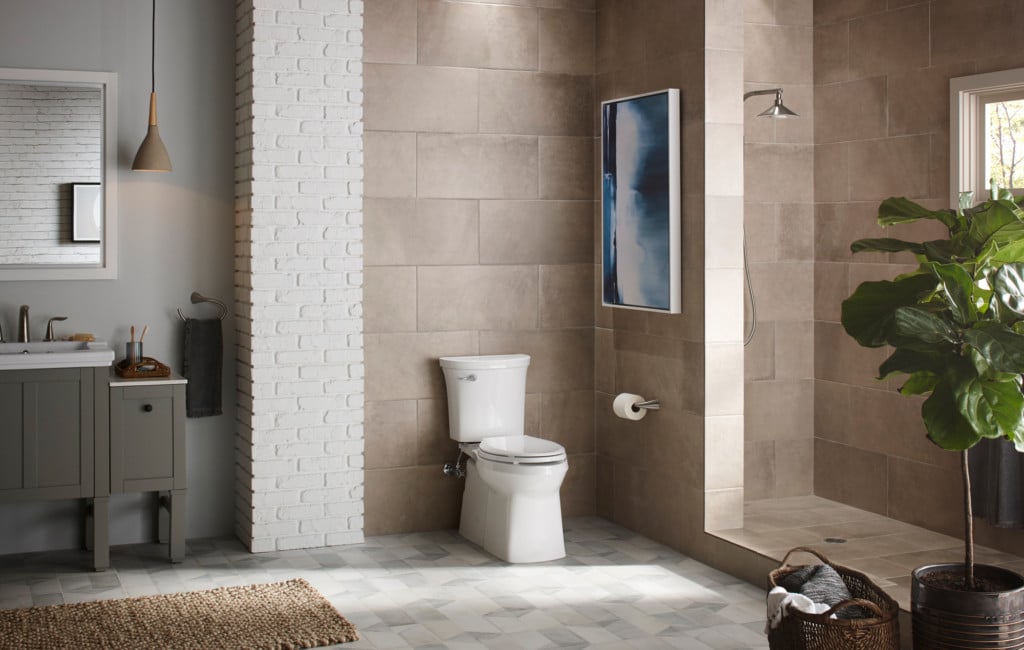 You might be thinking your bathroom needs a new look.
Give it a boost with a little DIY or go full out with a total makeover. Start with inspiring ideas and a budget. HomeAdvisor says that a bathroom remodel in Tallahassee costs on average $9,789, with a range from $2,500 to $25,000.
Jim Bennett, who says he has been in the plumbing business for "coming up on 50 years," says a basic remodel for a 5-by-8 bathroom is $8,500, and that includes ceramic-tile floors and walls. Bennett says figure three weeks for a whole bathroom redo, meaning layout and selecting supplies, tile, fixtures, mirrors and lights.
Master Bathrooms
Here are some tricks and tips to get the bathroom of your dreams. Master bathrooms are full of indulgence while offering efficiency (i.e., two sinks) at the same time.
More homeowners now ask for super-sized showers. Frameless glass shower doors add a luxurious look and easy cleanup. Remove those mold collector gold-tone or chrome frames that clank every time you shut them.
Multiple showerheads or a steam feature, requiring a door that seals tightly on all sides, are upgrades. Maybe you prefer a whirlpool or deep-soaking tub. Make sure it is roomy enough and doesn't strain your back.
Whether tub or shower, install slip-resistant flooring for stability and freedom from falls. Add grab bars and easy-to-reach controls. A bench seat is up to you. An inset or shelf for holding shampoo and soap is a must.
You've probably seen advertisements for one-day installations of custom manufactured and professionally installed showers, tubs or both. These are called replacement tubs and showers, and they vary in quality and price. The speed is certainly attractive, and in-home design consultations are free from multiple companies.
Floating vanities make a room feel airy by adding open space between the floor and the vanity — a perfect place to put slippers or attractive containers with supplies. The vanity can be outfitted with drawers, cabinets and cubby holes.
A cushioned chair, ottoman or bench below a window provide handy places to sit or to throw a bath towel or robe. Drapes or blinds can dramatically change the appearance of the accompanying window.
Soft music can set the mood. Install a sound system or stash an mp3 player on a shelf. Too calming? How about waking up with a water-resistant television blaring the latest news?
Walls can be painted, or they can feature specially designed bathroom wallpaper. Currently in vogue is a subtle spa-like grayish blue grid pattern.
Consider glass mosaic or tile walls. In a large master bath, combine several of these for a unique look. Keeping the pattern to a minimum will expand the space.
Tile-less bathrooms are also in vogue. So when you remove that '60s blue or pink tile, don't immediately replace with it neutral-color tile; explore the other options. Even the most aesthetically minded homeowner can use an assist from store salespeople and interior designers.
Small Bathrooms
Make a tiny bathroom look larger by indulging in updated fixtures, storage niches and colorful accents. A striped area rug will elongate. Contrary to logic, large tile squares with fewer grout lines will make a small space seem bigger. Pedestal sinks and towel bars take up less floor space than a chunky vanity cabinet.
Powder Rooms and Dog Showers
In a two-story home, a powder room with a sink and toilet is most likely located on the first floor off a hallway or tucked under the staircase. Designers used to go wild installing bold wallpaper. The reasoning was it is a small space where you dash in and out, have fun with it or go for the "wow" reaction. In a remodel it might be prudent to bust out a wall and add a shower, making it more usable for a first-floor bedroom or washing the dog. In high-end homes, a dog shower is often placed near the back door.
Storage Solutions
Mix open and closed storage or try frosted glass door inserts; break up a wall of cabinets when you can. Bathrooms get overloaded with shampoos, hairdryers and cosmetics — give them storage space and clean out those hotel samples and gifts-with-purchase at least once a year.
Mirrors and Lighting
Skylights, windows, chandeliers, soft flattering side-of-vanity lights — your pick. The right lighting will help with all types of grooming and give you a lift. The bathroom is an important part of the house. Have fun with it!