Shining Farm on The Hill
Visionary perpetuated the magic of Millstone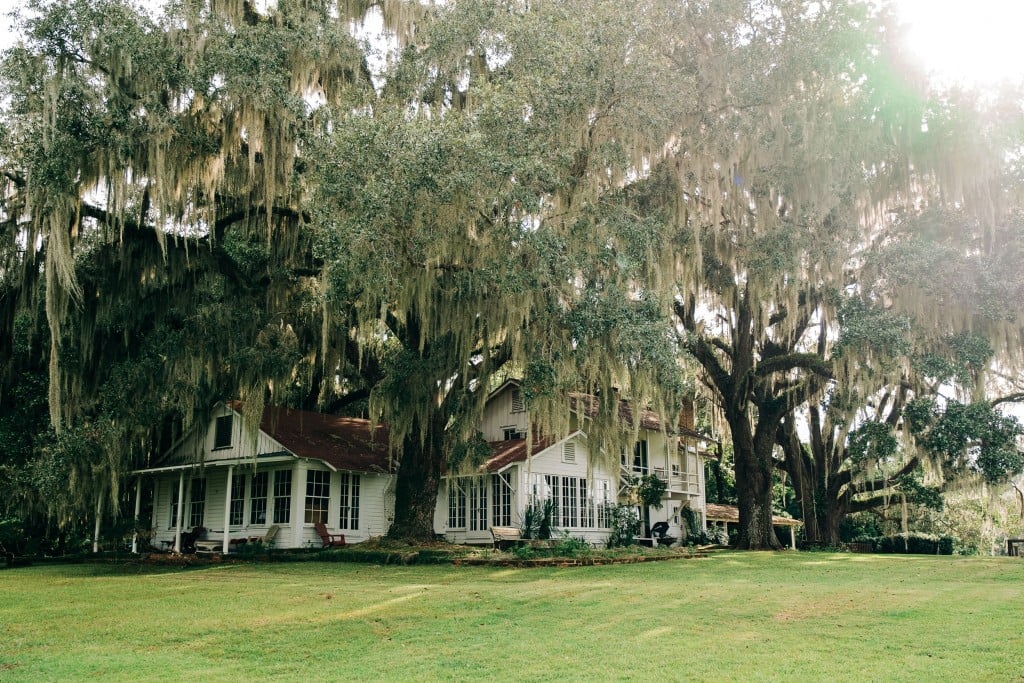 So you say you want to shear a sheep or shoe your own horse? And really, who hasn't had such desires? Perhaps you are into gourd carving, or chain mail creating? How about open-fire cooking … or art? Or if nothing else, you simply want to smell the aroma of a goat and stare out at a sylvan landscape that hasn't changed much in the last 160 years. Where can you get all that around here and be home for dinner?
Luckily there exists within the Tallahassee city limits a pristine 100+ acre farm that — thanks to its far-sighted last owner — has been a public nonprofit for the last six years. And it's there that all of those rural, artistic, old-time classes and activities occur.
The Millstone Institute for Preservation sits atop what may be a "sacred hill" that was known to North Florida indigenous peoples of long ago. It overlooks tranquil Lake McBride and is surrounded by forests and former farmland that director Majken Peterzén says once totaled nearly 2,000 acres.
Today, that land and the 1940s plantation-style home with a spectacular view have become the site of events, reunions and dozens of on-site courses that adhere to the wishes of the woman who left Millstone to the public, Mrs. Jessie Conrad. She intended that generations learn about conservation, wilderness protection, sustainability and a variety of artisan techniques.
One of the most visible events for which Millstone Institute has taken the lead is its annual Farm Tour. Serving as a kind of hub for the dozens of participating farms and gardens, Millstone itself welcomes guests to pet llamas, goats, sheep and horses. Those animals, along with a barn cat or two, remind grown-ups and children what rural life was like in another age. Spreading a picnic blanket beneath a shady tree and gazing as little ones roll down hills and turn cartwheels seems like stepping back into a turn-of-the-last-century painting, which many may not want to leave.
And that may be how Mrs. Conrad and her husband felt the first time they saw the Millstone property in 1930. According to Peterzén, the Conrads, visiting from North Carolina, first saw Lake McBride from atop the hill during a moonlight carriage ride. "She said to Fred, "We're buying it." And they did.
Peterzén believes that Millstone may have once been part of the Tall Timbers and Red Hills plantations. However, Millstone was not turned into a ritzy, quail-hunting getaway for wealthy Northerners like many plantations. Instead, from the '30s on, the Conrads farmed the property, growing indigo, raising cattle and making use of the mill that gave the property its name.
In addition to raising three sons and moving from the 1860s bungalow they'd lived in for 10 years, the Conrads built a stately home in which their last son Jack lived until his death. The institute today is Jessie Conrad's legacy and her vision. Its offerings, from medicinal gardening to blacksmithy, wildlife sustainability to jewelry making, and a place where you can folk dance at the Full Moon Festival, or go from "shearing to shawl" in three days, reflect her desire to preserve all that was wholesome about American life.
Peterzén, a former gallery owner and a cellist, a sailor and a visionary in her own right, marvels at the "spell" Millstone seems to cast over people.
"According to state archeologists who have examined the property, humans have occupied these hills for the last 10–12,000 years," she said. "There are a variety of discovered shards and artifacts, but many were not from our area. The scholars believe the hill overlooking Lake McBride may have been a sacred meeting ground for distant tribes, a protected place." And she has seen that "sacred" legacy in action.
"During a drumming circle on the hill not so long ago," Peterzén said, "several people wept they were so overcome with the spiritual nature of the moment and the place."
This year, like last, the Millstone Institute will need to accommodate the COVID exigencies, but the classes and conservation opportunities won't stop. Besides, a new herd of sheep is arriving. The medicinal garden has been laid in. And during Christmas at Millstone, well, magic will be in the air.
FARM TOUR
Annually, the Millstone Institute for Preservation conducts a tour of farms in North Central Florida and South Central Georgia as a thank you to food producers. The 14th annual tour was held in October and included more than 40 stops. The tour invites participants to explore farms, ranches, orchards and gardens; sample foods; pet a goat; go on hayrides; attend workshops; patronize vendors; taste local wines and play horseshoes.