She's Having a Baby
One Couple's Candid Story of Triumph Over Infertility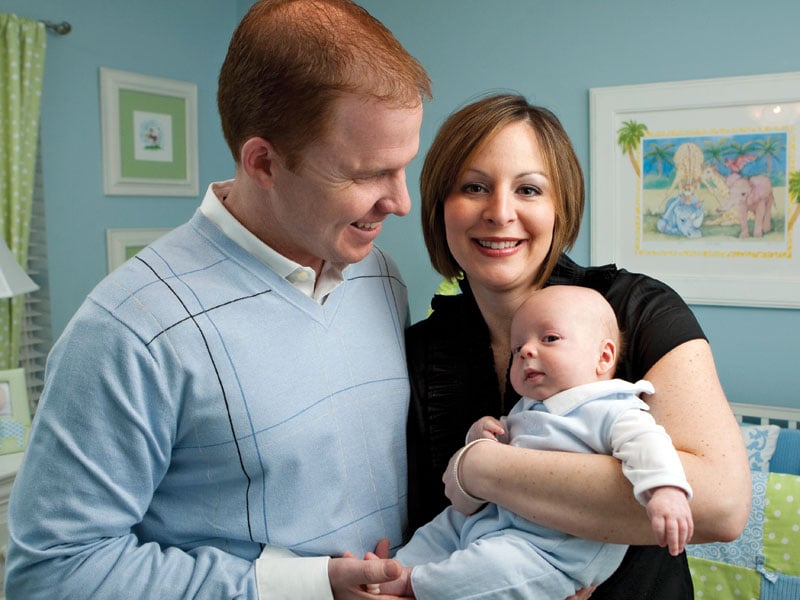 Tallahassee residents Tom and Stephanie Derzypolski are like many couples living in 2010. Now both in their 30s, they had wanted to enjoy some time together before they started a family … Oh, and not to mention that they had their careers … And don't forget, they wanted to travel, too
Tom and I thought it would be smart to wait at least a year after we were married to start trying to have a baby," Stephanie Derzypolski remembers. "We wanted to enjoy each other and our time together as a newly married couple. We took that time to travel to London and Cabo San Lucas, Mexico; went skiing in Colorado; and took a sailing trip to St. Maarten, Anguilla, St. Barts and Key West. We were also both focused on growing our careers, which isn't very conducive to a new baby."
It was September 2007 when Stephanie Derzypolski went off birth control, and she and her husband got serious about the business of baby making.
"After trying for several months, we got more serious and started using an ovulation predictor and charting the process," Derzypolski says. "After about eight months, I was concerned. I knew that we were both healthy, and Tom had a daughter from a previous marriage, so I felt it was time to seek professional help."
But Tom Derzypolski wasn't convinced that it was time to go to an expert.
"I thought that it just takes time and was coming up with all sorts of excuses in an effort to comfort Stephanie," he says. "Everything from stress at her job to her being on birth control for a decade seemed like reasons not to worry."
Stephanie Derzypolski has lots of company in the world of infertility. About 10 percent of women age 44 and younger in the United States — approximately 6.1 million — have difficulty getting pregnant or staying pregnant, according to the U.S. Centers for Disease Control and Prevention. Infertility means not being able to get pregnant after one year of trying (or six months, if a woman is 35 or older). Women who can get pregnant but are unable to stay pregnant may also be infertile.
The U.S. Department of Health and Human Services says many women are waiting until their 30s and 40s to have children. In fact, about 20 percent of women in the United States now have their first child after age 35. Age is a growing cause of fertility problems, with about one-third of couples in which the woman is over 35 having difficulty getting or staying pregnant.
"I work at Capital Regional Medical Center and am familiar with the medical community," Stephanie Derzypolski says. "After reviewing my options, I chose to visit Barry Ripps at NewLIFE (New Leaders In Fertility & Endocrinology) because I knew I could be seen here in Tallahassee and that he had excellent training and great results."
Tom Derzypolski says it was a big perk having Dr. Ripps in town.
"I was certain we would have to go to Jacksonville or Tampa but was thrilled to find out we had board-certified physicians at NewLIFE here in Tallahassee," he says. "The processes are stressful enough, and not having to travel out of town for care was key for us."
Ripps, who has specialized in human reproduction and fertility since 1991, says the Derzypolskis' story is not unusual.
"They had tried for several months but suspected that something was wrong because she was young, healthy and ovulating and he had conceived a child previously," he says. "They took the correct action by being seen early. When faced with a delay in natural conception, couples should seek evaluation early if there is a known problem, and urgently if the female is 35 years or older.
"Of all of the factors causing infertility, the effect of maternal age is irreversible and untreatable," Ripps says. "Better to be seen a little too early and (not getting) treatment than to be seen too late, when no treatment is available."
Both Stephanie and Tom Derzypolski were tested, and it was determined that Tom's sperm levels were low.
"This was good news, as male infertility is easier to treat than female infertility," Stephanie Derzypolski says. "We were advised to try artificial insemination first. This is where they essentially assist Tom's sperm in getting to my egg. Kind of like a turkey baster! I had a round of fertility drugs to ensure that I created a few extra eggs that month, but unfortunately, after waiting the daunting two weeks to take the pregnancy test, we found that we were unsuccessful."
The Derzypolskis were told that they could try another round of artificial insemination or go ahead with in vitro fertilization. The couple say artificial insemination costs $350 without other treatments. In vitro is considerably more expensive — $7,500 in Tallahassee and twice that in larger metropolitan areas — and none of it is covered by insurance.
"We decided to proceed with in vitro," Stephanie Derzypolski recalls. "This process involved drug stimulation to assist my body with producing multiple follicles (eggs). Dr. Ripps' office monitored my follicles until they were ready to be fertilized. I was placed under anesthesia for the egg retrieval, but it was quick and I felt fine afterward. They retrieved 10 good follicles. Then Tom's sperm was injected into each of the follicles.
"The office called us the next morning to let us know that seven of the 10 had fertilized," she says. "The office watched as the cells became blastocysts over the next few days. In other words, the cells began to split — which meant that life was beginning. Fortunately, they took a picture of my egg and Tom's sperm as it was injected into the egg. Dr. Ripps also took pictures of the eggs as the cells began to split. Who can say they have a picture of themselves as a few cells?"
The Derzypolskis decided they would transfer only two of the fertilized blastocysts. They had talked about the possibility of twins and thought they could handle it.
"But we couldn't fathom the thought of having triplets," Stephanie Derzypolski says. "Wow, I can't imagine!"
They went back on day three for the egg transfer.
Essentially, Dr. Ripps used a catheter to insert the fertilized eggs back into me, she says. We were able to watch the process on a monitor. I had to remind Tom that he should at least be holding my hand when I conceived!
Tom Derzypolski remembers the day he learned the procedure was successful and that one of the eggs had implanted.
"I would like to say it was full of excitement and celebration, and in fact inside I was doing back flips," he says. "But we also knew that while we were 'pregnant,' it was important to make it through the first 10 weeks without losing the baby. So while I wanted to call everyone I know and tell them the good news … it was initially a time of restraint.
"I also didn't want to appear to be too excited in the event it did not work out and this would make Stephanie sad," he says.
For Stephanie Derzypolski, it was all good.
"I was coming back from lunch when I received a call from Dr. Ripps' office letting me know that we had a positive test result," she says. "I got in my car and drove straight to Tom's office. I couldn't help but cry out of sheer joy."
Although her due date was Feb. 5, 2010, Stephanie Derzypolski's water broke on Jan. 19 at 1:37 a.m. when she was 37 weeks pregnant.
"I was at home when my water broke," she says. "I couldn't believe that we would have a baby that day! By the time we arrived at the hospital, I was 100 percent effaced and 2 centimeters dilated. Unfortunately, the baby's heart rate kept dipping and at one point was very alarming."
As it turned out, the umbilical cord was wrapped around the baby's neck — simply one of those things that can occur from time to time. Tom Derzypolski says it was decided that Stephanie would have an emergency Cesarean section.
"Within five minutes (at 9:01 a.m.) they handed me a very healthy, 5-pound, 12-ounce baby boy … Thomas Grey Derzypolski," he says. "He was perfectly healthy."
Would the Derzypolskis do it again?
"I would do it all again and again," Stephanie Derzypolski says. "I am amazed at how much I love this little guy. I could stare into his eyes for a million years. I am completely overwhelmed at how in love I am with him."
Tom Derzypolski agrees wholeheartedly.
"I would absolutely, without hesitation, recommend this," he says. "When I say 'this,' I mean both seeking professional, board-certified intervention as well as the IVF procedure.
"It is painful guessing and not knowing why we were not getting pregnant," Derzypolski adds. "Even if all you do is go through the evaluation and identify what is wrong, you know more and you feel better about the situation."
When a couple is trying to get pregnant and can't, it is an emotional experience. "You're excited, scared, confused, nervous … all at the same time. I hope others will read this and seek intervention sooner rather than later. Even if it's just identifying, through a specialist, what the problem is. I feel like Stephanie and I waited far too long to seek help. This just extended our anxiety."
Derzypolski says he was ready to support his wife if something was wrong with her body and was taken aback when he discovered that he had the fertility problem.
"I would tell other men to take this in stride and realize that while it is a stunning realization, it (has) nothing to do with one's masculinity, love for their wife … or anything else, for that matter," he says. "In fact, it's almost good news. More often than not, fixing an issue with the male is less complex than other, female issues."
A last bit of advice from Tom Derzypolski to couples with fertility issues: "Support each other. Be patient with each other. Give each other a bunch of hugs and realize it's a journey you are going through together."
Contributing writer Triston V. Sanders is an executive producer and news anchor for WCTV. Watch her televised medical segment, "Health Matters," weekday mornings on "The Good Morning Show" on WCTV.
Want to know more?
U.S. Department of Health and Human Services
(800) 994-9662, womenshealth.gov
U.S. Food and Drug Administration
(888) 463-6332, fda.gov
U.S. Centers for Disease Control, Division of Reproductive Health
(800) 232-4636, cdc.gov/reproductivehealth/drh
American College of Obstetricians and Gynecologists Resource Center
(800) 762-2264, acog.org
American Society for Reproductive Medicine
(205) 978-5000, asrm.org
RESOLVE: The National Infertility Association
(888) 623-0744, resolve.org
InterNational Council on Infertility Information Dissemination, Inc.
(703) 379-9178, inciid.org
American Fertility Association
(888) 917-3777, theafa.org
Fertile Hope
(888) 994-4673, fertilehope.org