She Sheds: Turn a Backyard Shed Into a Private Escape
To make it your own private escape, decorate with things you make or collect.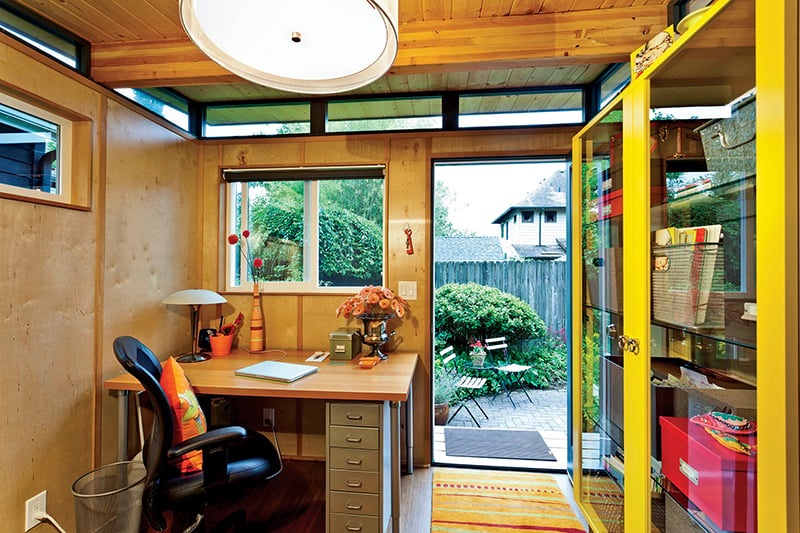 When you look at that shed or out-building in your backyard, do you imagine turning it into a personal haven? Do you become a painter, a fitness guru, a gardener — even a writer — with a room of your own?
Perhaps you simply need a place to sip a glass of iced tea or wine and get away from it all. If creating the retreat of your dreams sounds good to you … then let's get started.
The purpose of the remodeled shed determines its design. Traditionally, sheds hold a jumble of rusting mowers, cast-off sports equipment and household discards.
The new, retrofitted versions go beyond that: They are organized by theme and offer inviting, clean, comfortable, stay-a-while spaces. Variations include man caves or pub sheds complete with bars and stools; creative nooks with art supplies and weaving looms; offices with desks and reading chairs; elegant garden or greenhouse sheds; pool cabanas with guest-ready towels, floats and sunscreen; party sheds with speakers and a disco ball; havens for music practice; workout places with fitness equipment; and the ultimate "she shed" or personalized place to escape.
Sheds need an entry door and, if possible, windows. French doors allow in natural light. When placing the doors and windows, consider the view, airflow and privacy.
Most sheds are positioned with doors facing the house. They may need insulation and electricity for fans or lights.
A few more practical points: A tiny entrance area, with rocks, stepping-stones or decking will keep the interior from getting muddy.
For interior flooring, vinyl is probably best for paint spills and gardening messes. For comfort, make sure the shed is tall enough to stand in. It should be sturdy and watertight. For art projects and gardening, water access from a garden hose or nearby spigot is necessary.   
Depending on the function of the shed and who is going to use it, décor styles include vintage, classic, whimsical, rustic, shabby chic and modern.
A "she shed" could have lace curtains, wicker and pastels or wildly colored paintings. The mix is what makes it unique. A gardening shed could have a rustic, green theme with hooks and tools neatly displayed above a table or countertop used for filling pots.
A bin full of potting soil would also be helpful. Most sheds need shelves, cabinets, surfaces and a place to rest and reflect.
To make it your own private escape, decorate with things you make or collect.
Here is the place for that crystal chandelier or the rope-seat stools and antlers for the walls. Finish with landscaping, such as small palm trees or plants in brightly colored pots, and window treatments — maybe Bahama-style shutters for those tiny windows.
Displaying before- and after-renovation photos would be fun, too.
Whatever you do, don't let your personal haven become a center for discarded objects, harking back to the old shed it once was. Creative, retrofitted sheds are expressions of the soul.