Seven Days of Opening Nights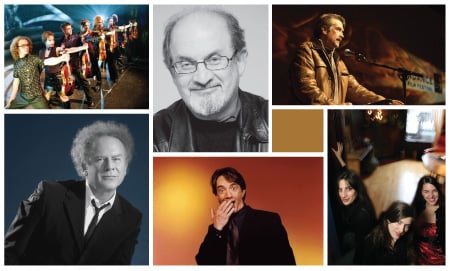 Celebrating 10 years of top-notch entertainment
Looking Back, Looking AheadA Decade of Seven Days, Change Ahead in the Future
By Rosanne Dunkelberger 
It was the mid-1990s, and Florida State University's reputation as a football powerhouse was riding high after the team won the first of its two national championships. As Margo Bindhardt recalls, then-President Sandy D'Alemberte was sitting in the kitchen of her Canadian home one summer when he floated the idea: The university was tops in other things besides football, so FSU should have a Spoleto-like festival to showcase its nationally recognized, but underappreciated, programs in the arts.
"I said, 'That's a good idea.' And he said, 'Good, why don't you run it?'" Bindhardt said.
Now chairwoman of the executive committee for Seven Days of Opening Nights, Bindhardt has continuously had a leadership role in the festival, now entering its 10th year with a whirlwind of 18 marquee performances scheduled between Feb. 10 and Feb. 28.
The event's name reflected the first year's program, but Bindhardt said with a chuckle that a more appropriate name might be "Seven Days of Opening Nights – Not Necessarily in a Row and Not Necessarily Seven."
While the scope of the festival has ebbed and flowed over the years, the basic format has remained the same: gather some of the greatest talents from throughout the arts world to perform at a cornucopia of events. And, oh yeah, ask them to hang around and share their knowledge during teaching sessions with FSU students.
"I think we kind of hit upon a very winning formula very early on," said Fran Conaway, director of special projects in University Communications at FSU, who, along with Bindhardt, Assistant Vice President for University Relations Donna McHugh and others, was part of the planning nucleus in the festival's early years. With Seven Days' focus on student/artist interaction, "it's not simply entertainment and performance," Conaway said. "It's good for our students and it sets us apart."
But it is the local community's enthusiastic response – in sponsorship and ticket purchases – that was critical to the event's ultimate success.
"We could have died on the vine in two years if the community had not supported it," said Bindhardt.
Seven Days has grown to be one of Tallahassee's signature cultural events, as local residents anticipate the announcement of each year's lineup and snap up tickets to the most popular events.
"I think the reason it works is that the community is hungry for it … culturally it answered a need," said Steve MacQueen, who was named director of Seven Days in August. "There was an artists' series back in the '80s when I was here, and it up and disappeared. There'd been a void," he said, which gave FSU a "tailor-made" opportunity to fill. "It's got these great programs, and it needs to reflect that."
Now, Seven Days is poised to cash in on a decade's worth of goodwill from its patrons. MacQueen said he is hoping the jazz aficionados who buy tickets to see Chris Botti will give the Cedar Lake Contemporary Ballet a try.
"The ideal is that ultimately you get enough goodwill from your audience by presenting good stuff over a period of time that they will take a leap of faith and come to see things they might not have otherwise seen because they have a trust in the festival itself," he said. "They might not have heard of it, but they can reasonably believe it will be a quality event."
Looking ahead, huge changes are in store for Seven Days as its main venue, Ruby Diamond Auditorium, goes out of commission for two years starting in May. The serviceable, but undistinguished, auditorium will undergo a $33-million renovation to transform it into a "perfectly tuned" concert hall, according to Senior Project Manager Lisa Durham.
Plans are incomplete but call for the addition of a grand lobby space, parterre seating (those little seating boxes along the side of a concert hall) and a rehearsal hall, she said. Dressing rooms will be renovated and expanded, and a roundabout and plaza on the north side of the building will be constructed to help with dropoffs. While there will be exterior construction, the look of the Westcott Building's façade will remain the same.
Ruby Diamond probably will lose 100 of its 1,400 seats during the renovation, but "it's not about big, it's about quality," Durham said. Once construction is complete, acoustical experts will be called in to "tune" the venue.
"It's not a movie theater anymore, it's a concert hall," she said.
MacQueen said the loss of Ruby Diamond for the next two festivals offers a challenge – but also an opportunity.
The number of events probably will be scaled back to the original seven-days concept. But because Seven Days will have to take most of its events off campus, it allows the festival "to go out into the community and actually engage people," MacQueen said. "We want to appeal to as many people as possible."
2008 SEVEN DAYS OF OPENING NIGHTS LINEUP
The most convenient way to order tickets for Seven Days events is online at tickets.fsu.edu. Tickets also can be ordered by phone at (850) 644-6500 or purchased in person at Florida State University's Fine Arts Ticket Office in the Fine Arts Building, located at the corner of Call and Copeland streets. A valid student ID must be presented in order to pick up student-priced tickets. One discounted ticket per ID is permitted. All events (except Imani Winds and the Saturday Matinee of the Arts) begin at 8 p.m.
Sunday, Feb. 10 Prism: Special Edition IV at Ruby Diamond Auditorium — Always a sellout, the Prism concert, presented by the FSU College of Music, presents a variety of ensembles playing music like you've never seen or heard before. Tickets: $15-$20, $8 students
Monday, Feb. 11 Art Garfunkel at Ruby Diamond Auditorium — The countertenor part of Simon & Garfunkel, he plans to dust off the duo's classic hits as well as performing tunes from the Great American Songbook. SOLD OUT
Wednesday, Feb. 13 Cedar Lake Contemporary Ballet at Ruby Diamond Auditorium — The Village Voice calls this exciting troupe a "high-powered, eclectic mix of modern dance, ballet and jazz." Ruby Diamond Auditorium. Tickets: $25-$50; $10 for students
Thursday, Feb. 14 Chris Botti — His trumpet sounds make him the reigning king of contemporary jazz and his looks put him on People magazine's list of the world's most beautiful people. Tickets: $45-$90; $20 for students
Friday, Feb. 15 Barrage at Ruby Diamond Auditorium — This 10-member string ensemble is comin' at ya with a diverse fusion of contemporary world music. Tickets: $25-$50; $15 for students
Saturday, Feb. 16 Martin Short at Ruby Diamond Auditorium — The funnyman from "Saturday Night Live" is planning a musical evening of film clips, songs and sketches. Tickets: $45-$90; $15 for students
Sunday, Feb. 17 Imani Winds at Ruby Diamond Auditorium — A classical wind ensemble, Imani Winds has an accessible sound that is dynamic and inspirational. 3 p.m. Tickets: $15-$40; $10 for students
Monday-Tuesday, Feb. 18-19 AXIS Dance Company at Nancy Smith Fichter Dance Theatre — In two performances, this "physically integrated" dance company is performing a new work that originated with a residency program at FSU's Maggie Allesee National Center for Choreography. Tickets: $25; $10 for students
Wednesday, Feb. 20 Chick Corea and Bela Fleck at Ruby Diamond Auditorium — Two gifted and adventurous improvisers join forces to create a musical rapport between the piano (Corea) and banjo (Fleck). SOLD OUT
Friday, Feb. 22 Salman Rushdie at Ruby Diamond Auditorium — Spend an evening with one of the most acclaimed and controversial authors in the world. Tickets: $25-$75; $10 for students
Saturday, Feb. 23 Saturday Matinee of the Arts at Tallahassee Museum of History and Natural Science — A family-friendly event showcase features performances by cultural organizations from throughout the Big Bend. 10 a.m.-4 p.m. Free
Saturday, Feb. 23 Keb' Mo' at Ruby Diamond Auditorium — The three-time Grammy winner will play the blues in a powerful solo performance. Tickets: $25-$75; $15 for students
Monday-Tuesday, Feb. 25-26 Actors from the London Stage at Turner Auditorium at TCC — For two nights, these Britain-based actors present Shakespeare's classic "The Taming of the Shrew." Tickets: $20-$35; $10 for students
Wednesday, Feb. 27 The Wailin' Jennys at Ruby Diamond Auditorium — This folk trio is the darling of the North American roots music scene. Tickets: $15-$40; $10 for students
Thursday, Feb. 28 Film Screening/Geoffrey Gilmore at Student Life Cinema, FSU Student Life Building — The guy who picks what we see at Sundance will be screening one of the film festival's offerings during his appearance. SOLD OUT
MacQueen Returns 'Home' to Lead Seven Days
By Rosanne Dunkelberger 
If you have faith in destiny, you'd have to believe that the fickle finger of fate was pointing Steve MacQueen down a career path that led to his current job as program director of Seven Days of Opening Nights.
Pretty much everything in the Florida State University grad's professional career has added to a résumé that meshed perfectly with the needs of the popular festival.
"The day the job was posted, I must have gotten 20 e-mails from friends and family (saying), 'Have you seen this? Have you seen this?'" he said.
An Air Force brat who moved around in his early years, MacQueen came to Tallahassee in 1983 to attend FSU. An English major, he made a name for himself working at the student newspaper, then known as the Florida Flambeau, in what he called "the best job I will ever have in my entire life." (There he met another English major who would become his wife – which added to its appeal, he said.)
MacQueen would move on to become a feature writer for the Tallahassee Democrat, covering music, film and theater, which plugged him in to the local arts scene and earned him a loyal following of readers. He left Tallahassee in 1996 and spent two years as a "press flack" in New York City, working "a little bit" with a series of concerts in the park.
His first "actual full-on job in arts presenting" would be at Spivey Hall, a "400-seat, acoustically perfect, gorgeous concert hall" located on the campus of Clayton State College just south of Atlanta.
The benefactor who built the hall, Emilie Spivey, took great care in planning the facility and had the foresight to also endow it so that it had a "huge" artists' fee budget, MacQueen said.
"It's fun to have a lot of money and a really nice room and a couple of really nice pianos. (Artists) wanted to play there…You didn't have to hit the ground making money. You had time to develop an aesthetic vision without worrying about putting the pennies together." During his time there, MacQueen would develop a prominent and popular jazz series.
"I loved it," he said of his time at Spivey Hall, "but I did five years in Atlanta and I wanted to raise my two kids in a smaller, more friendly place."
His next stop would be the Porter Center for the Performing Arts at Brevard College in North Carolina.
While the facility was superb and the area sublime, MacQueen was working in a different, more "cash-strapped" reality where it was important for performances to at least break even.
"The situation in North Carolina was a great tonic for what I had in Atlanta because there, it was all about the money," he said. "I broke even on ticket sales alone in the last two years, which is rare in the arts. That job taught me some fiscal austerity."
But when the Seven Days job beckoned, MacQueen returned "home" with his wife, Kim, and two daughters, Claire, 8, and Rose, 4.
With a full-time staff of one (himself) and an artists' fee budget topping $400,000, MacQueen's situation at FSU is a pleasant combination of his experiences in Atlanta and Brevard.
"I get a contribution from the university – it's kind of the way I think it ought to be," the director said. "I think getting help from the university is ideal, but I also think it is incumbent on people who present stuff to make sure it's fiscally responsible – that you have an audience for it and that you can pay for it in some fashion."
MacQueen does plan to put his personal stamp on Seven Days of Opening Nights, but future festivals still are in the planning stage.
"I've got some grandiose plans and very little specifics," he admitted. "I want to make it so that every performance of Seven Days is an event that you can't get anywhere else – commission some new works, different people getting together who haven't gotten together before across genre boundaries … try to mix it up. I think that you can build a reputation regionally and nationally by really encouraging new things."
MacQueen said he also is planning to increase the number of Seven Days artists who make Tallahassee more than a one-night-stand, encouraging them to commit time to teaching master classes to FSU students and working "with people in the various schools and departments to make sure that it happens." When negotiating contracts, that teaching should be a "deal-breaker," he said.
As for MacQueen's personal favorites on this year's program?
"I'm an English major, and I think Salman Rushdie is the greatest author writing in English right now," he said. "I think he's phenomenal."
MacQueen also is looking forward to whatever surprise movie Geoffrey Gilmore, director of the Sundance Film Festival, presents during his appearance Feb. 28.
"He's picked everything for Sundance for the past 18 years," MacQueen said. "He's a real mover and shaker in American film, one of the top guys."