Setting the Table
Gadsden Farm Project captures a legacy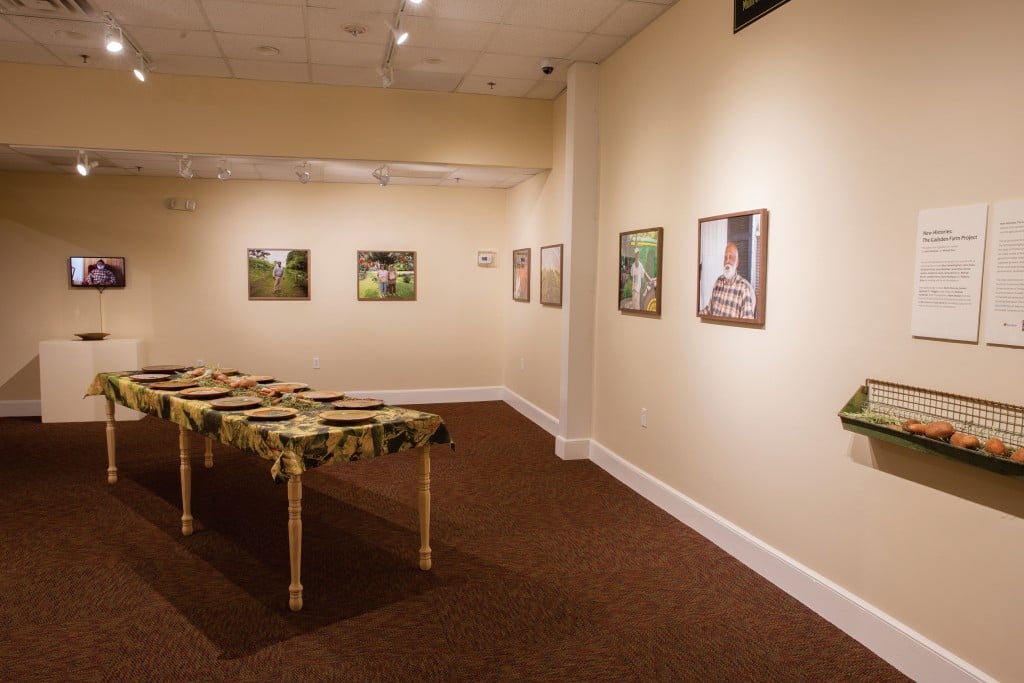 There are artists whose creative pursuits and processes are solitary. They work alone in studios, produce works and then introduce them to the world. Often, they prefer their art to do the talking for them. Too, there are artists who prefer the kind of projects that result from community interaction and relationship building.
Holly Hanessian and Michael Diaz fall into the latter category.
Together, they have brought about the Gadsden Farm Project, an exhibit that reflects and presents the stories of 12 Gadsden County residents with close ties to the land. Among them are livestock breeders and vegetable growers, first-generation immigrants and a fourth-generation tobacco farmer.
Coming by those 12 participants, however, would be much more difficult than Hanessian, a professor of art at Florida State University, anticipated when she conceived of the project.
Hanessian's neighbor, as it happens, owns property in Gadsden County and has an employee whose brother, Calvin Davis, is a vegetable grower there. Davis, who is Black, owns property that adjoins a farm owned by Max Van Landingham, a white man for whom Davis started working when he was 16. Owing to coincidences, Hanessian had two participants, but it would be another eight months before she had a third.
Along the way, she contacted a former student, Diaz, whose graduate research at FSU, she knew, was focused largely on what has come to be known as community engaged artwork. With some expressed reluctance, he admits he is an expert in that area.
"I kept asking Michael questions until he was immersed in the project," Hanessian said. At some point, there was no way out.
Diaz lives in Asheville, North Carolina, where he does work for his wife's flower farm, homeschools his two boys and serves his mother as a caregiver. For three years, he, too, was an FSU professor. In Tallahassee, he worked on community-based projects connected to the iGrow Community Farm in Frenchtown and a homeless population concentrated along Gaines Street.
D.J. Wiggins, the University of Florida Institute of Food and Agricultural Sciences extension agent in Gadsden County, would prove to be a key contact for Hanessian and Diaz.
"You may have a desire to reach out to people, but if you don't share a community with them, that's hard unless someone grants you access," Hanessian said. "You have to go to someone they trust and that person has to trust you."
When Hanessian first spoke to him, Wiggins was "sort of interested." But she and Diaz persevered and impressed Wiggins with their earnestness. Eventually, he became comfortable with the project.
"He put us in touch with people he thought would work well with us," Hanessian said. "He provided entrée to the African American farm community."
Additional networking led the project collaborators to Dr. Maria Pouncey, administrator of the English Language Learners/Migrant program for Gadsden County Public Schools. Pouncey identified Latino project participants.
At last, the Gadsden Farm Project was coming together.
Hanessian approached each hoped-for participant with an ice-breaker — a slice of sweet potato pie presented on a handmade plate. Diaz brought his gift for engaging with people, and the combination worked.
Sweet potato pie and a smile were currency, and eventual project participants were satisfied that the collaborators were not trying to take something from them in order to make art.
What emerged was a story, told by people who have lived it, of a county whose agricultural history has migrated from shade tobacco to tomatoes to medical marijuana. A county that, owing to Coca-Cola fortunes, once had the highest per capita income level in the state and now has the lowest.
"I was initially captivated by what an interesting story this was," Hanessian said. "And then you meet these people who you would not normally engage with and you share food or you join in conversation about a mutual passion, and you walk away changed.
"I met with a man who had never had a white person in his house before. There are people who are trying to pull it forward, but Gadsden County is not a progressive place, and it can be socially uncomfortable to see where it is and how far it hasn't come."
Central to the Gadsden Farm Project Display is a table that Diaz, the project's designer, made in his workshop. It is set with ceramic plates crafted by Hanessian that honor the project participants. Replica sap-catching cups, like those used in long-ago turpentine operations, hold living plants. The State of Florida folklorist and photographer helped record interviews with participants and capture photos that figure in the display, which also includes a cross-section of a greenhouse with an earthen floor.
Last fall, the project lived at the Gadsden Art Center. It was then moved to Hanessian's studio, and it is scheduled to be made part of a show about food justice in Pittsburgh. Already, it has traveled to Minneapolis and Athens, Georgia.
Gadsden County has hit the road.
"Even though we are living in a culture now that is totally permeated with ephemerality, whether it's three-second videos or text messages, there is a part of us that wants to squeeze the value out of an experience, as if we might not ever have another one like it," Diaz said.
"These stories are going to be made part of the state archives forever, and that creates a legacy. The participants' great grandchildren will be able to go hear their voices and their stories."
For Diaz, old photographs and "touching back" remind him of his roots.
"A lot of the farmers we spoke to are elderly, and they are not going to live forever and neither am I, but this technology is going to live a long time," Diaz said. "It will provide an identity marker for people. That has value."