Serving Tallahassee Lunch Since the Late 70's
Hopkins' Eatery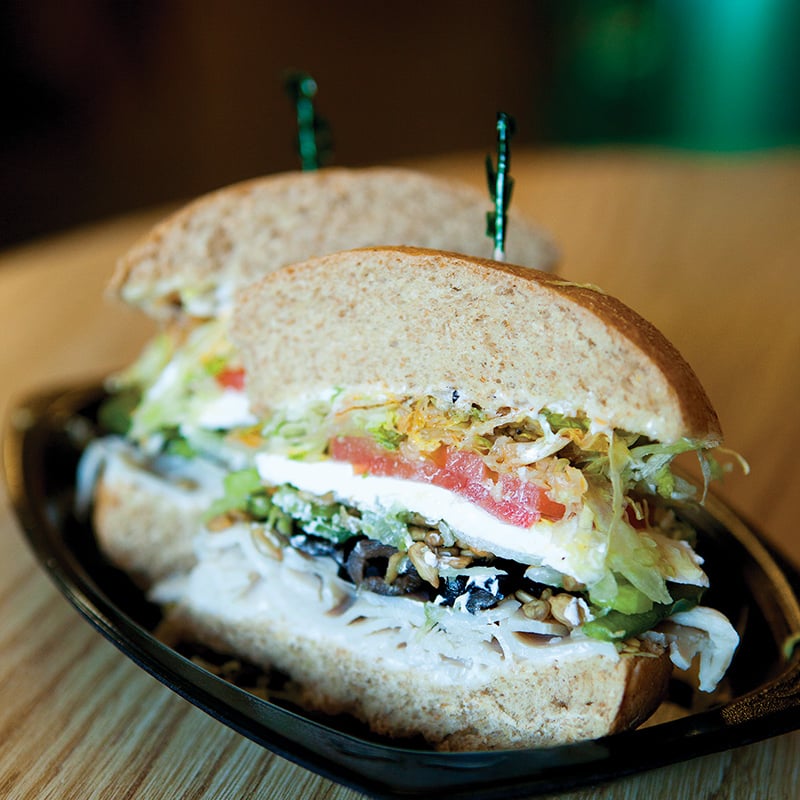 The Black Bird sandwich with turkey, black olives, and other fresh toppings.
Matt Burke
A Tallahassee lunch institution since the late '70s, Hopkins'' Eatery was serving up light, healthy sandwiches, soups and salads long before it was a popular trend. Serving from three Leon County locations, Hopkins'' is popular all over Tallahassee, but the flagship restaurant is in Market Square.
Back when lunch often consisted of a greasy burger, pizza or three martinis, Hopkins' Eatery embarked upon offering meals that didn't leave one feeling bloated. Now, light lunch options like Panera Bread and others have followed suit all over the country, but Hopkins' remains the original.
Clay Hopkins' founded Hopkins' Eatery, but the restaurant has changed hands twice since then. In July 1982, DeeDee Johnston bought Hopkins' Eatery before passing it on to her daughter and Hopkins' current owner, Debbie Johnston.
Hopkins' is open for lunch and dinner, but with the exception of the North Monroe location, don't expect to see any dinner-style entrees. Hopkins' does salads and sandwiches only, but it does them well, using fresh ingredients and original recipes.
There are more than 25 sandwiches to choose from on the menu, including favorites like the Italian, Cuban and grilled cheese, as well as Hopkins' originals such as the Hawaiian, the Grecian Ham and Cheese Bake, and many more. If none of these suits you, you can even build our own.
According to owner Debbie Johnston, some of the most popular items on the menu are the Chicken Tetrazzini, Black Bird and Ultimate Turkey sandwiches.
When asked why people keep coming back to Hopkins', Debbie replied "family." Hopkins' is locally owned and operated by Debbie and her sisters who ensure that the quality of the food is always top-notch.
"Plus," says Debbie, "we use fresh ingredients, we make everything from scratch. We get our bread made daily from Tasty Pastry, we make our soup in house, nothing that we serve is premade."
It is the focus on fresh, healthy food that has made all three Hopkins' Eatery locations Tallahassee lunch destinations and keeps customers coming back for more.