Sentimental Collection
Every lure stimulates fond memories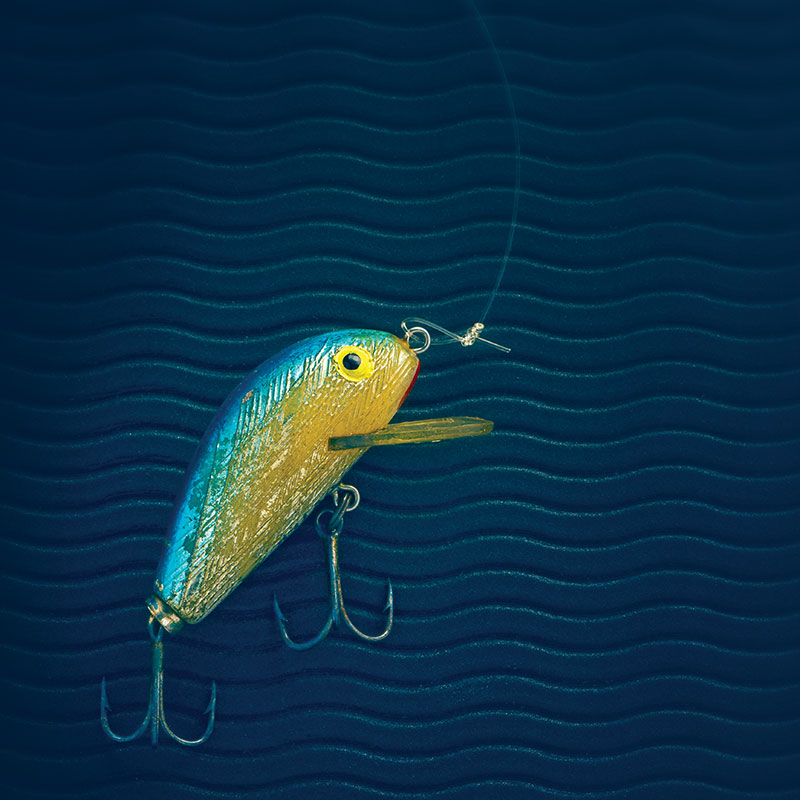 Leon Sinclair is a Chippewa Indian who left his home in Minnesota and joined the cadre of fishing guides, both Native American and white, at the Sabourin Lake Lodge somewhere in the middle of Ontario for the summer of 2006.He wore the mere rudiments of a mustache, battled alcoholism and had more children than he could afford, but he tried. As the rookie among the guides and a man on the wagon, he was an outlier, a status that persisted because Sinclair scuffled for his first few weeks on the job.
That is, Sinclair had yet to lead a guest to a fish deemed to be of a trophy length per Sabourin specifications. Anglers' boating trophies are given shouts out and receive keepsake pins at the evening meal at the lodge.
On the first of two fishing days we would spend at Sabourin, a buddy named Lumpy (owing to an incident involving a rolling pin) and I drew Sinclair as our guide. He put us on to some walleyes that proved suckers for black plastic baits designed to resemble leeches and made a show of tossing one of the fish to a waiting bald eagle. The others were cleaned for a shore lunch after which, Sinclair said, we would target trophy pike.
Still, it seemed, Sinclair was slumping. Lacking a gift of gab, he ran out of stories. Lumpy and I felt that we might as well have been fishing for moray eels.
"Let's try here," Sinclair said, easing off the throttle as we entered a shallow cove with lots of vegetation. I swapped out the plug I had been using for a weedless, red-and-white Johnson's Silver Minnow and, a few casts later, I tied into a fish that got Sinclair off the schneid and landed me in the company of trophy anglers.
Returned home, I made that Silver Minnow part of my collection of retired lures, all of which have a story to tell.
Collectors may pay hundreds of dollars for a vintage lure like the Creek Chub Wiggle Fish used by George Perry to catch the world record largemouth bass of 22 pounds, 4 ounces, on June 2, 1932, near Helena, Georgia.
My lures are priceless.
Many I purchased 50 or more years ago from the Herter's mail order house in Waseca, Minnesota, the precursor of today's Cabela's and Bass Pro Shops. George Herter was a master of hyperbole; the product descriptions he wrote for his lures — mostly cheap knock-offs of lures manufactured by others — contained wildly exaggerated claims of the sort found today in back-of-the-magazine ads for certain performance enhancers. Herter's was where my paper route proceeds went.
My father preferred Dardevle spoons, which I stubbornly resisted, choosing instead to make the Red Eye Wiggler, with its beveled, plastic-bead eyes, my go-to spoon. A man in the tackle shop in Siren, Wisconsin, the town nearest the lake where my parents taught me to fish, turned me on to them, and he had to be smarter than Dad.
Today, I have both Dardevles and Red Eye Wigglers in my collection.
I thought back to Dad and Sinclair when last I fished Lake Jackson, here in Tallahassee. Having struck out throwing Rapalas and Rattle Traps, I pulled a Johnson's from my tackle box and touched up the hook with a sharpener that Sinclair taught me to make: Lash together two rat-tail files with bits of duct tape and run your hooks along the lengths of the files where they meet. It's better than any hook hone you'll ever buy.
After dressing the Johnson's with an Uncle Josh pork frog, I worked over an area of lily pads until — Yes! — a bucketmouth smashed my offering, just like they have been doing since the Silver Minnow was patented … in 1923.
---
Jinxed plug has no allure
How would today's bass pros do if they fished a tournament while limited to using vintage lures manufactured before, say, World War II?
As a kid, I caught fish with wooden Bass Oreno plugs that had belonged to my grandfather. Is it reasonable to think that bass have evolved such that they now recognize them as something to avoid?
I think not, but no professional basser will be seen to throw a Bass Oreno, a Spoonplug or a Hellion Fish.
I would, however, defy the best — Bill Dance or Denny Brauer or Kevin Van Dam — to catch anything on the Lazy Ike plug I stole from a neighbor when I was an incorrigible 10-year-old. I can still see that plug as I found it, resting on a 2-by-4 cross member in an unfinished garage.
I just had to have it … and have it still.
But never has it attracted the first strike. It is irretrievably jinxed.