Seminoles' Other Top Team
President Eric Barron and His Wife Molly Work Together to Raise Funds and Share the Good News About FSU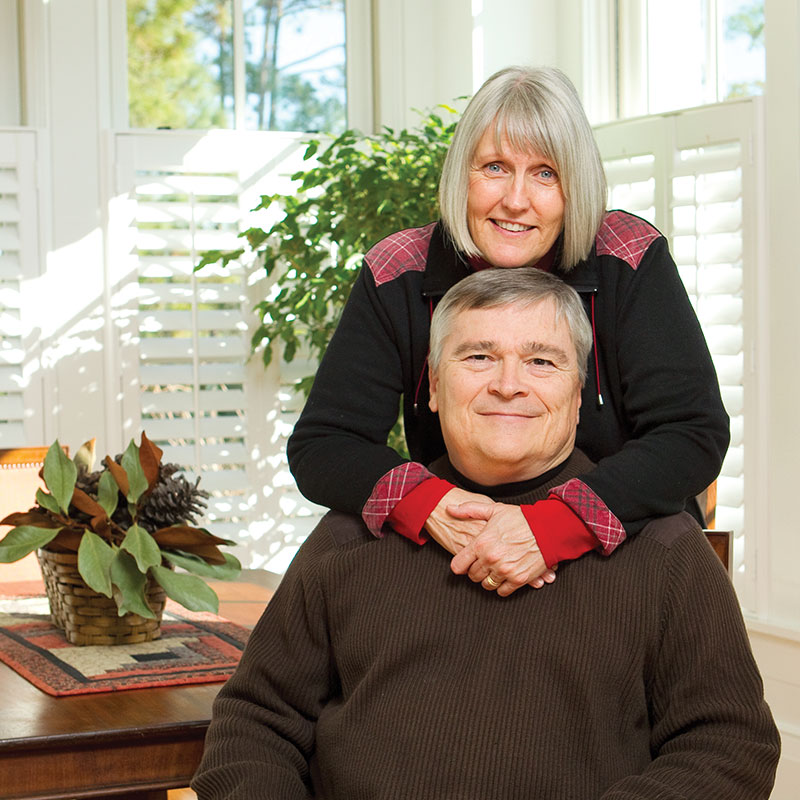 Florida State University trustees were enthused when they swept Eric Barron into the presidency in December 2009. On paper, he was the total package: an alumnus, a scientist of some renown and a university academic with a proven track record in fundraising.
Little did they know at the time they were getting a two-fer.
Because when Barron completed the circle and came back to lead his undergraduate university, he brought along Molly, his wife of nearly 30 years. As they have throughout their married life, the couple worked closely together during the first year of his tenure here to raise FSU's profile — locally, with friends and alumni, and in the national academic community.
"I get the paycheck, she works hard, too," is how Eric Barron explained their teamwork.
"For our first year we (say) 'yes' to almost everything if we can fit it in our calendar," he said. "It's a matter of exploring all the possibilities. Sometimes we'll go 'Wow, we don't have anything this evening … let's go watch the women play soccer' — or we could sneak in a performance of something."
Molly Barron continued: "I think we're just trying to establish relationships with people right at this point. We do try and tell them what the university is like right now because a lot of the people that we've met haven't had a lot of interaction with the university," she said. "They may come back for a football game or something but I don't know that they know exactly what's going on."
On a not-so-busy morning for Eric Barron —"It's a four-appointment day, not a 10-appointment day." — the couple dressed comfortably and sat down in their stately living room to talk about their first year at FSU and how they found their way to the President's House — together.
Barron as an Undergrad
Barron was born in Lafayette, Ind. and living in Atlanta when he chose to attend FSU.
"I had known since an early age that I was going to study geology. I made up my mind somewhere around high school that the geology of the oceans might be more of a frontier," he explained. Undergraduate degrees in oceanography didn't exist when he was going to college in the late '60s, and "Florida State had a program where, if you were an honor student, you could take graduate classes in your junior and senior year," he said. He did take graduate-level classes and "I actually went on two coastal research cruises as an undergraduate through FSU."
One of Barron's roommates during his upperclass years was David Coburn, who spent most of his professional career in Tallahassee as a legislative budget staffer (and whose wife, Mary, now works for Barron as the vice president for student affairs at FSU.)
Coburn describes his former roomie as "the hardest working guy you can imagine" and "smart as hell …. You certainly had a sense that he was going to be successful at whatever he did.
"He drank a lot of coffee and carried a really heavy academic load," Coburn recalled. "He was a pretty good roommate to have (because) he was either in the library or in the lab a whole bunch."
Barron banged around town with his friends in an old blue Pontiac and he "mostly wore cutoff shorts and sandals," according to Coburn. "He had pretty long hair … and was pretty nearsighted. He wore some thick glasses." (Subsequent cataract surgery has corrected his vision, said Barron, and now he just uses reading glasses.)
After graduating from FSU in 1973, Barron didn't return to his alma mater until his presidential interview in December 2009. But he and Molly have plenty of opportunities to see how the university has grown and changed when they cross Tennessee Street to walk to campus events.
"Back then there were 15 to 17,000 students, I think. And now the total is close to 40,000," he said. "That's a big difference in terms of the size of the place.
"The physical plant has changed a lot. There are a lot of new buildings," Barron said. "There was only one building past Smith Hall," where his dorm room was located. "There was no engineering school …. There was swimming pool in the middle of campus when I was a student and now that's out …. Doak Campbell was an Erector Set."
The football team was playing respectably during most of his time on campus, but "basketball was really good back in those days," under coach Hugh Durham, with the team playing in the national championship game in 1972.
Barron said he doesn't remember FSU playing second fiddle academically to the University of Florida during his undergraduate years here. "Maybe it's because they weren't that good in my discipline and what I was interested in," he said. "I remember they were better at football than we were, but I almost think UF looms larger in people's minds now than it did then."
He would go on to earn master's and Ph.D. degrees in oceanography, marine geology and geophysics from the University of Miami. After that, he would go on to do postdoctoral work at the National Center for Atmospheric Research in Boulder, Co.
It was a place he would find professional success — and his life's partner.
Photos on this page courtesy Michele Edmunds/FSU Photo Services
First Days for the First Couple
Eric and Molly Barron met in Boulder more than 30 years ago at a dinner party given by her sister, who was married to a colleague of his. At the time, Molly was just visiting; the California native was teaching fourth through eighth graders in a two-room schoolhouse atop Palomar Mountain — home of the Hale Telescope.
"Molly went back to Southern California to teach and I said something to her sister about how much I enjoyed Molly, and Molly said something to her sister about how much she'd enjoyed me." Playing Cupid a few months later, Molly's sister invited her to make an extended visit during her summer break.
She arrived on June 21 — Eric Barron remembers because Molly came to a summer solstice party at his apartment. "I would say we were inseparable from then on out," he recalled. "Two months later, we knew we were going to be married and we knew we were going to have kids. We decided we'd wait a few months before we'd tell everybody that because we thought people would think we were a little crazy — that such a short time after getting together that we would be so committed. But, hey, it kinda worked."
"I didn't go back after that summer," said Molly Barron.
The Barrons say the tone for their relationship was set on their very first date. Eric had asked Molly to go on a hike in the mountains — but they had to start early so he could be back in town for a seminar.
"We get in my pickup truck and we're driving up the mountain and it's like 6:30 and I yawned," he recalled. "She said, 'Am I boring you already?'"
Molly continued the story: "But then he promised me I'd never be bored — and I never have been."
"That was part of my marriage proposal," said Eric Barron. "I said, "There's no telling where we'll be, what we'll be doing, but I promise you, you won't be bored.'
"I don't think you've been bored lately," he said to his wife.
"No, not lately," she replied with fond look and a smile.
While Eric Barron has the serious demeanor of the scientist that he is, it's obvious he's got a strong sentimental streak when it comes to his wife.
They wanted to get married on July 11, 1981 — the first anniversary of their first kiss — but Molly Barron's brother couldn't make it, so July 18 was their wedding date. (Note that their first kiss was nearly three weeks after their first date. "I don't know whether this tells you — I was kinda slow," he admitted.)
"We celebrate July 11 as anniversary of first kiss," he said. "It gives us a week's head start on our anniversary."
Their daughter, Emily, was born the next July and their son, James, arrived 22 months after that.
The family would move to Pennsylvania State University in 1986 where Eric Barron started as a professor of geosciences, progressing to the position of Dean of the College of Earth and Mineral Sciences. He left Penn State in 2006 to become dean of the Jackson School of Geosciences at the University of Texas at Austin.
In his positions at the universities, Barron was lauded for his academic credentials (his CV, listing his honors, affiliations and publications, covers more than a dozen pages), connection to students and ability to fundraise.
In 2008, he left academia to return to the National Center for Atmospheric Research as its director.
Molly Barron said she spent their early married years raising their children and volunteering at school. "As in PTO president, and hours in the library and hours in kindergarten and hours on the playground," Eric Barron said. Eventually, she was offered a position working in a middle school computer lab.
The Barrons worked together as a "team" and ultimately Molly would give up her school job to help Eric with his duties as dean — a model they have continued while fundraising during his FSU presidency.
"Our feeling has always been that most people interact with the university as a couple, they give money as a couple and so they should be talking to a couple," Eric Barron said.
A Year at FSU
FSU's President's House is the Barrons' primary residence. It's a 13,000 square-foot Greek Revival-style showplace filled with antiques and designed with entertaining in mind. While they avail themselves of the well-appointed kitchen and the sunny breakfast room on the main floor downstairs, the couple's private quarters are on the top floor.
Even that floor was completely decorated before they arrived, although Molly Barron has added at least one sizeable personal touch: A huge quilt in shades of orange, brown and rust she made dominates the third-floor landing. (Molly Barron's official stationery features elements from her handiwork.) Quilting, she said, "Is where I go to find me — to have a quiet time."
What recreation time Eric Barron can find these days is usually spent playing racquetball, he said.
The couple said the public lifestyle of the FSU presidency hasn't been a huge adjustment for them. "It's stranger for us not to be a part of campus," he explained.
"We didn't realize until this job came up, that we did kind of miss being around students," Molly Barron said. "I kind of had been on my own the two years (in Boulder)."
To leave behind the presidential obligations, the Barrons purchased a lakeside home in eastern Leon County to use as a weekend retreat. "The idea was we would have a lot of our personal things there and we would just be able to take off for a weekend and relax," said Eric Barron. But in his first year as president, "We haven't had many weekends. I think we spent maybe six nights out there in six months."
But the home is occupied by the couple's 27-year-old daughter, Emily, and her husband. After pursuing an advanced degree in international relations, their daughter decided to switch gears and apply for medical school, so she is finishing up some physics credits at FSU, her father says. She was scheduled to present the Barrons with their first grandchild — it's a girl — in February. Their 25-year-old son recently graduated from Colorado College and is now living in Denver.
In addition to their in-town duties, the Barrons have also taken their show on the road. Eric Barron estimates the pair has already made about 40 trips in and out of Florida. They like to travel together, but have occasionally struck out individually to spread the FSU gospel.
"Our job is to get people excited about FSU and to connect with people and get to know them and get them to understand why giving is important," he said. "I have never felt that (fundraising) is a chore. I've never felt that it was onerous. I've always thought that it was fun."
He continued: "You have this wonderful opportunity to talk to alumni. They're interesting and successful people and so you have a good time meeting them and talking with them and you walk away going 'I'm so glad we met them.'"
One of the Barrons' secrets to success is to cast a wide net when asking for donations. "You have someone who can give a very large gift, but you also have 280,000 alumni that, if they gave small gifts, the multiplier starts to have a tremendous amount of impact."
In her early days at FSU, Molly Barron participated in a "backstage tour" of the campus sponsored by The Women For Florida State, an arm of the FSU Foundation. Inspired by the programs she saw and the people she met, Molly has taken a particular interest in the group's mission. The couple provided $25,000 in seed money for an endowment and she engaged in a letter-writing campaign that netted $135,000. But the group, she insisted, isn't just about raising money, but connecting women to the campus, whether they're alumnae, parents or just friends of FSU. There are no dues, "so it's just been 'please sign up and get involved'," she said.
Molly Barron said she enjoys telling people about FSU's accomplishments. "They get all excited and that's fun in itself," she said.
"Go survey all the news stories (and) 98 percent of them are on sports," said Eric Barron. "So our alumni don't hear that our students won the national sales competition and that our students won three moot court challenges, that they were near the very top of the world affairs competition, that they won a hybrid car contest, that we got first place in the dissertation in nuclear physics … and we have people on Broadway."
Apparently their efforts are paying off. While philanthropy in general is down by about 12 percent in 2010 and giving to higher education averaged an anemic 3 or 4 percent increase, FSU has seen a 30 percent increase in giving with "thousands" more individual donors, Eric Barron said.
During their inaugural presidential year, the Barrons said they have noticed something unique to FSU.
"You get the impression FSU is a family," Eric Barron said. Molly had the idea to ask crowds of people which of them went to Florida State, and then who might have had a grandparent, sibling, child or grandchild attend. "The hands went up all over the room," he said.
And that "family" feeling is alive and well on campus, too.
"I think there's something about the kids … they want to help people around," he said. "People will say if you are on some campuses in this state, you're ignored. On this campus if you even have a questioning look on your face someone will come up and (ask) 'Do you need help?'"
"That's another bragging point to talk about for us," Molly chimed in.
The First Lady's Favorite
In her first year as First Lady, Mollie Barron has committed herself to Women for Florida State University, an organization that strives to unite the women of Florida State as leaders, advocates and donors for the university. The group works to inspire and empower women by increasing awareness and education, while also providing opportunities for mentoring, networking and philanthropy.
Members are connected to a diverse network of women that spans multiple generations. There are no dues or donations required to join the group, just a passion for FSU and desire to support the university in whatever way they can. To join, one must fill out a printable membership form or register online at foundation.fsu.edu.
Members are invited to join in a signature annual event called "Backstage Pass to the Very Best of Florida State," a behind-the-scenes look at Florida State's finest programs and traditions, set for the weekend of March 18-19. On this year's program for the 100 women who have registered are a dinner and interactive performance with theater students, mosaics at the Master Craftsman Studios, a "white glove" tour of the special collections at the Strozier Library and a science-meets-art presentation at the National High Magnetic Field Laboratory.