See What Happens When High Style Meets Function
Doors to Adore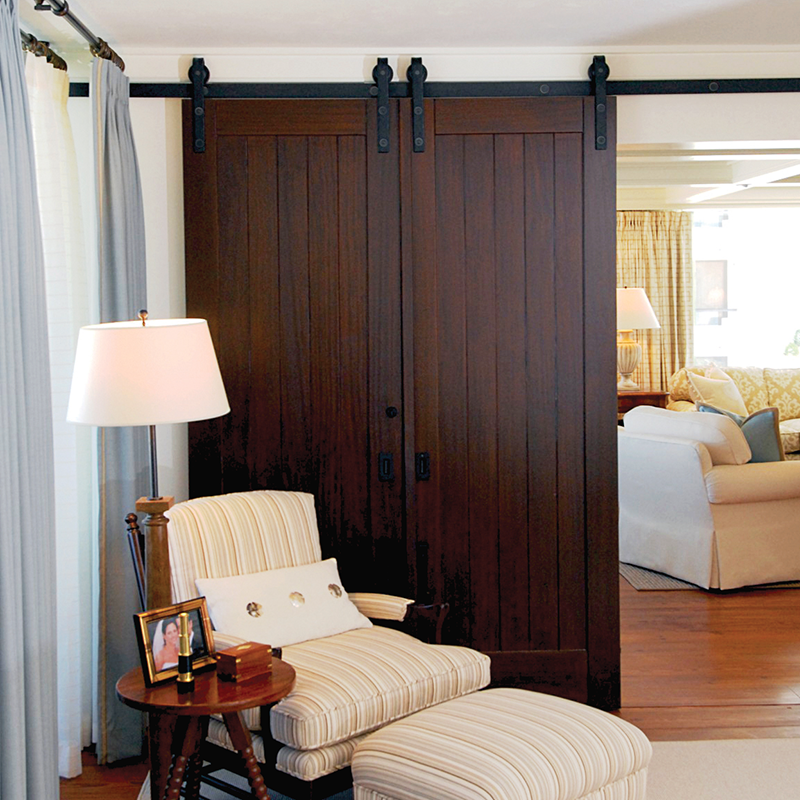 Nick Schulz of Del Mar Company Inc.
Doors matter. Aside from their utilitarian roles, they play a huge part in the way your home looks. The front door provides visitors with that important first impression of your home. The side door is the one you use all through the day, going to work, carrying in groceries, taking out the recyclables. And even when the garage just houses one car, its door is a large feature that has a big impact on your home's appearance.
Interior doors matter, too. While it's true that all those open-concept spaces have made them less relevant, we still need some doors for privacy, notes Jeff Lowinski, vice president of technical services for the Window & Door Manufacturers Association.
Doors, both exterior and interior versions, are available in a dizzying variety of materials and styles. Lowinski's advice is to start out learning about the structural properties of doors, and then proceed to style considerations.
Exterior door materials
Wood doors remain popular, primarily because of their natural good looks, and in luxe versions like mahogany and teak they're impressive, but be forewarned. They work best under an overhang or in shade; weather takes a toll on them. Wood can crack and warp and requires annual maintenance.
Fiberglass doors can mimic the look of wood doors so perfectly that even a door expert has trouble telling the difference, and they're way tougher, stand up better to adverse weather, are energy-efficient and extremely low-maintenance. They cost a pretty penny, though.
Steel doors, says Lowinski, are affordable and offer excellent security. Usually they feature a foam core for insulation, and they resist cracking and warping. However, in direct sunlight they can get too hot to handle.
Manufacturers offer so many options that your door can appear custom-made.And be brave with color. Bright colors for front doors are on trend. Or perhaps take a cue from feng shui, which advocates color choices according to the direction of the door. Who knew that a green or black door facing south brings good luck?
Garage and patio doors
If you're looking to give your home an exterior face lift, one area you might be neglecting is your garage door. Tom Mackey of Overhead Door Company of the Capital City says many of his customers are looking to replace garage doors that are 20 to 30 years old.
Beyond the obvious technological advances that happen in the span of a couple of decades, Mackey says the most drastic development he's seen recently is the variety of garage door options available to homeowners.
"There's many different colors. Wood doors tend to get very pricey, but we do have one faux-wood door that is stained and sealed that does look like real wood. The industry has changed. Used to be you only had a couple doors to select from."
Garage doors have trends that come and go just like interior designs.
The classic French door is stately and elegant, but remember that a door that swings inward will take up floor space and impact furniture placement. Sliding glass doors suit contemporary homes and can be as wide as 10 feet. If you like a wall of glass, consider the French slider, which combines two outer fixed panels and two inner panels that open.
Interior doors
Architects lament that too few homeowners pay attention to interior doors. "It's my pet peeve," writes Florida architect Bud Dietrich on design website Houzz. "It's as if the entire world shifted from the 1950s flat door to the six-panel colonial door and forgot everything else."
Lowinski agrees. "There are so many types and styles available," he says. "It's a pity that too few homeowners take advantage of them. It makes sense to choose a simpler door for a craftsman-style home than for a stately Georgian."
The barn door is the interior designer's newest darling. "I love the concept of these sliding doors because they are visually interesting as well as space-saving," says Emerald Coast interior designer Brooke Williams. "Because they slide on a track, you gain the space where the door used to swing into the room. That gives you more clearance room in tight spaces."
The Tallahassee Home Depot employee advises that homeowners make sure they have the required space before committing to an interior barn door. "For a 30-inch open, you're going to need 60 inches worth of track. So many people don't consider that before they come in."