Sculpt a 'Cool' New You
A New Non-Invasive Fat-Loss Procedure Gets a Test Drive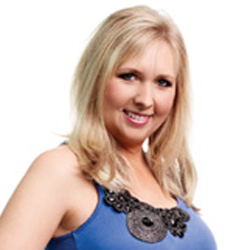 LuftCreative.com (Wendy O. Dixon); Aqua Medical Spa (Before Photos)
Wendy O. Dixon gives this new non-invasive fat-loss procedure a test drive.
It's the most common complaint I hear from my over-40 female friends: "I work out, watch what I eat and still I can't get rid of this muffin top." That "muffin top" — AKA the pooch, spare tire or love handles — is the extra stomach, hip and back fat around the belly button that hangs over the top of the waistband.
Surgery is an option, but for those who want a less invasive solution, Aqua Medical Spa at Gulf Coast Dermatology, a new medical spa in Tallahassee,* offers a "cool" alternative.
CoolSculpting, or Cryolipolysis, made by Zeltiq, is a non-invasive procedure targeting fat in specific areas of the body — mostly the upper or lower abdomen, the back and love handles — using a special cooling technique that destroys fat cells without damaging neighboring tissues. The fat cells are naturally flushed out of the body over a two-to-four-month period. There is no surgery or anesthesia, and no needles or cuts. There is no down time, you can even go back to work or exercise the same day as the procedure. There's no need for pain medication afterward.
Dr. Jon Ward, medical director for Aqua Medical Spa in Panama City, says CoolSculpting results in an average of 25 percent reduction of fat. Ideal candidates are those in good physical shape, within 20 pounds of their ideal body weight with loose, pinchable pockets of fat that don't respond to diet and exercise. "This is not a weight-loss solution, nor does it achieve the results one could expect from large-volume liposuction, but it is the best solution for permanent fat reduction," Ward says. The medical spa offers a free consultation for prospective clients.
Being an ideal candidate, I gave it a try. The procedure begins by placing an applicator cup to the area of fat, then using gentle vacuum pressure to draw the bulge up between two cooling panels. When the applicator is first applied, I feel an uncomfortable pulling sensation. It nearly takes my breath away, but soon the feeling goes away as my lower abdomen becomes numb from the cold.
In my private room with the lights dimmed, I read a book, flip channels on the TV and watch the timer count down. After the hour is up, the suction is removed, revealing my red, swollen belly. The technician smoothes the lump on my abdomen that resembles a cold stick of butter, and I'm able to leave. I feel tenderness and a numbing sensation in the area for several days afterward. By week five, I notice a flatter belly (even after a night of pizza — thrilling!). By week eight, I'm ecstatic with the results — a stomach pooch I'd worked for years to take off but never could, is now flat.
THE UPSIDE
» It's non-invasive, requiring no surgery
» It targets specific areas of the body that don't respond to diet and exercise
» There is no recovery time
» There is little pain or discomfort
» There is no neighboring tissue damage
THE DOWNSIDE
There may be some soreness, redness or bruising in the area for a few days
THE COST
$600–$1,200, depending on the area of the body being treated. Usually one treatment is sufficient, though additional procedures may be done if a patient wants to have further fat reduction.