Scrum Fun
Tallahassee's Rugby Club Makes An Action-Packed Comeback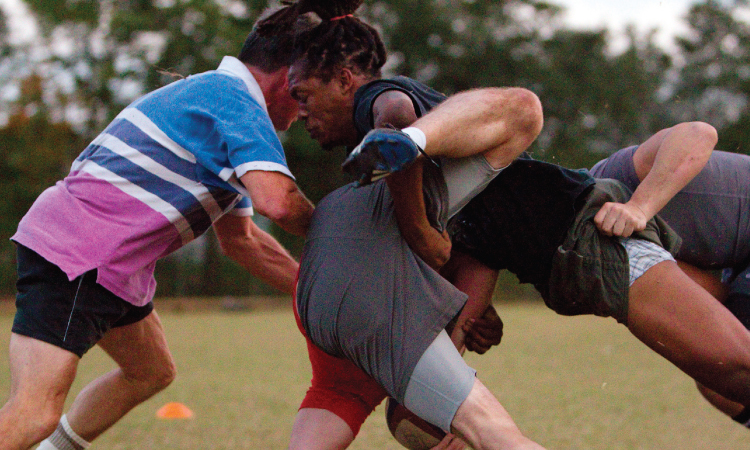 When it comes to sports, Tallahassee is all about football. But what came before the yellow goal posts and shoulder pads is making a comeback in the community. Thirty years ago, Tallahassee was home to a thriving rugby team — and now it's back in action.
Started at the end of the 18th century at the Rugby co-ed boarding school in the central United Kingdom, the classic sport has become one of the world's most loved games.
The team re-formed in the summer of 2009, with the help of Eric Neiberger, a 27-year-old assistant attorney general. The club that originally started in the '70s, was given a new life by former members of the collegiate Florida State rugby team. These men had graduated but weren't ready to part ways with the sport they'd spent so much time playing. One of the others who helped bring the team to life in 2009, Aaron Eckerd, now plays professionally in Holland for the Rugby League European Federation.
Starting the club back up was not easy. For starters, so many athletic teams exist in Tallahassee already, it was difficult to find a place to practice. For the first season back in action, the team "squatted" at Tom Brown Park, playing when they could and getting as much practice as possible. "As a new club," Neiberger says, "it's hard to have a following. It's also hard to get a field because youth soccer is so large here." After a successful first season, one of the team's original members was able to secure a consistent practice field — an empty lot at Fairview Middle School.
Although the field has no overhead lighting, players are glad to have a home field. The team's diverse membership has a variety of day jobs and the age range runs from 17 to 60. While the club is centered around the sport, not all members play the game. "We like to hold ourselves out as more than just a bunch of guys playing rugby," says Neiberger. "We're open to anyone who wants to join us, men and women. They can play, come to the matches or just join in after for drinks."
Twenty-four-year-old Brandon Clark works with autistic children and has played on the team for almost two years. He feels it's good to have such an eclectic group of people playing together, adding more variety to the mix. "If I had to describe rugby to someone who was interested, I'd call it controlled chaos. It's energetic, it's aggressive, it's competitive." While respectful of traditional football, he says it just doesn't offer the same level of excitement for him as rugby. "The game never stops, not like downs and tackles in football. The ball never stops moving." Football was derived from rugby, but there are some key differences between the sports.
Unlike football, where a tackle ends the play, rugby keeps the ball in play for two 40-minute periods. When the game starts, it's with a "scrum" rather than a kickoff. Members of both teams bind together as one force and push against each other, trying to force the other team away from the ball so their runner can pick it up. "It's basically two masses colliding, and only one will end up with the ball," says Clark. "It's very intense, feeling that opposing force physically against you." Once a team has possession, the game begins. The players may run toward their goal, but are only allowed to pass the ball to someone behind them. That means no interceptions, but it also means the ball is always in someone's hand.
"The game doesn't stop when someone gets tackled," explains Mike Rosana, who anchors the team's wing position. "We have a ruck, which is basically when someone is tackled, and the other team will form sort of a blockade over them with their bodies, trying to keep them down and retrieve the ball at the same time." When a goal is scored, the opportunity to score two more points by kicking through the goalpost is called a "try." Different from football, rugby players aren't equipped with pads and helmets. The game is raw energy, and there are a lot of emotions pumping throughout the game.
Rugby also includes penalty punishments — more similar to hockey than to football. If a player is yellow carded for breaking a rule, they earn themselves time in the penalty box, or "the sin bin." In this way, the viewers become more attached to their players. The rule-breaking directly affects the offender, rather than the whole team, which keeps the players aware of their integrity. No one wants to sit in the penalty box when they could be out on the field helping the team.
Being part of this club is more than just a pastime for its members. "It's kind of a counterculture, in a way," says Clark, the team's No. 8 man. "It's not a mainstream sport yet, but we hope it will be, one day." The team has ambitious goals, and members are dedicated to the sport and each other.
"Playing club rugby is really something unique. Once you've been involved in it, immediately you have friends wherever you go," says Neiberger, and that's why the team is important. "We try to offer ourselves as an alternative for people in Tallahassee who need recreational activities." The tight-knit club is welcoming, and always eager to turn someone else's attention to the sport.
Rugby is a social game, more so than many others. One of the biggest draws to being involved in the sport is the networking, says Rosana. "If you play on any rugby team anywhere, and you meet someone out of town, and you mention rugby, they'd invite you to play along." There aren't enough rugby teams for a league in most cities in the U.S., so committing to a team means more than just a few hours once a week. Club members travel together, usually on weekends, to play matches against other rugby clubs but say they don't have any real "rivals," only friends. The teams they play include Gainesville, Pensacola, Panama City and New Orleans. Most trips, the team will carpool to the neighboring city and spend the weekend there. It's a bonding experience that's just part of being a team player.
After the game has finished, it's tradition for the home team to take the visiting club out for dinner and drinks at their "home bar." The event is called a "social," and it's just as much a part of the experience as playing the game. Rosana explains that the bond goes beyond one's own team. "You'd never imagine getting dinner and a drink with the team you just played against, but that's what makes rugby such a social sport. It's different than anything else." The Tallahassee team's home bars are St. Mike's and Pug Mahone's, and the club throws a social for every team that travels to play here.
"It's an atmosphere modeled after an old European aspirational set of values," says Neiberger. "You play because you represent the city of Tallahassee and your neighbors and your friends. It's not about winning; it's about excelling and pushing yourself toward the best possible result. And you can beat the crap out of the guys on the other team, but after you finish, you're going to go out for drinks and network, and you're going to make some great friends. There's no other sport in the U.S. with this kind of atmosphere."
The team is welcoming, and if you ask any of them, they'd gladly invite you to try out. "We want to turn people's heads, because it's an awesome sport," Clark says. "It's a great bonding experience. I didn't know anybody before I came out, and now these guys are some of my best friends. I play with them; I travel with them." Rosana agrees: "It really is like a brotherhood. I'd be there for all of these guys, if a situation arose, and they'd be there for me too."
Want to Give Rugby a Try?
Spring practices start soon, and tryouts are open to all. For more information, visittallahasseerfc.com.