Scenic Wonders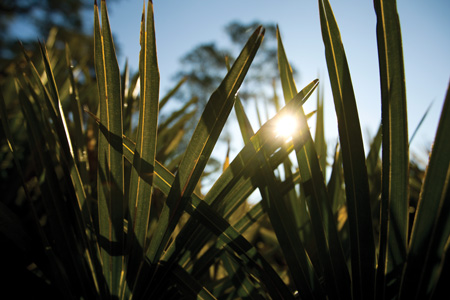 All you need to do is pick a direction and go to enjoy the beauty of the Forgotten Coast 
Photo by Scott Holstein
Loafing Through the Woods and WaterwaysEcotourism opportunities abound along the Forgotten Coast
By Jason Dehart 
In the old days, back before there was a word for it, "ecotourism" was known simply as "the poor man's vacation." Can't afford to go to Las Vegas – or even Rock City? Then pack up the station wagon, hook up the Prowler travel trailer and head for the woods. Or, throw your Zebco rod and reel and a pup tent in the back of the truck, grab your binoculars, an Audubon Society bird book and a good shady hat, and take off for a weekend on the Gulf Coast.
You'd pitch the tent or park the camper, then go fishing at a pier or culvert and maybe watch the pelicans float lazily along the surface of the water. You might even take the boat out and test your skill against sea trout or redfish. If you were camped out at a lake in the woods, you'd cook the day's catch over an open fire while being serenaded by frogs, nighthawks and courting owls – all the while keeping an eye out for black bears that were themselves keeping an eye out for unattended coolers.
Today, that kind of loafing is the style of Florida tourism. "Nature-based" tourism is an industry growing by 15 to 20 percent a year, and a survey conducted by Visit Florida in May 2007 found that more than half of Florida visitors enjoyed some sort of nature-based activity on trips taken during the preceding year.
Along the Forgotten Coast, it isn't hard to find nature-based activities where large tracts of land are held in public trust, such as in the Apalachicola National Forest. With 564,000 acres, it is the largest national forest in Florida. In nearby Carrabelle, the 185,000-acre Tate's Hell State Forest is as wild a piece of untamed Florida as you will find in the Panhandle. For the bicyclist, there is the St. Marks Trail; for the beachcomber, the beautiful St. Joseph Peninsula State Park in Gulf County. This park not only has miles of white sandy beaches but also features 119 campsites. And throughout the Forgotten Coast are miles and miles of waterways perfect for kayaking, fishing and swimming.
That's just a small sampling – the opportunities are endless. Just pick a direction and go. You would be surprised at how much loafing you can fit in a weekend.