Savor the Flavors of Rick Oppenheim's Award-Winning Chili
A Taste of South Beach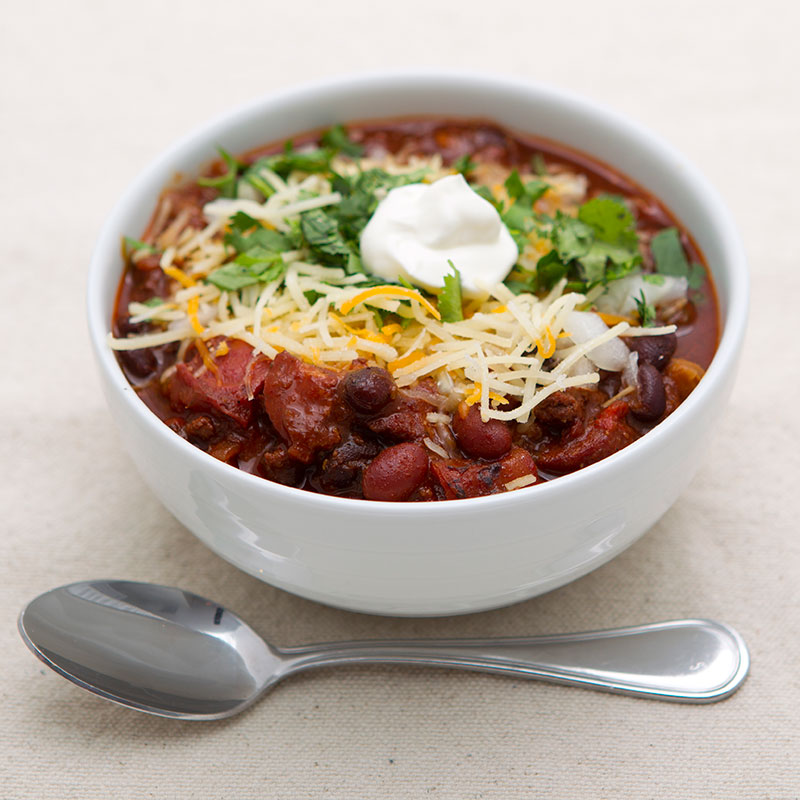 Rick Oppenheim's chili is quickly becoming the stuff of local legend, after two consecutive years of awards at Salter>Mitchell's Annual Chili Cook-Off for charity, held on Halloween at the agency's office for the past eight years.
A glance at the public relations guru's recipe and its ingredients might tell you why — the word "extensive" hardly covers it.
This recipe requires dedication, in the form of trips to multiple grocery stores and seven hours of patiently waiting as the concoction simmers, undoubtedly filling the entire house with chili's warm signature aroma. But the results, we assure you, are worth it. It didn't win those awards for nothin'.
We've also included Oppenheim's recipe for mojitos for you to sip as you wait for your chili. Prepare the simple syrup a day ahead, and enjoy this cool beverage in anticipation of sensational chili.
Chili for Charity
If you've got a warm spot in your heart for charity and a hot love of chili, you're invited to the office of Salter>Mitchell public relations firm at 117 S. Gadsden St. for their ninth annual Halloween Chili Cook-off. Costumes are encouraged, and the best ones will be rewarded.
Pay a $5 entry fee to sample all you like — and get five opportunities to vote for your favorite chili. You can always buy more votes (it's perfectly legal here) at a buck a pop. The chef who creates the chili that wins the "People's Choice Award" can designate all the money raised at the event to their favorite charity. And Salter>Mitchell matches the amount dollar for dollar. Celebrity judges also choose winners in two other categories, "Most Original" and "Judge's Award."
Beginning in October, you can RSVP to enter the contest or attend the event at saltermitchell.com/boo.
Chef 'Ricko's' SoBe Chili
Ingredients
2 pounds Mexican chorizo (Texicano from Publix or LaTiendita; or, better, fresh ground from Pepe's in Live Oak); remove from casing

1 pound Portuguese chourico (Gaspar's at Publix); cut into

½-inch pieces

1 pound American chorizo (fresh ground, from Earth Fare or Publix); remove from casing

1 package (7.5 ounces) Spanish chorizo (Palacio's from Fresh Market; or 2 packages [5.5 ounces each] of Quijote from Publix); peel off paper "skin"

3–4 tablespoons extra virgin olive oil

2 cups Vidalia (or sweet) onion, chopped

2 cups red onion, chopped

2 cubanelle peppers, chopped

1 poblano pepper, chopped

½ red bell pepper, chopped

5–6 cloves garlic, chopped

1 can (28 ounces) crushed tomatoes

1 can (15 ounces) diced fire-roasted tomatoes

1 can (4 ounces) fire-roasted

diced chiles

1 can (8 ounces) tomato sauce

2 cups beef broth

½ cup Mojo Criollo (Spanish marinating sauce)

1½ cups Rioja wine (Spanish red)

2 cans (15 ounces each) black beans, drained

1 can (15 ounces) garbanzo beans, drained

1 can (15 ounces) red beans, drained

3 chipotle peppers in adobo sauce (chopped, with 1 tablespoon sauce)

8 tablespoons Goya recaito sauce

(or Goya Sofrito sauce)

½ cup ketchup

2 tablespoons ground cumin

4 tablespoons chili powder

1 tablespoon fajita seasoning

1 tablespoon adobo seasoning

2 tablespoons smoked paprika

1 teaspoon ground black pepper

4 squares semi-sweet baking chocolate, cut into quarters

¼ cup light brown sugar

1 bunch cilantro (separate leaves from stems), chopped
Preparation
Sauté the chorizo sausages separately until done, then drain (place meat on plates covered with paper towels to absorb grease) and set aside. Place olive oil in a large Dutch oven pot and heat on medium-high. Place chopped onions and peppers in pot and sauté 10 minutes. Add chopped garlic and stir while sautéing two more minutes. Reduce heat to medium and add tomatoes, chiles, tomato sauce, beef broth, mojo criollo and wine; stir to combine. Add all meat, and stir to combine. Add beans, chipotle in adobo, recaito, ketchup and seasonings, stir to combine.
Add chocolate and brown sugar; stir to combine (and melt the chocolate). Adjust seasonings to taste. Ladle into crock-pot, set heat
on low and simmer for seven hours.
Oppenheim says you can skip the crockpot and just simmer it in the Dutch oven for 1 to 2 hours — stirring frequently — and it will be great, but the slow-cooking crock pot will add incredible depth and complexity to the flavors and give a smoother texture.
When finished, turn off heat and add chopped cilantro. Serve plain or with chopped onions, shredded Mexican-blend cheese, sour cream and chopped avocados, with galletas (Cuban crackers) and mojitos or beer.
'Ricko's' Mojitos
Ingredients
1 cup sugar

1 cup water

1 package mint leaves

Light rum

Lime juice (freshly squeezed)

Club soda or seltzer

Bitters

Ice
Preparation
In a saucepan, combine sugar and water; bring to a boil. Cover and cook, without stirring, for five minutes. Remove "simple syrup" from heat and allow to cool. Rinse mint and separate leaves from stems. Discard stems, put leaves in a bowl, add a few tablespoons of simple syrup and bruise (crush) mint with a muddler or the back of a wooden spoon. Place the muddled mint leaves in a jar, add the rest of the simple syrup, cover and chill in refrigerator for 12–24 hours (the longer the better). When ready to use, strain mixture and discard mint.
To serve, fill tall glass with cubed ice. Add 1–2 tablespoons of minted syrup, 2 ounces of rum, juice of ½ lime, four or five drops of bitters and fill to top with soda. Stir well, and garnish with a slice of lime.
This drink can also be made the traditional way: Put several mint leaves in a glass, adding superfine sugar and a little water, then muddle, then add remaining ingredients, stir and serve. But, Oppenheim's version (with minted syrup made ahead) makes for easier and faster assembly and, best of all, no mint-leaf fragments to dodge. It also makes for easy pitchers if entertaining; just pour the mixed drink into tall glasses with ice and enjoy.