Same Old School Lunches?
Try These Nutritious Ideas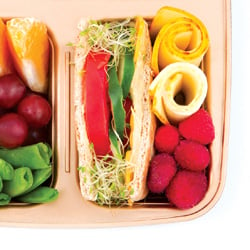 Nutrition is a tough subject in school these days — and parents and schools alike are looking for new ways to earn "A's" for healthy lunches.
There are lots of good reasons to send your son or daughter back to school with a home-packed lunch every day. For example, no one knows your child's nutritional needs like you do; bringing lunch from home ensures that special diets, if any, are met. But lunches from home also let you tailor the menu to your child's schedule. Phys ed today? Pack a lean, protein-rich turkey sandwich. Test this afternoon? You may want to avoid heavy carbs that can cause an energy drop after lunch.
Here's the biggest hurdle: getting over the idea that kids will only eat processed and/or unhealthy foods. Too many parents are afraid if they give their kids healthy alternatives, lunch will wind up in the trash. The solution is to not make lunchtime the moment of truth. Like so many things, good habits begin at home — namely at breakfast, dinner and snack times. If your children get used to eating fresh food other times of the day, they won't be surprised by the healthy food in their lunch bags because it's what they're used to.
Moreover, kids are more likely to eat what the family eats. If Mom and Dad eat better, the children will too. It's a proven fact.
Encouraged? Here are some other great lunch-packing tips to not only keep your kids well-fed and happy, but also on the road to excellent eating habits:
Shake up the PB&J. There's a lot of good in peanut butter and jelly (try to go with spreads or jams over jelly, as they have real fruit). But to add variety, try replacing the jelly with banana, apple or pear slices.
"Produce" a great lunch. There are so many fabulous veggies out there — carrots, celery, cucumbers, peppers, even broccoli. I fill a container with carrots and celery every day for my two kids, ages 9 and 11 — and they eat them. Legumes, from chickpeas to edamame, have the protein to power kids throughout the day.
Freeze that fruit. Freezing fruit the night before does double duty — it keeps other food in the lunch container cold through the morning, and thaws in time for eating during the lunch hour. Almost any fruit can be frozen including watermelon, strawberries, honeydew, mandarin oranges, pineapple, cranberries and apples (go with sliced vs. whole apples).
Make age-appropriate meals. With growing kids it's just as important to avoid portion sizes that are too small, as too large. Appetites in both girls and boys surge around the time of puberty, for instance. But regardless of age, kids need balanced meals with food from all the major groups.
Consider ditching the sandwich. There's nothing wrong with bread; in fact there are "kid-healthy" white breads that are packed with vitamins and calcium, making them great options along with whole-grain varieties. But salads, vegetable pitas and even veggies with high protein dips like hummus can deliver excellent nutritional value.
WHAT'S IN YOUR LUNCHBOX?
"I am a vegetarian now, so I usually take cheese and crackers or pasta and soup or a Tofurkey sandwich. I like raw carrots a lot, and I always take some kind of fruit. To drink, I usually take water or Gatorade."
Delaney Dickson, 9, (Rising 4th grader at the Maclay School)
"I pack my lunch with strawberries, kiwis and protein bars." Drew Bauserman, 13, (Rising 8th grader at Deerlake Middle School)
"I always pack my lunch — a variety of fresh fruits — grapes and oranges." Samuel Allen, 13, (Rising 8th grader at Deerlake Middle School)
"I packed home-made trail mix and apple wedges to snack on throughout the day." Sophie Graham, 18, (recent Leon High School graduate)