Sacred Spaces, an Ancient Measurement Creates a Home with Spirit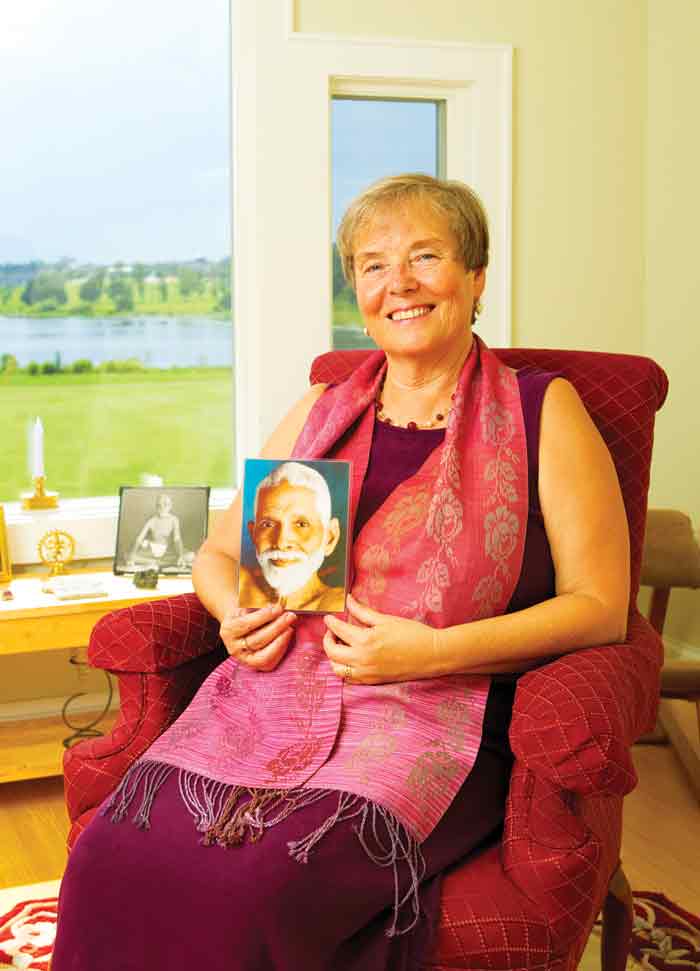 While people may not know the family who lives in the Craftsman-inspired SouthWood home on Grove Park Drive, their house has had thousands of visitors. Designed and built by the then up-and-coming boutique firm K2 Urban Corp., it was one of the more upscale, distinctive homes featured in the 2007 Parade of Homes.
At the time, there were comments on its green clapboard and shingle exterior and wide-open interior spaces, brightly lit by expansive windows. But most intriguing, inside and out, was a tiny, square room — the only one on the third floor — that jutted over the front of the house, with a triptych of windows providing a commanding view of the neighborhood's Central Park Lake.
Why was the room sitting up there by itself? Why so little? What was its purpose?
It's a meditation room, but that is just one of the secrets held by the house named Ananda, a Sanskrit word meaning pure happiness or bliss.
The Brummel-Smith family lives here, a pair of husband-and-wife doctors, Ken and Amrita, and their two sons, Gabriel and Corey. They came to Tallahassee from Oregon in 2003 so that Ken could chair the geriatrics department at Florida State University's medical school, bringing with them a West Coast sensibility and an open mindedness to other cultures and beliefs.
The most radical departure from tradition came when Amrita Brummel-Smith decided to forego inches and feet and use an ancient unit of measurement called the Hebrew Sacred Cubit when designing their home. "It's a linear unit of measurement. Many cubits have been designed over history (of) varying dimensions but this one appears to be what was used in some aspects of the Great Pyramid of Giza and the Parthenon," she says. A Hebrew Sacred Cubit, the subject of a dissertation by Sir Isaac Newton, measures just a smidge over 25 inches. "It's considered to have just a life-affirming quality, a quality of affording serenity. We've all read some about feng shui … that there are certain ways structures can be designed that seem to facilitate more connection with the divine."
As the head of K2's planning and design studio at the time (the company is now defunct), it was up to architect Beth Hollister to make the ancient measurement work in a modern home. "I had never worked with a cubit before," she says. "I'm accustomed to working in modules … most people work in 16 inches (or) 24 inches as a module, but it was close enough … that the task of planning kind of came together fairly quickly."
Because she had lived and worked in Africa and Asia, Hollister says she wasn't fazed by the Brummel-Smith's request to incorporate spiritual considerations in the house plan. She had to provide for feng shui and other cultural requirements (no staircases at the front door, no beds facing westward) when designing a home for a client in Thailand. The Brummel-Smith's third-floor meditation room wasn't a surprise either; Thai houses typically have such a room at the highest point in the home, she says.
The Hebrew Sacred Cubit is most evident in the meditation room, which was meticulously designed to measure 5 cubits by 5 cubits square and 4 cubits tall, with a ceiling insert that is exactly 2 cubits by 2 cubits.
The room is spare, which is why the eye is drawn to a large painting of a smiling, bearded man that hangs on one wall. He's Ramana Maharishi, a sage who lived in India from 1879 to 1950. He lived simply at the foot of the Aruna Chala mountain, teaching a philosophy that included solitude and stillness. Amrita considers him her guru and practices his tenets in her counseling business, "The Practice of Stillness."
"He is someone whose life I hope to in the smallest possible way emulate," she says. "He's very Christ-like in his absolute love and compassion for all beings … . I've traveled to India four times to visit the place where he anchored himself. He spoke and he offered verbal direction to people when necessary, but the bulk of his teaching was in silence. And that's my practice."
In general, the home's interior has an open, contemporary look utilizing pale colors and a minimum of decoration. The kitchen opens onto a great room that runs the width of the entire house. A hall with three archways that look vaguely like a Japanese temple leads to a sitting room with comfortable seating and a slate fireplace. The master bedroom is spare, but its bath features a deep Japanese soaking tub big enough for two people and a wooden sauna.
The second floor plan features the boys' and guest bedrooms and his-and-her work studies separated by a shared library crammed with books "that needs a lot of thinning," she says, adding an admission that her office space is an island of "total chaos" in an otherwise simple and serene home.
While symbols of Amrita's Indian spirituality are prominently displayed throughout the home, the décor also includes angels, Celtic crosses and Native American iconography. "I'm very eclectic," she says. She still embraces her Catholic roots, but is also inspired by the beliefs she has encountered on her travels to places such as India, the southwestern U.S. and Alaska. "Ultimately, truly I feel that … there is only one source of what's holy or sacred," she says. "The gifts of discovering that in many places have been marvelous."
A few spots feature collections of rocks only found in India's Narmada River called shiva lingam stones. Multicolored, naturally smooth and shaped like an elongated egg, "in Indian culture they're considered to be very sacred stones," she relates.
Small versions of the stones, as well as stones gathered on the family's other travels, are embedded in the brickwork of the Craftsman-style columns in front of the home. A special silver-dollar-sized, heart-shaped rock is the centerpiece of the porch's floor tilework as one approaches the front door.
And there are touches that add to the spirit of the home that are never to be seen.
"When we were building the house, we really wanted intention to be part of the innards … so we invited friends and family — and we contributed ourselves — to send us poems, quotes (and) good wishes," Brummel-Smith says. "They are all written on the insides of the walls. They're written at the entryway, they're written over the door and through these walkways. (In) the meditation room, the entire floor is sacred writings."
A favorite quote, sent by her sister, is underfoot as you walk in the front door: "Whatever the question, the answer is love."