Running Wild
Mullet are plentiful, but Florida's net ban changed forever the livelihood of local fishermen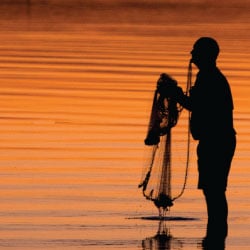 Mark Wallheiser/tallahasseestock.com
A man stands motionless with his net as he waits for mullet to get close enough to cast for dinner at Shell Point Beach along the Forgotten Coast in Wakulla County.
You can get just about anything that swims at Doug's Seafood Truck on St. George Island — scallops, tuna, grouper, several different sizes of Gulf shrimp scooped out of the water that morning. Anything, that is, but mullet. You can walk over to the other side of the island and see their shiny, grey, oblong bodies jumping out of the still waters of Apalachicola Bay, but they're not listed on the chalkboard menu of the many fish Doug's has to offer.
Mullet are either a delicacy or a trash fish, depending on whom you talk to. They're bony, so they don't make a good sandwich. Those who know how to split them carefully remove the backbone and spread the mild white flesh on a cracker. Mullet are plentiful everywhere year-round, in both fresh and salt waters, in the creeks and bays of Wakulla, Franklin and Gulf counties. And yet, at the same time, they can be maddeningly hard to find.
A man stands motionless with his net as he waits for mullet to get close enough to cast for dinner at Shell Point Beach along the Forgotten Coast in Wakulla County. Photo by Mark Wallheiser, tallahasseestock.com
Blame the net ban. The 1995 constitutional amendment outlawed the monofilament "gill" nets fishermen had used for years, limiting them to nylon nets of no more than 500 square feet, used one at a time, mostly in shallow water. The ban was designed to preserve the severely overfished mullet habitat. It changed the mullet fishing business forever.
Sixteen years later, it looks to the casual observer like the mullet are back. Mullet make their annual run in the fall but are present year-round as well. The only problem, fishermen say, is that net ban restrictions mean they just can't get to them.
A Changed Industry
Angie Mercer owns and runs Angie's Marine Supply in Panacea. She's been in the business for most of her life and used to fish with her grandfather, back when, she says, "we might throw out 1,000 yards. Now you can only use 500 square feet. And it has to be only a 1-inch square, period. And it has to be nylon, it can't be monofilament, like we used to use."
So Mercer can say with pretty good authority the effect the net ban has had on local fisheries.
"It was major," she says. "My company probably got stuck with $50,000 worth of net."
Mercer echoes the voices of fishermen who've complained to law enforcement for years that the mesh in the nylon nets they're now forced to use is so small that "it's really trashed the ecosystem."
"There are more mullet than there have ever been, of course, because you can't catch them," Mercer says. "Mullet and redfish are eating the baby crabs, and there's so many now that the baby crabs aren't getting enough time to grow up. They're depleting the baby stock before it has time to get bigger."
Jonas Porter, who has been fishing in Wakulla County for more than 60 years, is one of those fishermen severely affected by the net ban, who calls the nylon nets "detrimental to the fishing industry because they catch a lot of the smaller fry in the mesh. So they have a lot of waste, a lot of kill."
It's also destroyed a way of life for many fishermen.
"Nobody can make a living now. I was out there all day today, casting two nets in a circle, and I burnt two tanks of gas and I caught 30 mullet," Porter said. "A young man with a family can't make a living like that."
The net ban has turned this longtime fisherman into a distinctly political animal. He made his first trip to the Capitol in Tallahassee a week before the ban went into effect and has made plenty more trips since then. He'll proudly tell you he's been arrested several times, getting the first ticket in the state of Florida due to the net ban — July 1, 1995, 11 a.m.
"I was at the Capitol the week before, and I told them, I want you all to tell me when I can go out and make a living for my family. They said, it's undetermined," he says. "I said, well, if I don't know by July the first … then I'm going fishing."
A Fish with a History
Mullet have been a big part of the economy in this part of state since at least the 1800s, when people learned to catch, smoke, eat and trade it for other food in hard times. Fishermen would ice what mullet they could and salt the rest. They used mullet as the principal food for workers at turpentine plantations as well as barter.
Biologist and nature writer Jack Rudloe, who has exhaustively chronicled the Gulf region in his 1988 book "The Wilderness Coast," writes of a time when "[t]ons upon tons of frantic, leaping, beating, frothing fish were hauled out on the marshy berm. The fishermen and their families worked into the night splitting and salting fish …When the licks were big enough, the salted fish were loaded into boats and hauled to Cedar Key, Apalachicola, Carrabelle and other fishing villages that had a railroad spur, and their catches were shipped north by rail. When the mullet ran, they flowed along the Gulf shore in immense black rivers, with millions upon millions of fish carpeting the shallows for miles."
That was back when fishermen used huge seine nets to pull in masses of mullet, in historic fisheries along the creeks and bays of Wakulla and Franklin counties. Writer David Roddenberry's monograph Historic Seine Fisheries of Wakulla County and Eastern Franklin County, Florida lists 16 different historic fishing sites used by generations of fishermen dating back to the Civil War. The fishing holes were also used as recreational and social gathering places as well as commercial hotspots that tied Wakulla and Franklin counties with inland communities in Florida and southern Georgia.
"The net of former days is no longer permissible gear, and a regular crew as in the old days probably no longer feasible," Roddenberry writes. That, and last of the historic structures erected to support their fishing businesses along Goose Creek, Ochlockonee Bay and other popular mullet fishing spots were swept away in 1985 by Hurricane Kate.
Fishermen have fought with the law over mullet since way before the net ban as well. Wakulla County's old courthouse is listed on the U.S. Department of the Interior's National Register of Historic Places, and it's got a hand-carved weather vane on top in the shape of a mullet. According to Cal Jameson, director of the Wakulla County Historical Society Museum and Archives, that's a nod to a court fight in the county in the 1920s.
Jameson says the Legislature passed a ban restricting mullet fishing to certain times of the year. But the timing was based on weather conditions in South Florida, not North Florida.
"So when the mullet were running here, it was illegal to fish for them," Jameson says. "They were looking for a way to get around that ruling so they could legally fish up here."
Wakulla fishermen used the mullet's rather bizarre physiology to make their case to county Judge Don McLeod. Mullet are bottom-feeders whose digestive systems have evolved to let them make the most of the detritus they find on the floors of lakes and bays. That includes a gizzard — the mullet is said to be the only fish in the world that has one.
"Ok, well, it's a well-known fact that only birds have gizzards. So the judge declared that the mullet was a bird," Jameson says. "That's why there's a mullet on the courthouse."
Good Eating
When it comes to mullet, there's another difference between north and south Florida. While it's a culinary delight in North Florida, in the southern part of the state sport fisherman use mullet mostly for bait.
In the Big Bend, aficionados build little wooden huts just big enough to house huge, black smokers and set them on the edge of the woods so the incredible scent of smoking mullet wafts out through their whole property. Mineral Springs Seafood in Panacea, just off 319 about 25 minutes south of Tallahassee, doesn't bother with the hut — they just put the smoker right there in the parking lot, where the woodsy, salty smell reaches in through the car windows and grabs you if you try to drive by without stopping in to pick up a few.
In a brightly painted food truck just off Highway 98 in Panacea, Stacy Hutton serves long lines of customers who queue up for her fried mullet, softshell crab, hushpuppies and French fries. Though she's originally from Ohio, Hutton said her father was a shrimper from the Spring Creek area, so "we kind of ventured this way, and we've been here ever since. And then I married a commercial fisherman."
Hutton's husband Ray and son Tim often go fishing and crabbing all night — leaving from docks not far from where Spring Creek restaurant serves fresh mullet to discerning customers — and then bring the fish and crabs right up to the back of the truck to Stacy the next morning. On Saturdays, the lines of eager customers can wrap around the truck a few times, but weekdays are plenty busy too.
Smoked Florida Mullet Spread
Ingredients
16 oz. light cream cheese, softened
3 tablespoons Florida lemon juice
2 tablespoons grated Florida onion
2 tablespoons milk
1 teaspoon hot pepper sauce
3 cups flaked smoked Florida mullet meat
3 tablespoons chopped Florida parsley
paprika
crackers
Preparation
Combine the cream cheese, lemon juice, grated onion and hot pepper sauce; whip until smooth and fluffy. Stir in fish and parsley. Form into a ball and sprinkle with paprika. Cover and chill for 1 hour. Serve with crackers.
Yield
3 cups or 48 tablespoon-size servings
Nutritional Value Per Serving
Calories 31, Calories From Fat 16, Total Fat 2g, Saturated Fat 1g, Trans Fatty Acid 0g, Cholesterol 10mg, Total Carbohydrates 1g, Protein 3g, Omega 3 Fatty Acid .05g