Rock Steady Boxing Really Does Rock
Sweat Therapy Fitness introduces boxing class designed to fight Parkinson's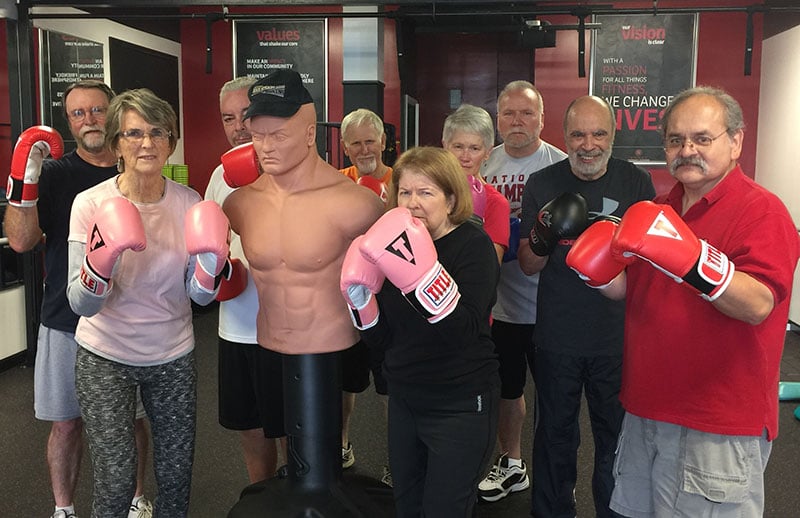 The sound of a boxing glove making contact is a distinct and empowering sound. Participants in Sweat Therapy's Rock Steady Boxing class take turns connecting with targets and, as they do so, no one would suspect that they have been diagnosed with Parkinson's Disease.
Kim and Brian Bibeau are the vivacious and tenacious couple who opened Sweat Therapy Fitness in 2010. Since then, they have strived to make an impact in the community and be more than just a gym.
"When my husband and I opened the business, our mission was to give back and help all people, not just the young or perfectly healthy," said Kim Bibeau. "We have a member who is an FSU student who is in medical school and asked us if we would do a fundraiser. That's when we realized the direct correlation between exercise and Parkinson's Disease. It has become near and dear to our hearts."
Over the years, the Bibeau's have raised more than $45,000 for the Tallahassee Memorial NeuroScience Center for Parkinson's Research under the direction of Dr. C. Jerry Maitland and the FSU College of Medicine. While the money certainly is helping to change the lives of those affected, the Bibeau's wanted to witness changes firsthand.
Kim discovered Rock Steady Boxing, a program that was begun in Indianapolis specifically to combat the effects of Parkinson's. Rock Steady Boxing helps to enhance quality of life and improve motor function through intense non-contact boxing style exercises. Without thinking twice, Kim flew to Indianapolis to complete the three-day certification process in order to offer the class in Tallahassee.
The classes are in full swing, literally, on Mondays, Wednesdays and Fridays and are open to people of all ages, strengths and diagnosis level.
"It's a safe place for them to talk and not be embarrassed," said Kim. "Today something may be hard for them, but in two or three weeks it will be easier. With this disease, common things that we take for granted like brushing our teeth, combing our hair or writing our names are difficult, but as they exercise, they see things improve each time they come in."
Currently, there are 10 participants, each of whom has experienced progression and positive interactions through the supportive group.
"The camaraderie is beneficial physically and emotionally," smiled Brian Bibeau. "It used to be that you were given medicine and told to stay home. This exercise helps to impede the progress of the disease and reverse the effects. Progress with this disease is astounding and we continue to make great strides."
For more information, call the studio at (850) 222-1781.