Rickards Graduate Embarks on 100-Day Experiment Across the Planet
Joey Briggs participates in international project about making global connections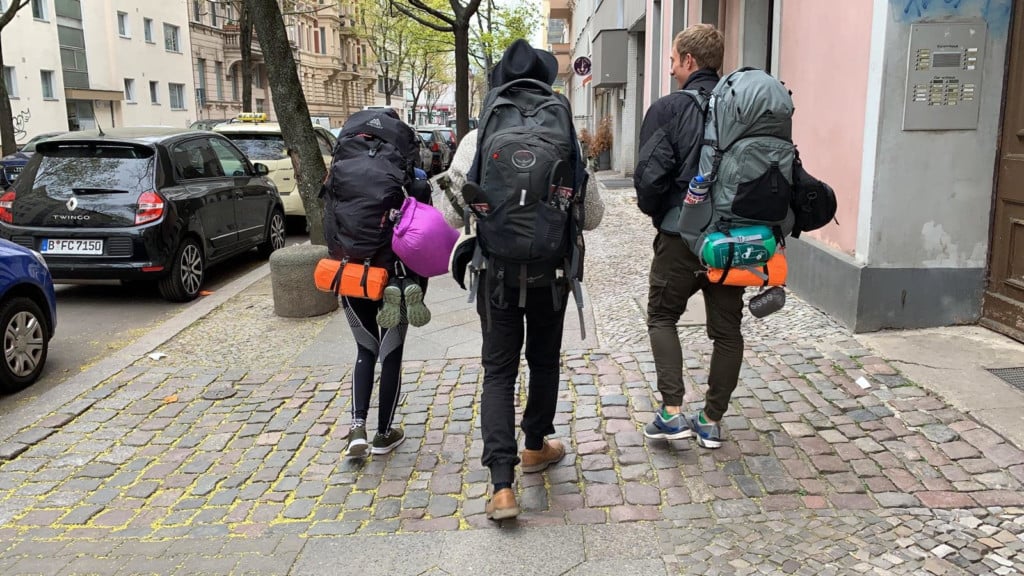 It sounded too good to be true: Travel for free, meet diverse people and create a circle of friendship around the world.
For Joey Briggs, it sounded to good to pass up. Among 33,000 applicants, Briggs vied for one of six spots in Yuujou, an international media art project in which he set out to circle half the planet with two people he didn't know a month ago.
After a Skype interview and a surprise visit from the project's founders in his living room, Briggs in early April boarded a flight to Germany as a chosen Yuujou traveler.
Luckily, his workplace, an engineering firm in Tampa, felt just as excited about the project, giving him a six-month leave of absence to participate, he said.
The project involves two teams of three people starting in Berlin and heading in opposite directions in unplanned routes in which both teams aim to reach Japan in 100 days.
"It is a bit shocking," said Briggs, a 2013 graduate of Rickards High School and a 2017 graduate of the University of Florida. "You start to think it through, 'I'm going to be traveling 100 days with two other people I've never met before.'"
The project began with a simple concept: If people could travel across the world on a route that features only acquaintances of acquaintances, who would they meet and what connections would they make along the way?
Swiss journalists Corinne and Yvonne Eisenring turned that idea into a full-fledged travel experiment, where six people would travel from Berlin to Tokyo without a planned route. They must reach the other side of the world one friend at a time — stopping only at a residence of a friend of their previous host.
"The hosts aren't just letting us sleep on their couches. They're inviting us into their lives," Briggs said. "Those connections are really meaningful."
Through mid-April, the journey had taken Briggs to Munich, Germany; Benediktbeuern, Germany; Vienna, Austria; and Budapest, Hungary.
He and the other participants document their travels through social media, journal entries and video diaries.
Yuujou says it aims to compile the information into two books and a documentary.
Briggs says the scope of the project didn't sink in until he landed in Berlin, where he first met his travel mates at the home of a local restaurant owner and actress.
"We're all meshing well together," Briggs told Tallahassee Magazine in mid-April. "It takes a certain kind of person to apply to this project, so we already knew we would have similarities, in that we put ourselves out there. We got to know each other very quickly."
From volunteering with the Peace Corps in Liberia to working as an operational engineer intern in Chile, Briggs considers himself no stranger to the unknown.
You could say that he always aims to make himself less of a stranger to others.
"A big part of my life is spending time with others and sharing experiences," he said. Yuujou "talks a lot about how loneliness is one of the biggest dangers to society, especially with social media. We're not making real connections. It really resonated with me. I want to share my life with others."
Briggs emphasized that the Yuujou experience is raw and authentic, pointing out the challenges of finding reliable transportation and meeting VISA requirements, for example.
"A lot of people would say, 'I'd love to do this, but I can't,'" Briggs said. "I'm trying to show that it is possible to explore the world. It's going to be difficult, but you can make it work."
He added: "I think that's one of the best ways you can learn about people. I hope to inspire others to just get out there and do it."