Returning to Civilian Life is the New Strategic Objective for Young Veterans
For Many New Veterans, Returning to The Old Life is Difficult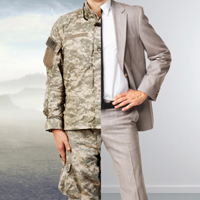 ---
Their grandfathers fought the Axis powers and came home to a housing shortage and a looming, nuclear-tipped Cold War. Their fathers, who fought the Viet Cong in impenetrable jungle, were reviled for participating in an unpopular war. The young veterans of the 21st century come home to reshape their lives amid the worst recession since the Great Depression.
Each generation of veterans may have had different experiences. But the common thread tying them together is the need to get back to normal life. How do you do that, having seen what you've seen? How do you just go back to living in suburbia and comfortable surroundings when your most vivid memories are of people trying to kill you?
For many new veterans, returning to the old life is hard. Retired Navy medical logistician Pia Woodley and former Marines Tyler Douglas and David Stuart are among many forging ahead with new lives following tours in the war zones of Iraq and Afghanistan.
Dual Deployments
"Returning home from deployment was honorable, but returning home from Iraq alive was the bigger story," said Pia Woodley, an independent insurance agent in her mid-40s. Woodley spent 20 years in the Navy and took a tour of duty in Baghdad four years ago. "Knowing that I would retire shortly after my return from deployment was a breath of fresh air for the Woodley family. It gave us something to look forward to achieving."
A Miami native and a Florida A&M graduate whose first love was teaching, Woodley served as a medical logistician for the multinational force in Iraq. She worked in the fortified Green Zone — but that doesn't mean she was completely safe from harm.
"Serving in a war zone had its set of challenges," she said. "The Americans were the occupiers, and we served in a place where some of the people did not want the presence of American troops in their country."
In March of 2008, the Green Zone came under attack by the Mahdi Army, a Muslim militia formed by Muqtada al-Sadr in 2003.
"They fired rockets and mortars for 40 straight days. It was brutal," she said. "I worked 12 hour days, six days a week. I traveled to checkpoints that were dangerous, and I participated in meetings with people that supposedly had blood on their hands."
Not only did she have to put up with rockets and mortars, but also the daily physical stress of austere conditions and extreme heat. Summer temperatures soared to a searing 140 degrees, and she had to cope with that while wearing 40 pounds of body armor.
"During my tour in Iraq, there were so many opportunities to be overcome by fear, anxiety and depression … when it was time for me to go to bed, when I traveled in a convoy, helicopter and when I went back and forth to meetings," she said, "I leaned on the strength of the Lord and not my own."
Being in a war zone wasn't the only challenge for Woodley or her family. Her husband, Anthony, was in the Navy, too, and both husband and wife found themselves on deployment — and away from their young son.
"When I received orders to deploy to Iraq, I was married and my son was four years old. My deployment orders came at a time when I was managing the affairs of my family as a single parent because my husband was deployed to Bahrain," she said.
As a dual military family, the Woodleys were required to have a "family care plan" should both service members be deployed at the same time. In this document you designate who will have guardianship over your dependents in your absence. In their plan, they designated her brother, who was married and had three boys living in San Antonio, Texas.
"The deployment was difficult for the family," Woodley said. "I was deploying into a war zone, my husband would not return to the states for another four months and our son was sent to Texas to stay with my brother and his family."
Woodley explained that having both parents gone was especially tough on their son. He had hydrocephalus and had never been far from his parents before, she said.
"He experienced separation anxiety," she said. "The anxiety got worse when my husband picked him up from Texas then brought him to Virginia where he thought his Momma would be when he got home. Our son acted out in school and there were various school and medical issues that arose during this time."
When she retired in 2010, the family moved to Tallahassee and Woodley set out on a new path, one that involves some "changing and rearranging." She had given some thought about learning how money and finance work, but then decided she would pursue her "first love."
"My path began to turn when I was given an opportunity to teach, and when that opportunity emerged I fell back in love with the idea of teaching," she said. "My calling is teaching. I am a gifted teacher and communicator. And that is still evolving for me, because it has been dormant for so many years. I am waiting to see what is going to happen next."
Today, she is an adjunct professor in her alma mater's healthcare management program, the same program she graduated from in 1989. She is also an independent insurance agent with ACSIA Long Term Care Inc. And, as a recipient of the post-9/11 G.I. Bill, she will continue her education and earn a doctoral degree that will allow her to become a full professor at the university (she had previously received her master's degree from the Naval Post Graduate School in Monterey, Calif.)
Overall, Woodley is proud to have served and thankful for the opportunities she was exposed to in the Navy.
"I would say the military is one of the best-kept secrets in the whole United States," she said. "It's a place where you can gain experience, gain work experience, travel and get an education."
The education Woodley received from FAMU and the Navy prepared her well for civilian life. For other soldiers, though, it's a challenge to find work back home. Especially if all you know how to do is fire a machine gun or rocket.
In Fast Company
Tyler Douglas, 23, grew up in Wakulla County and he said without hesitation that had he known then what he knows today, he would have taken his high school studies a little more seriously. Instead, he joined the Marines right out of high school in 2007.
"I didn't have the grades and didn't have the desire to originally go to college. It was the excitement of being in the Marines," he said. "There was actually a group, me and some friends, and we were like, 'Let's all join the Marines together. We can all try and get the same jobs, request the same contracts and we'll all go in together.' I'd say there were seven or eight of us who were in on it and then, after graduation, one didn't meet the standards, another one ended up getting a good job opportunity, so there ended up only three of us that joined."
Douglas, a dark-haired, soft-spoken young man, signed up for "security forces" and at the end of boot camp and infantry training qualified for a position in the Marine Corps' Fleet Anti-Terrorism Security Team (FAST) in 2008. The period of enlistment for this occupation is five years, instead of the regular four-year stint, he said.
"Have you ever seen the movie, 'Rules of Engagement,' where the embassy gets attacked? The opening to that movie, when the embassy is under attack and Samuel L. Jackson comes in, he was in a FAST company," Douglas said. "When deployed, they're the first people in to an embassy crisis and they're supposed to be there in 24 hours."
But his experiences were less than cinematic. His group was home-based in Virginia, and there they trained and waited for deployments to occur. They can be anywhere, and in time he was deployed to Navy bases in Washington state, Virginia and Bahrain, a small island country near the western shore of the Persian Gulf.
"While we were in Bahrain we did a lot of side missions. When the Somali pirate thing was going on, we were over there during that, and we actually sent out some of our designated marksmen," he said. "We sent some of those guys out on a Navy ship for two weeks just in support, in case they were attacked by pirates. We also spent three weeks in Kuwait helping train the embassy guards, and then some of our guys spent two weeks in Jordan helping train the Jordanian special forces."
But in true military style, the only easy day was yesterday. Douglas' FAST unit came back to the states, and the men were tasked out to regular infantry units. Douglas ended up with the 1st Battalion, 8th Marine Regiment, based in Camp Lejeune, N.C. He arrived in 2009 as the 1/8 came back from another deployment, and soon he was training to go to war. The next deployment was the Helmand Province of Afghanistan, to a sprawling collection of villages called as Nawzad (also spelled Now Zad).
Nawzad was not a place for picnics. This is the home turf of the Taliban insurgency, and the heroin poppies that grow there provide their financial muscle. The town has been fought over repeatedly, and many civilians have been caught in the crossfire. It used to have a population of 80,000, but in 2011 it had less than 10,000. About 700 NATO troops have also been killed here.
"When the war first started, Nawzad was considered one of the most hostile zones there was, and it was the second-most populated city in Afghanistan," Douglas said.
The Marines had set up a forward base in the heart of the city, and Douglas' unit was in charge of handling security. This meant regular patrols, by truck and by foot, every day. Fortunately for him, all the previous combat action before their arrival meant that the situation had calmed down a little bit. The other thing in their favor was the weather. He was deployed as winter, was coming on, and winter is not a big campaign season for the Taliban.
"We were there through the winter and you might not expect it but it gets really cold in Afghanistan," he said. "It got cold enough to snow there. But in the winter, everything slows down. Any unit will tell you that spring and summer, that's when the attacks heat up. That's when (the enemy) is comfortable."
Douglas spent seven months there in 2010, and when he came back to the States there wasn't enough time left on his contract for another full deployment. While waiting for his time to expire, he was ordered to California to help train other units for deployment to Afghanistan and other places. Six months later he was back in North Carolina — just in time to say farewell to the 1/8 as it was heading overseas again.
"I stayed with what's called a 'remain behind' element. Every battalion has one. They help take care of administrative things, and if they take casualties while they are deployed they have people to help do things for the families, things like that," he said. "I was in the RB until my time ran out … ."
When a Marine is released from his or her contract, they then go through a one-week separation assistance seminar to guide them through their transition back to the civilian world, Douglas said.
"It gives you an idea of how the G.I. Bill works, they give you pamphlets, paperwork, things like that, and they'll talk to you about how to manage your finances," he said. Which is all well and good, but it does have a downside.
"It's all broad, general information, or it's a lot of good information, but it's pushed at you so fast that it's hard to retain," he said.
Now, finally back at home, older and wiser, Douglas is looking forward to picking up civilian life. But this time, things are going to be different. He wants to use the G.I. Bill and go back to school. Back in Bahrain, he took some EMT training and really enjoyed it. So much so that he thinks there may be a career in it.
"I absorbed it like a sponge. It came really easy to me, so I've considered the medical field as my long-term (goal). I want to go to medical school," he said. "I'm going to finish my AA here in Tallahassee and transfer."
In late August, Douglas had landed a job and was training to be an Xfinity home security salesman, and his goal is to start classes at Tallahassee Community College next spring. As he was looking for work, he availed himself of the services provided by the new Leon County Veterans Resource Center in Tallahassee. However, he said that in these economic times it's tough for anybody to find a job — civilians and veterans alike.
"No one can find a job right now so no one can really help. My being a veteran really doesn't make that big a difference," he said.
But he got greater satisfaction when counselors were able to help him apply for disability compensation through the Department of Veterans Affairs.
"I didn't know how to start that process. I was going to go to the VA hospital and start there, and he said we can do all that here. So he did, which was cool, and he also wrote me up a referral thing telling how to go to the VA hospital and apply for healthcare because you rate five years of health care after you get out," he said. "So I thought, wow, that's really great. I knew that I could, I just didn't necessarily know where to go or how to start."
Ultimately, despite a nagging tinnitus, bad knees and the need for eyeglasses, Douglas relishes his newfound freedom.
"When you're in, that's what people talk about. They want the freedom," he said. "They don't want to constantly be calling people and say, 'Hey I'm here, do you need me at the office?' I guess that's the dream. When you're ready to get out of the military, that's the dream, it's the freedom. Get away from all this structure."
His only regret? Not having picked a military occupation that had a better civilian application.
"I know how to guard something," he said with a laugh. "I'm not saying none of it will translate … (but) no one needs someone who can operate a grenade launcher or a .50-caliber machine gun."
'A Dogfight Every Day'
Fellow Marine Corps veteran David Stuart, who lived in Tallahassee for two years before recently moving to Jacksonville and taking on a new job, thought of nothing but being a soldier when he joined up in 2006 at the age of 23. His only thought was to become a warrior — not accountant or programmer or electrician.
"I come from a long line of Navy pilots," said the lean, blond-haired 29-year-old who could easily pass for a fighter pilot or a college frat boy. "My brother is a pilot in Jacksonville, my dad was a pilot for 27 years in the Navy, and my biological father was a Navy pilot who crashed and died when I was a year old. I never had anything else I wanted to do except fly planes."
Growing up, Stuart lived the life of a typical Navy "brat," bouncing around the globe starting in Jacksonville, where he was born, to Virginia Beach and Italy. When it came time to go to college, he went to Texas A&M University. But he admits that he wasnt' the best of students.
"I was one of those kids that thought you showed up for just the tests and didn't actually go to class much. That didn't work well," he said. "I bounced around, (attended) some junior colleges around Texas for a while, and finally wound up in Tallahassee when my sister started going to Florida State University, and I started taking classes at TCC."
While he was living the life of a college student in Tallahassee, the "War on Terror" was in full swing on the other side of the globe. One day in 2005 he got a call from a friend in Texas who told him that a buddy of theirs, Justin, had joined the Army and was killed in Iraq.
The news got under Stuart's skin, and he realized it was his time to step up to the plate.
"I found myself going to bars and AJ's and all that good stuff around here, and I'd look around and see all these frat daddy guys with their collars popped having a great ol' time at two in the morning chasing women, and meanwhile there are guys younger than me, guys like Justin, who were 'hating life' in Iraq. So that was the straw that broke the camel's back," he said. "That day I broke up with my girlfriend, quit my job, dropped out of school and called my parents, said, 'I'll see you in nine hours,' packed up all my stuff, drove up to Charlotte and joined the Marine Corps."
However, his dream of becoming a pilot didn't quite materialize, and so he became an infantryman. In 2008, he experienced his first wartime overseas tour of duty as an "assaultman" in 1st Battalion, 6th Marines. His unit was deployed to the village of Garmsir, in the Helmand Province of Afghanistan. The Marines were sent there to reinforce British and Afghan forces, and it was the scene of heavy fighting.
"It's still a pretty big hotspot. We were the first ones to go in there, and we took Jugroom Fort (a big Taliban and al Qaida stronghold)," he said. "The Brits had been trying to take it for the past four years. We went in there, it was supposed to be a seven to 10-day op, and it lasted 137 days. So when you pack only one extra pair of underwear and socks they rotted off you pretty quick."
During his second deployment in 2010, the assignment wasn't as easy. He found himself in the middle of Operation Moshtarak, a coalition effort to sweep away insurgents who wouldn't cooperate with the new Afghani government. A combined force of 15,000 Americans, British, Canadians and Afghans were committed to this operation, which concentrated on the city of Marjah.
"It was called the 'last bastion of Taliban strength in the south,'" Stuart said. And Marines started taking casualties almost right away.
"When you're the bait on the hook it's not that fun because all you're really doing is just throwing a squad out there to see what they do. And immediately we started losing guys. First deployment we lost three total. Total. And this one, just in my company alone, we lost 13," he said.
The invasion began on Feb. 13, 2010, and Stuart — whose specialty was shoulder-fired rockets — said it was nonstop fighting.
"I mean every day there were firefights and rockets," he said. "In the assaultman world, even back in Iraq during the invasion, if you came back from a deployment and you fired a rocket, or two or three, you were, 'Hey, that's Jones, he fired a rocket in Iraq, whoa!' Usually you're not allowed to, or it's such a big deal to try and get permission," he said. "(But, in Marjah) between my gunner and I, we fired 17 rockets. So we were busy."
Stuart said he lived every day with the gnawing possibility in the back of his mind that he could get "smoked" at any time. Miraculously, he survived that tour.
"I was happy to get out of there," he said. But some of the replacements coming online weren't so lucky.
"They actually lost, during the first week of them replacing us, they'd already lost three guys. Just in that first week. I'd like to say that … and I'm not just saying this because it's the Marine Corps, but we are really good at what we do. We're not very good at the 'nation building' and everything else, but we're really good at kicking ass. And it was a dogfight every day."
Stuart mustered out of the Marine Corps and came back to the States in July 2010. His future wife landed a job in Tallahassee, so the couple came back to Florida. At first he was kind of hesitant about returning here because at that time all he knew about the city was the college scene, but once he got to know the place better he loved it.
"We lived in Midtown. And it really blew me away there were actually not just neighborhoods but really nice places to live around here. You got the small town vibe but with the big city kind of attitude," he said.
How is he handling the transition back to civilian life? It's all about the search for normalcy, he said.
"It's funny, during this whole process of trying to find a job these last couple of months a lot of times people ask the classic interview question, 'What's the hardest thing you've ever done?' Everybody assumes I'm going to talk about something military-related or Afghanistan-related," he said. "But to me, the hardest thing I've ever done has been getting out of the Marine
Corps, getting married, having a dog, paying bills, car payments, all while getting 93 hours under my belt toward a marketing degree in a year and a half, and graduating and getting a job."
To return to normal, you can't just simply fall into depression and wallow in a bottle, he said. You have to think about all the guys who didn't get a chance to come home. You have to do it for them as much as for yourself.
"They don't get a chance to live life to the fullest. So we owe it not only to ourselves, but we owe it to them to make the best of it," he said. "It's hard. I got a lot of friends of mine that have gotten into drugs and really haven't handled it well, and crawled into a bottle, stuff like that, but I think I'm pretty good.
"It'd be easy to be like other guys and crawl into a bag of weed or a bottle of booze, but I got a dog, and you go run the dog. I started refinishing furniture down in the basement. What is that saying? Idle hands? I mean it's definitely a challenge, but it's one of those things that if you don't stay on top of it, it can definitely get the better of you."
Resources for Veterans
The young veteran making the transition back to civilian life can call upon several services for help.
Perhaps the biggest problem for new civilians is finding work. According to Bureau of Labor Market Statistics, the national unemployment rate among veterans of the Afghanistan and Iraq wars stood at 11.6 percent in 2011. In Florida, that number is 9.3 percent. This includes different groups of veterans from wars over the past 20 years.
"The biggest obstacle to their transitioning is actually the translation of their service skills to the civilian resume. That is the biggest barrier," said Kim Moore, CEO of Workforce Plus. "That's where we see the greatest need regardless of what war they served in. What are the transferrable skills, like supervising, budgeting, purchasing, training, how all that translates to real-world civilian resumes. They'll likely say, 'I was only an infantryman,' and we may ask, 'But did you supervise somebody?' That makes you a supervisor, which speaks to leadership, and if you bought anything for the unit then you have purchasing skills, and worked within a budget."
The Workforce Plus Satellite Center in partnership with Leon County expands the outreach and serves as an access point for veterans. Workforce Plus also partners with local Veterans Affairs offices by helping veterans connect with local resources.
"Our colleges and universities also have veterans' chapters tailored for returning veterans seeking education as a pathway (to jobs). There are veteran centers on campus to make it a smooth transition," she said.
The Tallahassee Veterans Village, owned and operated by Volunteers of America, is another resource for veterans. This facility is a transitional housing program that serves 52 veterans in an apartment community. The goal of this program is to help residents with personal, employment and health-related needs so that they can become self-sufficient and regain independent living.
Moore said Work Force Plus provides residents with on-site training in basic job skills, like resume writing, and helps them track down job leads.
In some ways it is hard for former military members to adjust to the civilian job market. Moore said they have to recognize that civilian job interviews are much different and require a different style of communication. Again, this helps them transition from the military culture back to the civilian culture, which has changed since they've been away, she said.
In partnership with Workforce Plus, Leon County's new Veterans Resource Center now provides veterans direct access to one-on-one counselors to assist with individual employment and job skill needs.
"We consider our service to our veterans to be a core function of Leon County," said Leon County Administrator Vincent Long. "Through the new Veterans Resource Center, returning veterans won't have to search throughout Leon County for career and educational resources. They now have a home to access many resources in one location."
Other services include interviewing skills training, career planning and counseling to increase veterans' marketable skills for employment. In addition to the partnership with Workforce Plus, Leon County has also partnered with local colleges and vocational institutions to better serve veterans.
Entrepreneurship Bootcamp for Veterans with Disabilities at Florida State University offers business training and small business management to service members of every branch who were disabled during the post-911 wars. If they have the vision to start a new business, the bootcamp can teach them how to create and sustain the new venture.
The Veteran and Dependent Educational Benefits Department at Florida State University acts as a liaison with the Regional Processing Office in Decatur, Ga. It's their job to help veterans, or the dependents of veterans, apply for benefits. Students who are eligible for the Montgomery G.I. Bill under Chapter 30, 31, 32, 33, 35, 1606, 1607 or VEAP can apply for their respective educational benefits with help from this office. Call the national call center at 1-888-GIBILL1 for more information.
Sculpting The Troops
Seven Tallahassee-area troops will be among 21 soldiers to be immortalized in bronze and displayed during a nationwide exhibition in 2013 and 2014. But before the first one could be fashioned, Tallahassee sculptor Michael D. Jernigan first had to put on body armor and camo and go visit the troops in the field.
Jernigan spent 28 days in Iraq and 24 days in Afghanistan on his research mission, which will yield 21 portrait sculptures for a exhibit titled "Honoring the Troops: A Sculptor's Perspective." He took 100 photographs and 27 facial measurements of his subjects as they performed their warzone jobs. Once completed, the busts will be packed up and shown in 10 major locations across the U.S.
A Note on Casualties
More than 2.3 million Americans have been sent to fight in Iraq and Afghanistan in the 10 years since the terrorist attacks on the World Trade Center.
As of Aug. 28, 2012, 6,588 U.S. sons and daughters have been killed and 49,609 wounded during the global war on terror. The U.S. Department of Defense updates the casualty numbers daily. That list can be found at defenselink.mil/news/casualty.pdf.
These figures include military and civilian Department of Defense casualties incurred during Operation Enduring Freedom, Operation Iraqi Freedom and Operation New Dawn.
While any battlefield death is unacceptable and tragic, many lives have been spared over the past 10 years thanks to modern medical science, logistics and skill. By contrast, a total of more than 48,000 American soldiers were either killed, wounded, captured or reported missing during the 1863 Battle of Gettysburg — which lasted only three days.
Faces of the Dead
"Faces of the Dead" is an interactive list of the U.S. war dead, based on Department of Defense data. nytimes.com/interactive/us/faces-of-the-dead.html
Parade Organizers Seek to Rally the Community
Recognizing a need is what led Vietnam veteran Joe West to create VET — Veterans Events Tallahassee — and take over the annual Veterans Day Parade in 2010. The county had been managing it for several years, and the decision by city and county leaders to move it from Monroe Street to Adams Street angered and offended some veterans.
"I'm sure it wasn't intended that way, but it was like a slap in the face to move us from the main street to a back street," West said. "It was just like when we came home from Vietnam."
The lowest point came when storms the day before led to the cancellation of the parade in 2009. In February of 2010, the county gave control of the parade and a little seed money to Vietnam Veterans of America, and Veterans Events Tallahassee, a nonprofit, tax-exempt organization was formed.
Participation has steadily increased over the past couple of years, but West wants something bigger and better to honor veterans on their day. And he doesn't want veterans to have to pay for their own tribute. He has had limited success with business sponsorships, in part because some businesses want to use the parade as a marketing tool instead of focusing on veterans, and in part because the economy is still depressed.
"I had one guy ask me, 'What's in it for me?' and I answered, 'Well, a few of us died for you. Is that enough?' " West recalled. "So we decided we would ask citizens to make small contributions."
The "365/1" campaign was the brainchild of VET webmaster Melissa Raulston of Plato Wynne Consulting.
"The idea is that veterans served us 365 days a year," Raulston said, "and we'd like to honor them one day a year and say 'thank you.'"
West believes small donations throughout the year from a lot of people will be key to the parade's success. "If people would make monthly donations, five dollars or 10 dollars a month, we could put on a parade that would be the finest in the country. We could make the day an educational one so the children could learn about the sacrifices that veterans made and continue to make for our freedom."
There are a number of traveling educational exhibits, such as a mobile Vietnam Memorial, that could be included in a Veterans Day festival, West said, but there are transportation costs associated with bringing them to town. He'd also like to bring giant balloons with patriotic themes, and he hopes to have an air show and a flyover as part of the festivities eventually.
"A lot of people think the county funds this, and it does what it can to help, but it's only about 10 percent of the cost," he said.
Veterans Day originally was called Armistice Day in honor of the armistice that ended World War I, which was signed at 11 a.m. on the eleventh of November, the 11th month of the year.
Veterans Day parades traditionally begin at 11 a.m. on Nov. 11, but because Nov. 11 falls on a Sunday this year, the parade will held on Monday, Nov. 12, at 11 a.m.
There is no charge to participate in the parade, and entries will be accepted until midnight Nov. 11, West said.
"Of course, if you're a veteran, you can show up when we're staging," he said. "We'll find a place for you."
---
Anyone who wants to contribute to the Veterans Day Parade can send a check made to "VET Inc." with "parade" in the memo line to VET Inc, 241 Lake Ella Drive, Tallahassee, FL 32303.