Retro Fashions Resurge
Keeping up with yesteryear is today's trend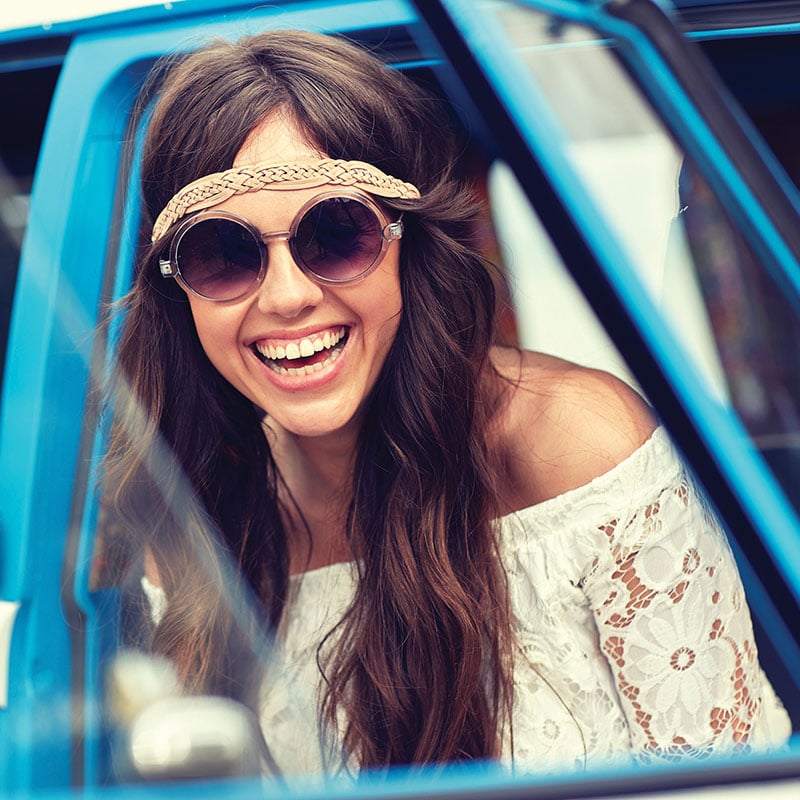 Lucky you, if you're a "clothes saver" — the kind who just can't bear to throw a nice piece out. Better still if you wear the size you did 20, 30 or even 40 years ago — and, of course, still have the chutzpah to wear the clothing you wore at that time.
But for most of us, the fashion crazes of the '70s, '80s, and '90s — the ones that are reemerging as fresh and even haute couture — are delightfully novel and filled with fun.
Lauren Wallace from Cole Couture says that flared pants and bell-bottoms have returned! Skipping generations from Ginger Rogers in the '30s to Ali McGraw in the '70s and now to us, the typically high-waisted legwear is a playful respite from tight leggings or summer short-shorts. "You can have them in denim or flowing crepe … a flower-child look or something glamorous," says Wallace. And they pair with equally voluminous tops.
At Pink Narcissus, Rigell Toole sees plenty of wide-sleeved tops in soft prints in fabric that flows. Whether a "cold shoulder," off-the-shoulder or one-shouldered style, the look that captured a late '60s-'70s generation who rocked at Woodstock and protested war is back.
And don't forget the fringes, says Andra Vilcia of Chicos. Fringes on vests, fringes on skirts, fringes on shoes and purses … Let's face it, fringes are everywhere. Whether on boots or sandals, wrapping an ankle strap or trailing off your heel like the mane on a pony, fringes on shoes are funky and give a serious dress a little kick. And you don't have to be a flamenco dancer to wrap yourself in a fringed shawl or scarf. Even the act of donning a fringed accessory can become a dramatic flourish that will leave the room smiling.
And while real fur was "in" during the spendthrift '80s and '90s, today's fur comeback is about nature's preservation, with due homage to the beauty of the pelt. There are faux and, occasionally, natural fur shrugs, shawls, vests and scarves aplenty. Just don't expect to see them in colors a woodland fox would wear. Hot pinks, azure blues and gemstone purples look funky and a little daring. Fur is a conversation piece — maybe something to hand down to the next generation.
So revisit those dusty clothes bags. If you find a baggy shift in a psychedelic print, a strappy metallic gown for evenings, a pair of boho pants or some plastic neon jewelry to wrap around half your arm, you're set for the season — and maybe for another season 20 years hence.
---
Retro Fashion Doesn't Stop With Your Clothes
Winged eyeliner makes us all look like cats. Just ask a 1970s Barbara Streisand. And although lip color has seen every shade imaginable — including nude — engine-red lipstick has carried us through, from the '50s 'til today.
Welcoming back Audrey Hepburn's "swan" brows and Brooke Shield's "bears," the full brow has once again replaced the thin brow. Don a pair of what could be called "Buddy Holly glasses," which seem to be all the rage, and your retro transformation is complete.
From Grace Kelly's beehives to Mia Farrow's pixie cut, and from Farrah Fawcett's layered locks to the not-so-long-ago messy topknots, what was old in hairstyles works today. After all, who hasn't wanted to put a little '70s pink or blue streak in their hair? Do it now, and you're right on trend!