Retired Firefighter Andrea Jones is Kindling Connections in Our Community
From fighting fires to advocating for the homeless, Jones's positive impact has spread like wildfire throughout Tallahassee.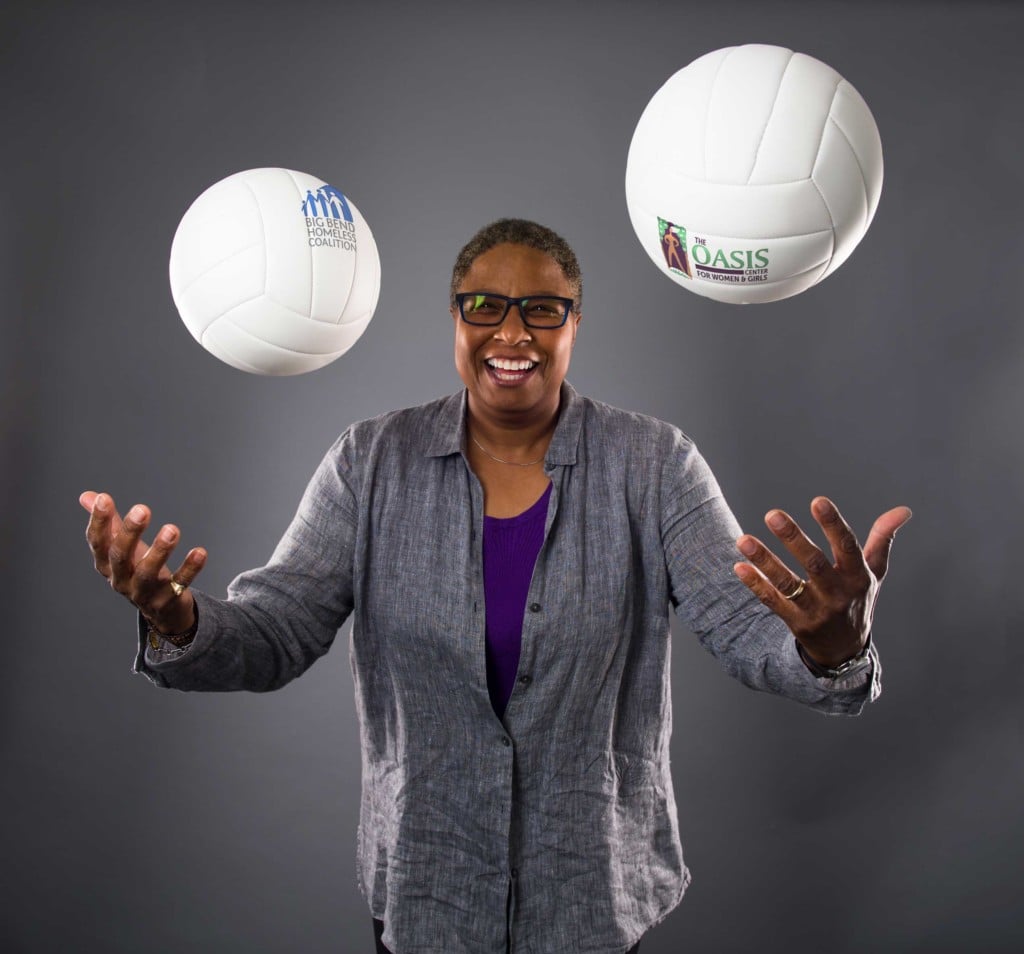 Andrea Jones is a New York City girl who came to Florida in 1978 for college. The plan was to graduate. Life got in the way. A college dropout, she severed financial ties with her family and promised herself she would figure it out. She bartended and even considered oil rigging. She found fire instead.
After 26 years of service with the Tallahassee Fire Department (TFD), the 57-year-old has hung up her hat. But that doesn't mean she has stopped fueling her own fire. Jones presides over the board for the Big Bend Homeless Coalition and operates as one of the founding members for The Oasis Center for Women & Girls. In her spare time, she works as a freelance photographer. And during her firefighting career, she was able to graduate from Florida State University with an undergraduate degree in civil engineering. It's a lot to take in.
When asked to share a memory from her decades of fighting fires, Jones said she never knows what people want to hear. "If you want an image of something that happens on TV, I can give you that. But the things that are more impactful are the times where it really wasn't anything," Jones said.
[bctt tweet="She recalled looking into the eyes of a trapped motorcyclist who had survived a car crash. Jones said to the woman: "You're alive, and we're going to get you out."" username="TallahasseeMag"]
"When you come in with that calmness and you pass it on to somebody, that's kind of sweet — I miss that," she said.
Jones began fighting fires in 1983. She was promoted to lieutenant a decade later, became division chief of training in 2006, then made a lateral move to division chief of operations where she oversaw six battalion chiefs. She retired in 2009 and now works for mass-photography company, Iconic Group Inc. Throughout her years with TFD, Jones said she noticed a change in the atmosphere toward women.
Uniforms sizes had to be customized and the placements of ladders on fire trucks were lowered. It was a mutual benefit for both sexes. Back injuries are the most common injury sustained for both male and female firefighters. "People started to realize that women were contributing," she said. Conversations on mental health also became more acceptable. Jones participated in a peer-counseling program for 15 years where firefighters could open up about their limitations and stressors.
"The most dangerous position a person can be in is if they don't know their limits and they're just going off ego. I want someone to say, 'I'm tired,' because I don't want to have to send someone else to look for them." Jones thinks of failure as simply not trying, but this does not mean she has never made a mistake.
"You could build a beautiful house, put all your effort into it, then a plane could come and land on it and that's not your doing. So, I think distancing yourself from the outcome is really important, but it's hard to do sometimes," she said. Jones gives most of the credit to TFD for making her who she is at 57. The service sharpened her responsibilities and put pressure on her to figure out what she valued.
"When I'm on a plane and babies cry, you know how irritated you get? I love that sound. When I hear children crying, I know they're fine," Jones said. Interrupting the Cycle Jones has served as the president on the board for the Big Bend Homeless Coalition for two years. When first approached for the position, Jones was wary. She has a family member who "is a fighter" and struggles with homelessness. Jones feared, as president, she would be too close to the subject matter.
But as a member of the board, Jones is more involved with big picture duties, which suit her analytical mind just fine. She helps steer the organization toward its mission: "Ending homelessness in the Big Bend through leadership, education, advocacy, and the provision of quality services." "I think that we as a society should be able to take care of what we have created," Jones stated.
"If we allow women to be assaulted then we should take care of the aftermath. And I think the cost of homelessness is well worth putting people in a home." Jones argued that homelessness can sever a person's sense of connection to a community due to stress and other pressures, which often lead to poor health. But simply handing someone a house without proper structure or instruction only worsens the burden.
"The image people have of (homelessness) is some druggie. I don't think it's entirely true, nor do I think it's fair when it is true," Jones said. "I don't think people are throwaway. I don't want to just put someone somewhere. I want something that's going to fix the problem, and part of that is having resources."
Join the Effort
Big Bend Homeless Coalition
bigbendhc.org
The Oasis Center for Women & Girls
theoasiscenter.net Tallahassee/Leon County
Commission on the Status of Women and Girls
tallahasseeleoncswg.com