Retired Coach Maintains Memorial Trail For a Friend
In memory of William Harvey, John Kalin has been upkeeping Bill's Trail for a long time running.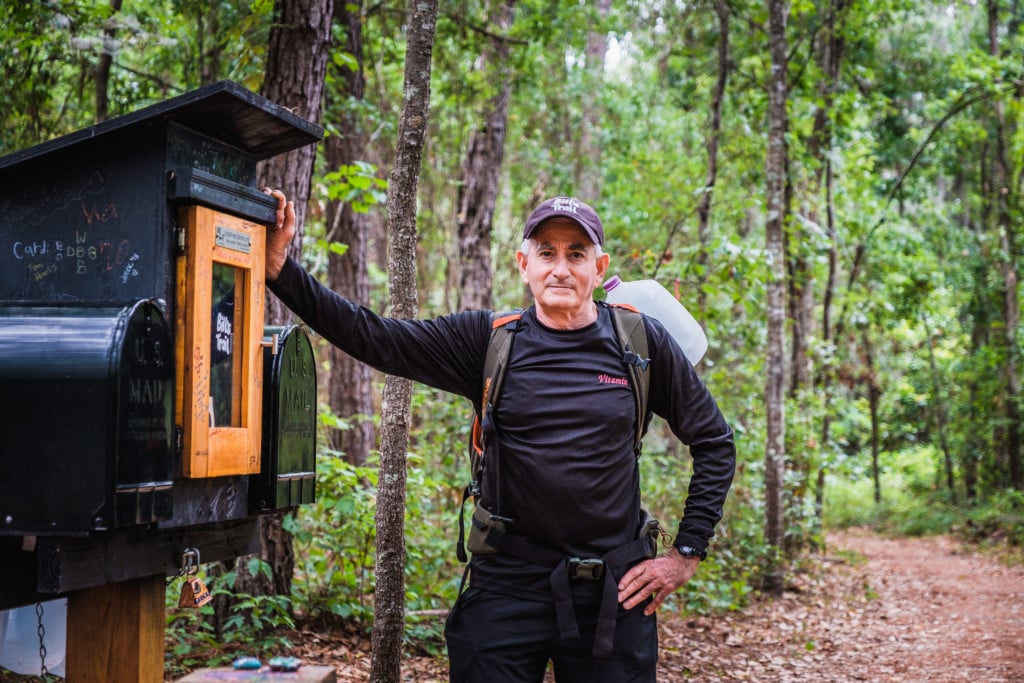 Hikers, runners and cyclists who regularly make the loop around Piney Z Lake will recognize John Kalin by his embroidered Bill's Trail hat.
A retired athletics coach, Kalin volunteers to keep in shape the single-track trail between J.R. Alford Greenway and Lafayette Heritage Trail Park.
Sometimes he clips back areas where the trail is overgrown; other times he carries materials for a trail-related project, such as tools to refinish a bench.
"It's like being a docent in a museum," Kalin said.
Winding a path through the live oak and cypress trees with plenty of water birds in sight, Bill's Trail is well used and well loved. A newcomer might conclude that it had always existed on the north side of Piney Z Lake or had been designed by an experienced trailblazer.
In fact, the trail was created by a Florida State University running coach when the city of Tallahassee temporarily closed the lake's east levy to construct a pedestrian bridge, closing off a favorite practice run for the women's cross country team.
To form an alternate route, Karen Harvey cut a trail by hand with a machete during the summer of 2013. It was her first trail.
Carly Thomas, then on FSU's team, was one of the first to run the new trail. "It was (Harvey's) pet project," said Thomas, now the running coach at Chiles High School. "She showed (the runners on the team) as she made progress on it.
At first it was a secret. It took her a while to let other people know that she was the one who did it."
Once the east levy reopened, Bill's Trail completed a loop of trail around the lake; people could walk, run or bike the 2.7 miles around Piney Z without needing to double back.
Harvey named the trail for her father, William Harvey, who had passed away the year before. To mark the trail, she painted a Frisbee with "Bill's Trail" and attached it to a tree at one end.
According to Kalin, Harvey's husband surprised her by posting a professionally made sign at the trail's opposite end, reading "Bill's Memorial Trail: Designed and Maintained by a Loving Daughter."
Kalin had been volunteering with the city of Tallahassee to maintain trails since 2001. Gradually, he began to help with Bill's Trail, too. "I stumbled upon it and did a snip, snip, here or there if I saw something dangerous — things I do on every other trail.
I ran into Karen out here in 2014 and we chatted a little bit. I told her about the few things I had done, and she seemed okay with it."
In March 2015, Harvey asked him to maintain Bill's Trail in her stead when she decided to leave Tallahassee.
"I said, 'There's nothing more I want to do.' I felt like I was given a gift, not a job to do."
Over the past three years, Kalin has spraypainted a survey marker in the middle of the path, reinstalled a bench that fell over, and shortened the trail by a few feet in one place to avoid leading people down a steep hill. He sends Harvey photos of any alterations.
Last year he installed a Little Free Library on Bill's Trail. "Before anyone even put any books in the library, someone left a painted rock there overnight. I was smiling because I like that trend — I think kids must be screaming for more art in their lives, and adults too," he said.
So that visitors to the library could paint their own rocks, he added a station that he calls the Art Lab, a picnic table and utility mailboxes stocked with art supplies.
Families often sit and paint rocks together. Sometimes multiple families will squeeze onto the picnic table bench.
Kalin regularly leaves gallons of water and biscuits for dogs. "That may be too much," he admitted. "But my heart's in the right place."
He said he has an ulterior motive for these modifications, too. "I want people to love doing the loop, which means using Bill's Trail."
Kalin is mindful of keeping Harvey's vision for the trail. When the Frisbee she painted to mark the trail was knocked down, he glued it back together and traced the pattern of the lettering to produce a logo so that if the sign got lost, it could be reproduced. This is the logo on his hat. "I call it the 'Harv' font," he said.
"I wanted to make it look like Karen was still here."
Bill's Trail is a small enough project for one person, and it keeps Kalin busy. "I remember how excited I was when I first figured out the trail, and I don't mind helping people. I like that involvement. Either I won't be involved at all in something, or I'm going to go way beyond."