Restoration of Carlisle Floyd
FSU Alumnus Daniell Revenaugh Hopes to Reintroduce Tallahassee to a Great American Opera Composer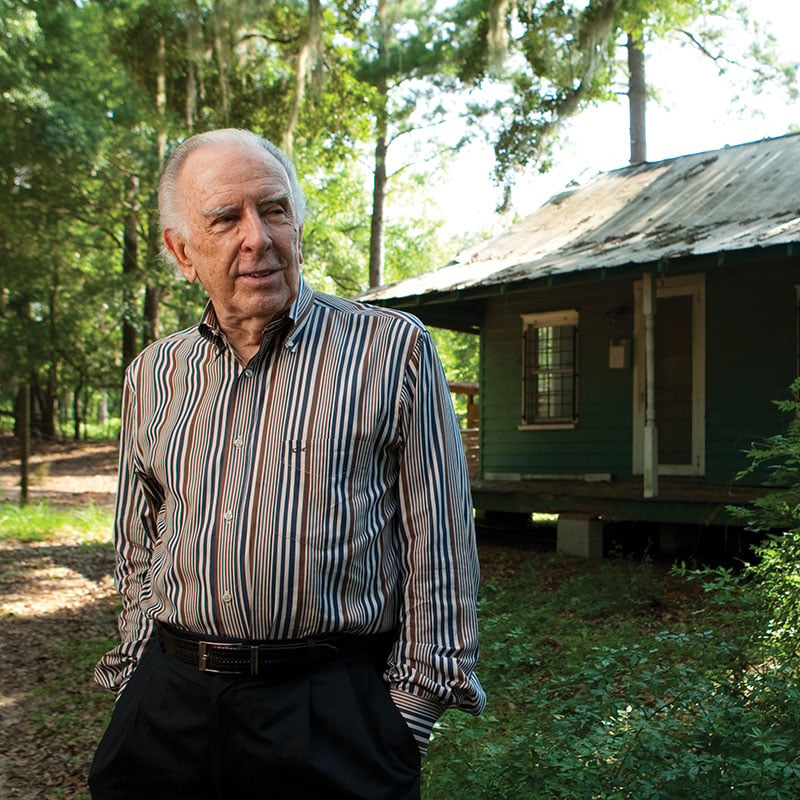 Mention the name Carlisle Floyd in Tallahassee and you'll likely be met with a quizzical look. Unless your friends are opera buffs, they probably don't realize that the 83-year-old Floyd is recognized as one of America's foremost opera composers. Chances are they're also unaware that Floyd taught for 30 years at Florida State University and currently resides in Tallahassee.
Floyd started teaching at FSU as a young college graduate in the late 1940s, soon after the end of World War II. That first year, he taught a number of returning GIs who wanted to learn to play the piano.
"It was certainly a curious way to begin one's teaching and academic career," Floyd says. "In a very curious way, it was also satisfying, because any progress was very marked."
He wrote his most famous opera, "Susannah," while at FSU, "on spec," as it were.
"I had no reputation as a composer, and it was something I decided I would like to try my hand at," he says. "But certainly, no one commissioned it. The only thing I wanted was to get a production of it."
In 1955, FSU put on a production of the opera, and the following year, it was performed by the New York City Opera. Floyd's fame as a composer grew, and he created about a dozen operas in all, receiving a National Medal of Arts from former President George W. Bush in 2004. Nevertheless, Floyd's name remains largely unrecognized locally.
Daniell Revenaugh, an FSU graduate and outspoken classical pianist and conductor, wants to change that. At 74, he's no spring chicken himself, but has vivacity and enthusiasm to spare. Enter into a conversation with him and you realize that he knows a whole lot more about longtime Tallahasseeans than the average resident does.
Revenaugh, who met Floyd when he was a student at FSU, has two great goals he wants to achieve. First off, he wants to bring attention to Floyd's accomplishments, and particularly to focus the spotlight on the piano sonata Floyd composed in the 1950s. While Floyd's operas, particularly "Susannah," have received a lot of attention in the musical world, his sonata has been largely undiscovered. And second, Revenaugh wants to transform Floyd's former Tallahassee house into a cottage where visiting artists can stay.
The sonata, which Floyd wrote for the now-deceased Czech concert pianist Rudolph Firkusny, hasn't gotten much attention since Firkusny performed it in one of his annual recitals at Carnegie Hall. But that doesn't mean it has no merit. On the contrary, Revenaugh says, it's one of the three greatest American piano sonatas composed in the 1950s. The Aaron Copland sonata and Samuel Barber sonata are the other two, and some say Floyd's is even better than Barber's.
Floyd, who is as sharp and alert as ever, says that when he composed the sonata, his goal was to take advantage of the full range of sounds the piano could produce.
"I wanted to use the piano not purely for display or anything like that, but to use the piano for sound resources – extreme registers, changes of color, texture, all of those things," he says.
Despite being its composer, Floyd has never actually learned and performed the sonata himself.
"I sat down for a day or so and decided, 'Well, I think I'll learn this,'" he says. "And then I decided, 'To heck with this.' It was more difficult than I imagined it was."
Unlike Copland and Barber's sonatas, Floyd's has hardly been performed and has never been recorded. In an effort to change that, Revenaugh and Floyd worked with film producer Peter Winter in 2008 to create a short film of Floyd giving Revenaugh a lesson on the piece.
Revenaugh performed on Tallahassee businessman DeVoe Moore's $675,000 reproduction of Steinway's Alma-Tadema piano. It's a faithful re-creation of the 1887 original, with lots of gold plating, leafy flourishes and an elaborate painting on the inside of the lid. The original Alma-Tadema graced the White House during Theodore Roosevelt and Woodrow Wilson's presidencies, and the lavish reproduction makes its home at the Tallahassee Automobile Museum, which Moore founded.
Revenaugh learned the sonata beforehand, and the film, which captures him going over the nuances of the piece with Floyd and then performing it in its entirety, premiered at the Tallahassee Film Festival in April.
"The audience was absolutely transfixed," he says. "I couldn't believe it."
Douglas Fisher, director of opera activities at FSU, says he saw the film and enjoyed it, especially Floyd's comments on the piece.
"I think it's a very strong piano piece and a little bit unusual in that Carlisle has written very little instrumental music other than for operas," he says. "I think it's a very good work."
Unlike Broadway tunes or pop songs, the sonata is not necessarily easy to grasp when you first hear it. Nevertheless, Revenaugh thinks the film premiere helped people to catch a glimpse of Floyd's musical artistry in composing the piece and increased their understanding of the music.
"People … say having listened to the lesson, they could really then appreciate the piece," he commented. "It's technically very difficult and musically difficult until you get to know it, and then it's familiar."
So much for Revenaugh's first goal. Currently, he is trying to turn the second goal – transforming Floyd's former Tallahassee house into a cottage for visiting artists – into a reality. With its sloping tin roof and peeling green paint, the house isn't much to look at, but Revenaugh thinks that with a little refurbishment, it could turn out to be quite nice.
Of course, the refurbishment he's thinking of comes with a $58,000 price tag, and as much as he would like FSU or other local institutions to chip in, tight economic times have made things difficult.
Originally located on West Call Street (in a spot across from FSU's Fine Arts Building), the home was moved to a site on Lake McBride at the Millstone Institute of Preservation.
Floyd says Revenaugh approached him two or three years ago about the idea of turning the house into an artists' residence, and he thought it was a very good idea. Revenaugh recalled walking to class past Floyd's house and hearing him in the midst of composing.
"During the time I was writing 'Susannah,' I was living there the whole time," he says. "It was my first home for myself."
Floyd lived there for about four years in the mid-1950s, including for a few months after he married his wife, Kay.
"My wife was not nearly as fond of it as I was," he says. "It was pretty primitive in some ways. There was one little gas heater in the living room for the entire house. So when you closed the doors, you restricted yourself to just what nature provided."
Revenaugh plans to keep knocking on doors and doing his utmost to raise the necessary funds to refurbish the house, hoping to finish it soon so that Floyd can witness its completion and perhaps visit with artists at the home.
Floyd, meanwhile, continues to keep up with the works he has written, although he hasn't been doing much composing in recent years. Douglas Fisher, head of the opera department at FSU, has a lot of respect for Floyd.
"I would describe Carlisle as a real Southern gentleman," he says. "He's a brilliant man, wonderful storyteller, great sense of humor and terrific writer . . . He's really one of the most important and influential opera composers in the last hundred years."